The evening before declaring reductions, Microsoft hosted a concert by English musician Sting for its senior executives in Davos, Switzerland, according to The Wall Street Journal.
The tech firm, which announced on January 18 that it will slash 10,000 jobs, is one of several large corporations to start job cuts.
Several of Microsoft's top executives joined a private gathering the previous evening in Davos, the site of the World Economic Forum, according to the article.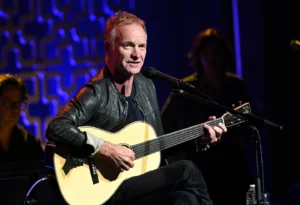 If Microsoft paid Sting to perform in Davos, that detail is unclear. Meanwhile, Fortune magazine claimed that paying artists for exclusive gatherings can go over $500,000.
Microsoft said it is cutting jobs in response to "macroeconomic conditions and changing customer priorities".
"We're living through times of significant change," CEO Satya Nadella told the staff. "We're seeing organizations in every industry and geography exercise caution as some parts of the world are in a recession and other parts are anticipating one."
He added that the decision to cut jobs was "difficult, but necessary".
Many people criticised Microsoft for a such event on social networking sites.
"I'm a big fan of Satya Nadella, but this is seriously bad executive symbolism," Columbia University professor Rita Gunther McGrath tweeted.
"Massive layoffs but a private concert for the execs first," YouTuber Robb Hood commented.
"We can afford Sting but we can't afford you," another user commented.
A fourth Twitter user said: "It's bad enough the Microsoft execs paid a fortune to have a private concert before firing 10,000 people, but that it was Sting is rubbing salt into the wounds."
Earlier this month, The Details stated that citing two individuals with specific knowledge of the arrangements, Microsoft Corp. is preparing to unveil a variation of its web search Bing implementing the artificial intelligence powering OpenAI's chatbot ChatGPT.
Microsoft may roll out the new functionality by the end of March in an attempt to compete against Alphabet's Google based on a statement from a San Francisco-based technology news website.
More about Microsoft:
The American multinational technology company Microsoft Corporation creates software programs, home appliances, laptops, and related services. The Windows series of operating systems, the Office Software package, and the Internet Explorer and Edge internet browsers were among Microsoft's most well-known product offerings. It is located on the Microsoft campus in Redmond, Washington. Founded by Bill Gates on 4 April 1975 and the present CEO is Satya Nadella.