In a significant shift in its long-standing tradition, Mini, the iconic British automotive brand, is bidding farewell to manual transmissions. The news broke when Mini's boss, Stephanie Wurst, stated that there is a 99% certainty that manual transmissions will no longer be a part of Mini's next generation of vehicles. However, hope lingered as an internal source within Mini hinted at the possibility of preserving manuals, particularly for high-performance models.
Mixed Signals: A Glimmer of Hope 
Despite Wurst's initial declaration, the internal push to keep manual transmissions alive, even if only for select high-performance models, suggested that the final verdict was not set in stone. The source indicated that Mini was exploring options to maintain manual transmissions, asserting that it wouldn't be too challenging to integrate them, especially for performance-oriented vehicles. The consumer take rate for the current Mini John Cooper Works with a manual transmission stands at an impressive 45%, making a compelling case for its continuation.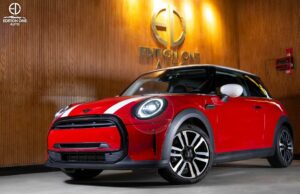 The Heart of Racing in Mini
For Mini, racing is deeply embedded in its heritage, and the absence of manual transmissions doesn't mean an end to its motorsport aspirations. Stephanie Wurst hinted at a potentially different phase in Mini's racing journey. Collaborating with Charlie Cooper, the grandson of John Cooper, Mini is not limiting itself to its traditional racing series but is also exploring electric racing.
While it might seem counterintuitive for a brand known for its driver connection to abandon manuals, the shift aligns with Mini's broader commitment to electrification. As the automotive industry undergoes a transformation towards electric vehicles, Mini is adapting to the changing landscape. The brand's embrace of electrification is becoming increasingly apparent.
Though Mini's specific electric racing endeavors remain undisclosed, the brand's foray into this arena signifies a profound shift in its strategy. The move towards electric racing suggests that Mini is poised to evolve while maintaining its core identity as a pioneer of driving fun.
Mini enthusiasts may feel a tinge of disappointment as they bid adieu to the prospect of a new John Cooper Works (JCW) model or a more potent GP variant with a manual transmission. The connection between driver and machine that Mini has long championed will inevitably take on a different form with electrification.
While Mini's announcement signals the end of an era for manual transmissions, there is still a glimmer of hope for enthusiasts who cherish the tactile joy of shifting gears. The confirmation from a Mini USA spokesperson that current generation models with manuals will continue production until the end of February 2024 offers a reprieve for those who wish to acquire one last piece of Mini's manual legacy.
Mini's decision to transition away from manual transmissions is indicative of the broader shift towards electrification in the automotive industry. While it may be bittersweet for manual transmission aficionados, Mini's exploration of electric racing demonstrates its commitment to evolving while staying true to its core values. As Mini embarks on this electrified journey, it remains to be seen how it will redefine the "Mini experience" in the era of electric mobility.