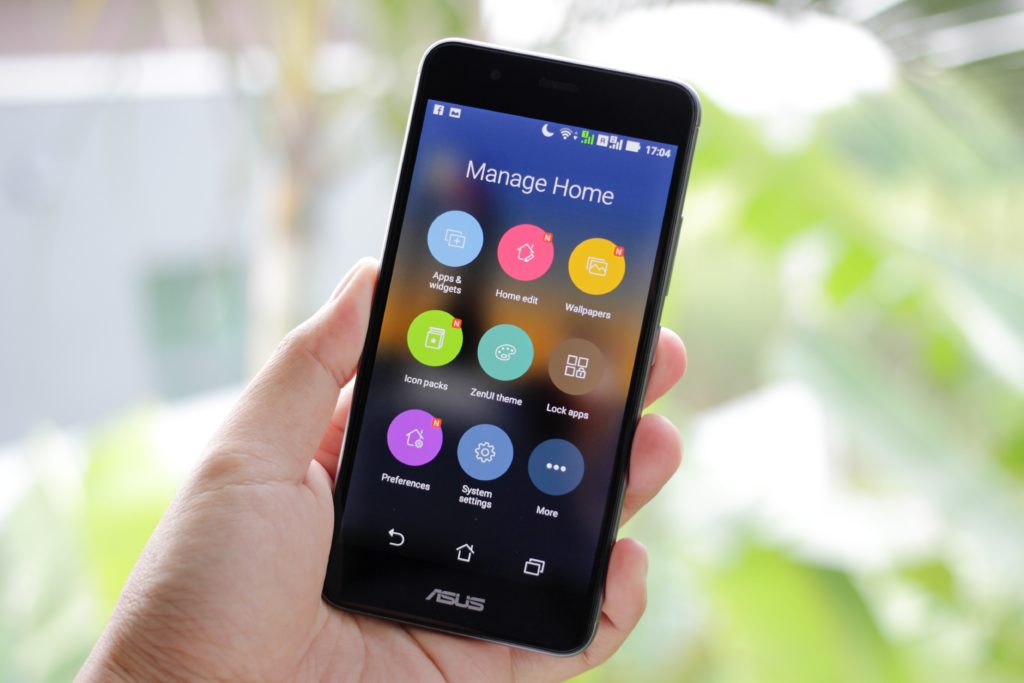 The world gearing towards being mobile driven needs not too much justification. With the widespread penetration of affordable mobile devices, the number of mobile users are increasing and the mobile usage is reaching new heights.
The number of mobile phone users in the world is expected to pass the five billion mark by 2019, according to a Statisa report. In India alone there will be about 813.2 million smartphone users by 2019.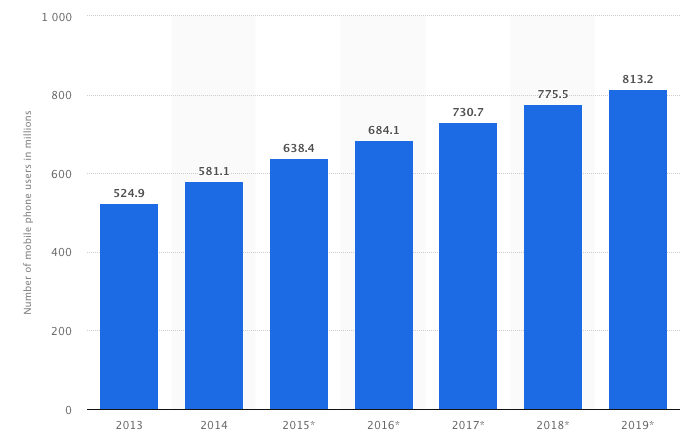 This will continue to be at it accelerated growth phase for a good number of years unless something like Musk's Neuralink accomplishes its goal of building computers into our brains.
Even then, it might only let us withdraw a few functions we perform on our smartphones and reduce our reliance on mobile devices, but not entirely put it off picture. So, in short, smartphones are here to stay for a long time from now.
Initially, when smartphones were introduced, they came with very basic apps. These apps performed minimal functions and there were apps for games, alarms, wallpapers, themes and a few other basic necessities.
But today, technological innovations have resulted in us incorporating some app for every task that we do and thus embedding smartphones into every aspect of our lives.
To take a quick look at the consumer side of stats, App Annie predicts that consumers will spend 30% more across mobile app stores to exceed $110 billion in 2018. Furthermore, China, India, and Brazil are the top markets to watch with China offering huge potential for growth, as its consumers lead in-app store spend.
While the increasing spends are a great hope motivation for the app industry to grow, 2018 also seems to be increasingly interesting for a number of trends that are likely to follow in the app space. Read on to find out what new trends are prone to prevail through the year
The invasion of new payment apps
With demonetization that happened towards the end of 2016 in India, 2017 was the year of fortune for payment wallets, especially Paytm because of them onboarding a large number of micro entrepreneurs and small shop owners.
However, 2018 might turn out different. It occurs that payment wallets will face varied competition not only from the direct competitors, but also several indirect ones.
While Google Tez would kick in to compete against payment wallets in cases of smaller transactions, Blockchain based payment apps would compete in cases where there are more valuable transactions happening.
Google Tez entered the payment space by the end of 2017, to bring in an interesting twist in the online payments industry. Tez, however, isn't directly a competitor to the other payment wallets like Paytm and Mobikwik.
Instead, Tez directly deals operates with the banks of customers. It has tied up with around 52 bank globally and facilitates payments through a UPI ID, QR code or simply mobile numbers.
Another following trend is the Blockchain based payment apps. If you have your ears even slightly open, you must have heard the words Blockchain and Cryptocurrency. These were pretty much among the most buzzed words in 2017.
Simply put, Blockchain is a chain of blocks that contain information which is very hard to tamper. It was the concept of Blockchain which gave rise to Bitcoin (a virtual currency) and other types of cryptocurrencies. Early 2018 saw a great hype around Bitcoin as the prices hit an all time high.
The fad has managed to now get people to believe in the concept of cryptocurrencies more than ever before. This has created a wave of blockchain based payment apps like BitPay, Gliph etc flourish and if the trend continues to follow, which is highly the case, 2018 is expected to see a lot more of these.
Apps for wearables
Wearable technology is a hot topic, undoubtedly. These 2 stats will give you an idea at the size of the market we are looking at
There will be an increase of the wearables devices until 2021, with total shipments for all wearable devices to 560 million in 2021, which means an estimated device revenue of $95.3 billion in 2021 (wearable technologies, 2017)
The market for wearable technology will reach accelerated growth with a yearly growth of 23 percent through to over $100bn by 2023 and, reach over $150bn by 2026 (IDTechEx, 2016)
Be it smart watches, smart glasses, smart headsets, smart weighing scales or any smart gadget, all of these still function in coherence with smartphone apps. At this stage in time where the technology is still fairly new, the year will see no change in this interdependence.
However, what's intriguing is to look out for new smart devices and what they have to offer. SkyBell has just released their HD Wifi Video doorbell which also integrates with Amazon Alexa. CNET has covered the other smart devices that 2018 if this is of much interest to you.
Virtual Reality (VR) and Augmented Reality (AR) apps
So far, VR and AR has established its footprint in the gaming space and tested waters in other areas. However, the industry will now begin to focus on serious business with both, virtual reality and augmented reality having reached a more mature state in the market. It is also predicted that AR and VR will generate a revenue of USD 150 million by the year 2020.
Companies are now working on releasing AR and VR apps if it suits their business needs. Industries like real estate, healthcare, engineering and retail find a great fit with this technology and good initial progress can be expected in all these sectors especially with Apple and Google working towards publishing tools and libraries to make it easier to develop VR and AR apps.
Internet Of Things (IOT)
Internet Of Things is nothing but the interconnection via the Internet of computing devices embedded in everyday objects, enabling them to send and receive data.
The fields of Machine Learning, NLP and Artificial Intelligence have been rigorously explored to analyse complex patterns based on the app usage and data to support IOT. Insightful conclusions drawn from these have taken the Internet Of Things a notch higher in execution.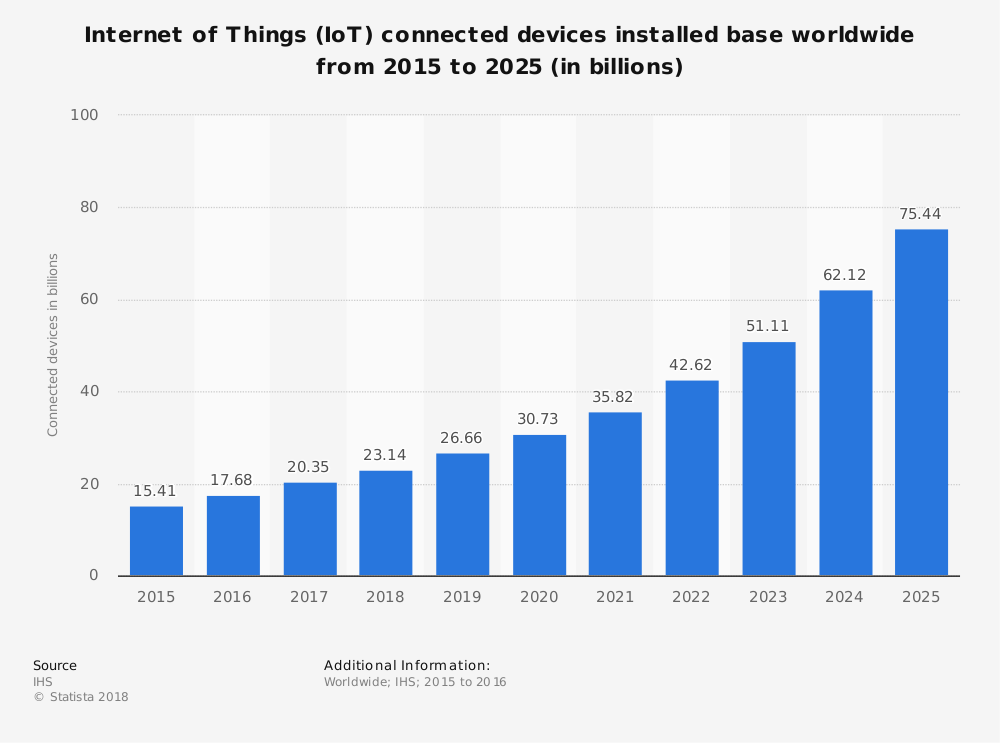 The continuously evolving Internet Of Things has been in the pilot phase for a while now and will see a change in 2018. Companies that were waiting to realise the proof of concept of the new technology, will now start incorporating IOT based applications within their business to maximise their opportunities.
Besides, IOT is also hitting the hands of end consumers to bring about an extra layer of comfort and convenience. Devices like Amazon Alexa that are compatible with other home appliances like LED lights, speakers, doorbells and more make life a living heaven. With more and more going to be added to the kitty, the party is only going to get better.
The best part of the story is the ease of availability. All these appliances are now easily available on e-commerce stores. Those with the spending capacity and willingness to shell out a few extra pounds for a great level of comfort are going to be the greatest contributors at this early stage.
Coming to the app scenario, as of today, the smartphones are controlling IOT devices and for this reason, there will be a deeper integration of mobile apps with everything that has got to do with these devices.
Apps – now a must have for businesses
What was once nice to have for businesses, is now more of an essential. People's spend on mobile devices have almost doubled in the US over the last 4 years and the other countries aren't very different in approaching similar m-commerce trends. Statistics show that 90% of the mobile time is spent on apps and only the remaining 10% is spent on browsers.
An intelligent way of doing business is to be where your consumers are and apps make this a possibility for businesses. Besides, people feel more secure while paying through apps than through browsers. Therefore, more and more businesses are working towards releasing their own versions of apps.
Having discussed all of the things mentioned above, one may be curious to know if the current state of smartphone infrastructure is good enough to accommodate and process all these apps. In an economy where price is still a sensitive pain point, it is true that many mobile devices still come with limited memory space.
However, a few players in the app space are catering services to solve for this problem. Google with the launch of 'instant apps' lets the user try the mobile app using the play store and download it only if they feel the need and have the requisite storage.
Other players like AppBrowzer have built a fully fledged app for this purpose, which not only allows you to try the app but also quickly access your frequently used apps, get exclusive deals and more.
The app essentially houses several apps that cater to different purposes like reading news, booking cabs, online shopping, paying bills etc. For example, you can use both your Uber and Ola whenever required without having to download it and list it on your frequently used app list.
The best part with such apps is that the app auto updates all of its apps thereby not only saving memory on phone but also data. This, among the others, is a much needed trend that is prone to flourish in 2018. All in one apps like AppBrowzer enables mobile phone users to enjoy the perks of as many apps as possible without having to compromise.
So, looks like this year is going to witness some interesting innovations in the app space. Only time can tell us about the success of implementation under each of these verticals. Let's wait to find out how App Store and Google Play are going to take us by surprise this time along.
Also Read: 2018 Smartphone Trends For The Indian Mobile Market
(Disclaimer: This is a guest post submitted on Techstory by the mentioned authors.All the contents and images in the article have been provided to Techstory by the authors of the article. Techstory is not responsible or liable for any content in this article.)
About The Author:
AppBrowzer is an app technology startup based in Bangalore and has built a unique first of the kind technology – Express App Store. It essentially lets one use 200+ popular apps without the need of downloading them.
It has also developed a builder platform that can be used to create rich mobile apps in 5 mins, apps that make use of existing web technologies and render as native apps, in turn providing native experience. This lets developers and businesses build express apps easily and quickly using their SDK or the platform.
Comments
comments