From DVDs to VOD, the video market is not the one which it was a decade ago. The viral growth of video market sees viewers as the beneficiaries leaving video on demand service providers and content creators puzzled about finding lucrative ways to monetize.
For recorded videos, there are multiple monetization ideas like SVOD, TVOD, AVOD and Pay Per View (PPV) however, for live streaming, the monetization routes are comparatively less.
Why is monetizing live video streaming hard?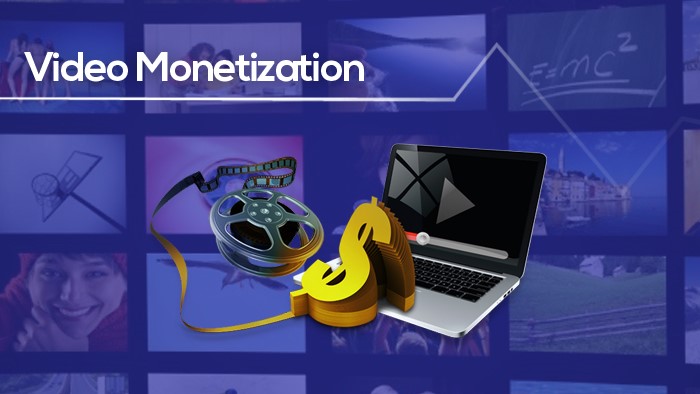 Is it the scarcity of viewership. No. Live streaming is all about premiering the event as and when it happens. So, the window for monetizing is narrowed down only to the premiering time .
Once it is done, the whole show loses its fizz making it hard to repeatedly make money out of it through PPV or subscriptions like in the case of post date viewing.
How to monetize videos streamed live?
Video on demand solution comes with loads of technical excellence but when it comes to monetization, you'll have to come up with your own strategies.
Apart from Pay Per View and subscriptions, there are a few more routes for live streamers to get their efforts paid. A few among these may be quite far fetching but the chances of monetizing are really on.
Focus on data, not the content
By saying data monetization we mean the insights on data like demographics, viewership, average time spent watching and more. Here the revenue providers will be the marketing agencies and brands who place ads during your live stream.
Also check: live stream and get paid
Also Read: 4 Tips For Hosting An Unforgettable Marketing Event
Data like demographics of viewers can help in providing valuable information for marketing agencies on people from what age group have watched the live streaming so that they can strategize accordingly. This way of leveraging on data instead of content is a fine alternative to monetize through live videos.
You get to provide the live streaming service free for the users and still earn revenue. Free live streaming content more viewership which in turn provides more data to capitalize on. However, you should be investing more on highly advanced analytical tools which extract useful insights which can be turned into dollars.
Start free, end getting paid
The 'Free' tag is alway attractive. Do not waste it by putting a price tag on your live video streaming promo ads. Begin free and after a point of time you can ask viewers to pay money to continue watching.
Else, a more direct way could be linking a purchase channel related to the content being live streamed. For instance, if you are live streaming the red carpet event of a movie premiere, you can add links to buying merchandize related to it. You can tie up with ecommerce store selling those merchandize if you find setting up your own payment gateway and storefront difficult.
Either of these two will work.
Earn via Sponsorship and Sponsored Content
Find sponsors to stream your contents. Ads are different from sponsorships, especially in the pay scale. Lure those who could benefit or support the cause of your live streaming event to sponsor the event. Sponsored events bring in a lot of buzz as with involvements of more brands, can earn the much needed hype a live streaming deserves.
Sponsored content is providing special placements for ads much similar to paid promotions in Facebook and Twitter. Primetime slots can be sold like hotcakes to marketers as they provide great exposure to brands among their target audience.
Create VOD assets
Though live streaming loses its fizz a little bit once done, there are always going to be viewers longing to watch it after a content being aired live. Capitalize on this bunch by creating recorded video assets which can be streamed to them for a price. Here you can take all VOD monetization routes like SVOD, TVOD, AVOD and more.
Based on the success of the live streaming content, the value of its VOD assets increases. This gives you a better idea to price the asset and make the most out of it.
Capitalize on affiliates user base
Turn to affiliates to help your streaming effort reach a large number of users. Affiliates are going to be ready to feature your player in their website or live streaming app as it brings traffic and they get to share profits with you.
If you are a newbie, or a budding player in the live streaming space, partnering with affiliates can help you get the targeted revenue and reach as well.
Celebrities to the rescue
Streaming a sporting event or an awards night or anything of that sort with high profile celebrities in it can be leveraged in an additional way for revenue.
Go for a webinar like session, for instance a post match presentation or interview where fans can get to interact with the celebrities up close and personal. Such opportunities can draw more attention and eventually subscribers to your live streaming.
Related Read: 7 Influencer Marketing Insights You Need To Know Today!
To implement all the monetizing strategies, you need to get a few things right so that everything goes according to your plan. Here are some of the pre-live streaming preparations that should not be missed.
Preparing for live streaming success
Early promotion
Promote early. Take your promotion to social media. It's cheap and powerful enough to get the much needed attention for your live streaming project. Promotion can be of any sort like creating posters, posts connected to the event. Poll questions and contests can be handy to create a buzz about the live streaming.
Pre orders
Take pre bookings. Provide the convenience of booking slots early for your viewers. Your first set of audience will turn into your brand advocates and do the talking with friends to get them onboard as well.
Technical backup
Be technically equipped. Mistakes are too costly in a live streaming attempt. Remember, a single technical issue will irreversibly tarnish your brand image. Technical setup can be difficult. Go for a live streaming platform that can get this done for you. For configuring the platform, you have experts in the market.
Make sure it's highly secured and has a perfect payment gateway with multiple currency support to make payments easily.
Customer support
Have a customer support panel where people can clarify their doubts. A dedicated customer support team is good. Else you can go for a chatbot which provides automatic response based on user's questions.
Also Read: Online Marketing Bots Are To Drive The Next Wave Of Marketing
Chatbot is an one time investment which will help you save on support team operational cost. As Chatbots posses artificial intelligence and machine learning, your users get to feel like they are interacting with a person.
Membership
Membership can help you build a loyal user base. You can go for discounts on live streaming fee for subscribed members which will make them stay for long. More subscribed users = More views.
Tapping in on the right monetizing stream for live streaming videos is a tough part but with experimental efforts you can zero in on what works for you. Entertainment is the best crowd puller but if your live streaming content falls in some other category, make sure you choose the monetization ideas appropriate to that. Happy monetizing!
(Disclaimer: This is a guest post submitted on Techstory by mentioned authors. All the contents and images in the article have been provided to Techstory by the authors of the article. Techstory is not responsible or liable for any content in this article.)
Image Source: tubularinsights.com
About The Author:
Vakula Chetty is a passionate writer with expertise in mobile, web and cloud domains. She loves writing about latest technologies and keeps stumbling upon emerging trends. You can find her on Twitter and LinkedIn.
Comments
comments