Simplify the transfer of money – that's the mantra in the minds behind Moneytis – the one stop solution to compare and use the best money transfer offers from all providers. It takes a couple of clicks and you are sure to find the cheapest, the fastest and the easiest service.
International money transfer is one of those old industries that haven't really kept up with the fast paced internet revolution that allows for unbelievable percolation of the service sector in every nook and cranny of the world.  Active since November 2014, Moneytis is a digital platform for money transfers, which aims to inform people and reduce the cost of sending money abroad.
Why does Moneytis exist?
Sending money abroad is still really complex. Moneytis is a project on which a couple of expatriates started working in 2014, to answer one perpetual question – how to transfer one's money and get the best deal? There were so many solutions, so many that couldn't be trusted, and not one which had a worldwide presence. Moneytis believes that money transfers should be more transparent. Indeed people lose more than $34 billion in hidden bank fees, particularly in the exchange rate, every year in a $600 billion market.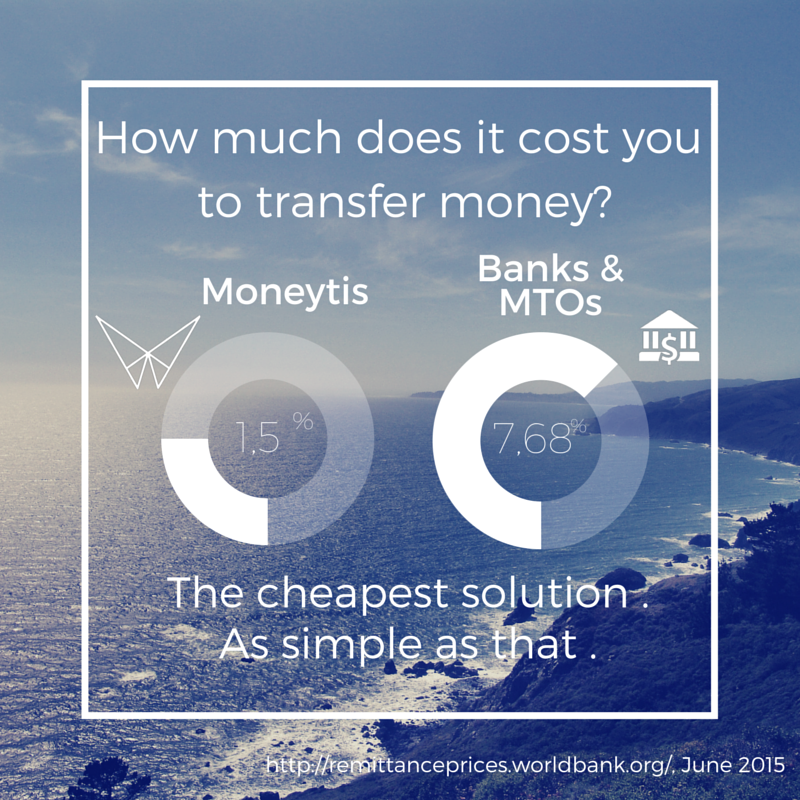 Using a transparent service helps to make the best choice in terms of easiness, cost and delays. And thus, Moneytis was created to fix this.
How it all Started
According to Moneytis co-founder, Etienne Tatur, the idea behind Moneytis came to him after having a difficult time sending money to a friend in China. According to Tatur, he had hard time finding out if his bank would do the transfer and then how much it would cost. After figuring it all out and sending the transfer, he was hit by a sudden change in the foreign exchange rate, adding a huge unseen cost.
When the time came to send his money again, he decided that he would use bitcoin, which turned out to be more complex, but cheaper. The bitcoin transfer was enough to inspire Moneytis and make a bitcoin-based solutions without the user-experience issues. Since then, Tatur and his co-founder Christophe Lassuyt have been developing the company's money-transfer technology and refining its user experience.
We worked in 4 different continents and suffered from money transfer opacity. We ourselves lost thousands of dollars. That's the first reason why we started. Then our friends supported us. Our communities as well.
Moneytis stands apart from the pack
Both Fintech startups and other money comparison services, all tend to seduce the same customers in the market that is growing annually at little over 5%. In the next 10 years there could be around a 1000 actors in a $1000 billion market. What sets Moneytis apart is its tryst with simplicity. It also works with the latest technologies to help transfer money abroad. This results in cost being driven down and the speeds up the entire process.
Comparing the best and safest operators in real time makes the comparison 100% accurate and by harnessing all available operators, Moneytis has created the most global solution available.
The platform is free for individuals. The company is really attentive to avoid any conflict of interest, and will never suggest a solution as the best, if there is no verifiable metrics.

The founders
Christophe Lassuyt has various experiences as international finance manager, in America, Europe & Asia. In his words "I work on Moneytis project because I believe that money transfer data should be shared transparently. People should not be screwed up by bank hidden fees".
Etienne Tatur has been the CTO of various cross-border startups. He believes that "Sending money abroad should be simple and free. I'm working on Moneytis to make this happen as fast as possible"
The Future Beckons
After Mexico, Geneva, Paris and Amsterdam, the Moneytis team is now located in Lisbon. The revenues have doubled every month since the beginning of 2016. In the first quarter 2017 Moneytis expects to raise more money than the $ 400 thousand. Both location changes and revenues growth motivate them to go further with this ambitious project. According to the team, learning to deal with a bank (ING Bank), and getting support from them was a challenge. But they won the ING acceleration program and started partnerships with the bank.
Related Read: 4 Benefits Of Availing Online Financing Through Fintech Companies !
The team also worked on a side-project a few years ago. It has been released early 2016. It's a fun and complementary project as it's called Neomy.io – simply a robot-girl who loves exchange rates and sends notifications when there are good moments to exchange money, according to exchange rates and users' needs. Moneytis is very proud of her.
We are still going to grow. You can expect people and organizations to share the transparency missions in the coming months.
Comments
comments