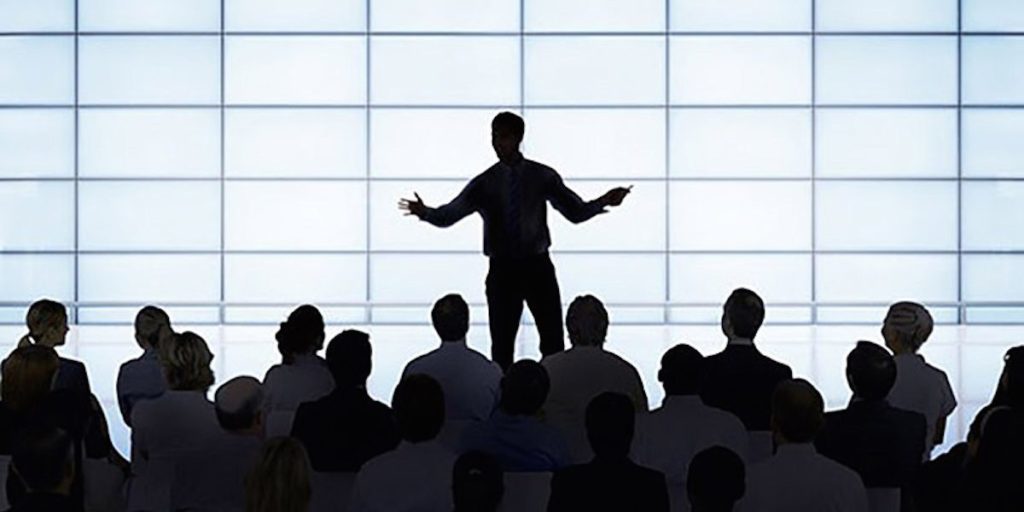 There is no doubt that MSL field forces are on the rise. Declining access to HCPs for commercial reps, the rapidly evolving healthcare landscape with the emergence of new stakeholders and the increasing complexity of scientific information that needs to be translated into clinical practice drive the development of larger field medical organizations.
According to a study by ZS Associates from 2017, Oncology MSL teams in the US grew by 31% and Immunology MSL teams by 28% from 2014 to 2016.
With the significant investments in MSLs and other Medical roles, this part of the customer facing pharmaceutical value chain becomes more and more subject to standardization across brands and countries/geographies and process respectively outcome evaluation and optimization are being introduced as the increase in "MSL Excellence" functions clearly shows.
At D2L we have taken a look at MSL Excellence from a KOL data perspective.
Up to date information on a KOL's activities, e.g. recent publications or medical meeting presentations, research focus, etc. are vital for a MSL's meeting preparation in order to be able to have meaningful "peer-to-peer" conversations with Scientific Leaders. Recently conducted research by the MSL Society (many thanks to Dr. Samuel Dyer for providing the data) revealed the following:
Being asked…
"Typically, how much time do you spend conducting external research (i.e. not company resources) utilizing internet searches of a KOL's profile and background prior to meeting in person for the first time?"
…MSLs answered:
D2L also asked MSLs how much time they spend per week on researching KOL related information in general and the result of an average of 2-4 hours per week is fully in line with the MSL Society findings.
In other words there is compelling evidence that an average MSL spends 5% to up to 10 % of his or her available weekly working hours googling KOLs.
From an operational excellence point of view this is probably not the best use of the time of a highly specialized and trained resource whose core competency is to deliver scientific information. Particularly not if there are data and technical solutions available that can reduce "KOL information gathering" time significantly.
The following illustration provides an overview of different solution types: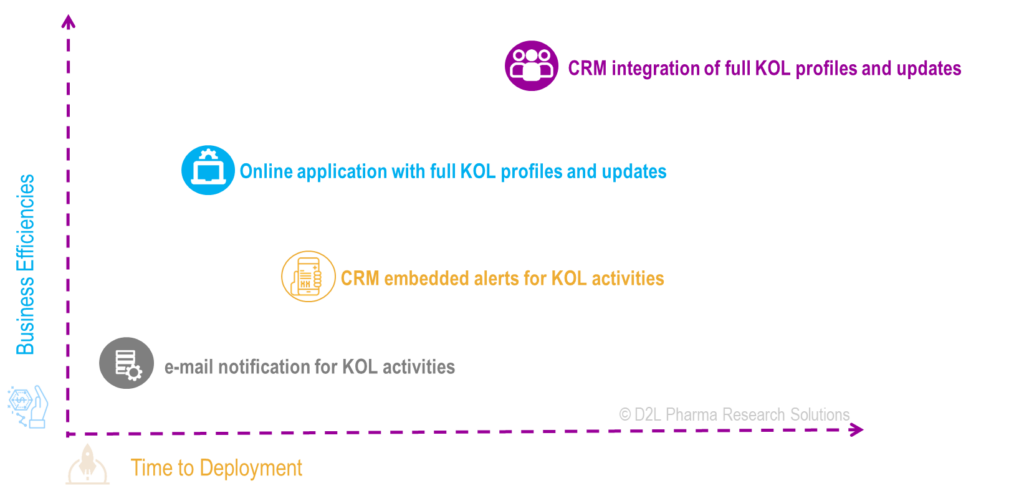 The easiest is an e-mail notification service for KOL activities. Whenever a new activity (data point) for a defined set of KOLs (e.g. in an MSL's territory) becomes publicly available, the information is captured and processed and sent to the respective MSL as an e-mail alert.
CRM embedded alerts work the same way with the only difference that they are fed directly into the MSL CRM system. Both "news services" do not provide full KOL profiles or any search, filter, segmentation functionalities but are easy and fast to implement.
Solutions with full KOL profiles and updates fall into two groups:
An online KOL application is comparatively easy to deploy. This would only require some user training and business activation to ensure user adoption. One key advantage is that access to the application could also be granted to non-MSL users, e.g. Medical Affairs.
Available systems also provide searching and segmentation functionalities. Downside is that users need to operate two separate applications (KOL and CRM) thus limiting business efficiencies.
The other approach would be a complete CRM integration of KOL profiles. Modern CRM systems offer field medical specific applications which are prepared for holding KOL activity data like publication, presentations, clinical trials, etc. This way users would have KOL information available at their fingertips in the system they use on a daily basis.
On the other hand technical complexities need to be addressed for implementation like customer master data match and merge, CRM configuration, access rights, etc. so time to deployment is the longest of all four solutions.
From a KOL data perspective MSL Excellence can be improved significantly, there is no reason for allocating MSLs' time to KOL data research. With a combination of technology and experienced manpower all relevant KOL data can be captured, processed and delivered in a compliant and economic way.
Also Read: Digital KOLs – empowering your Brand Initiatives