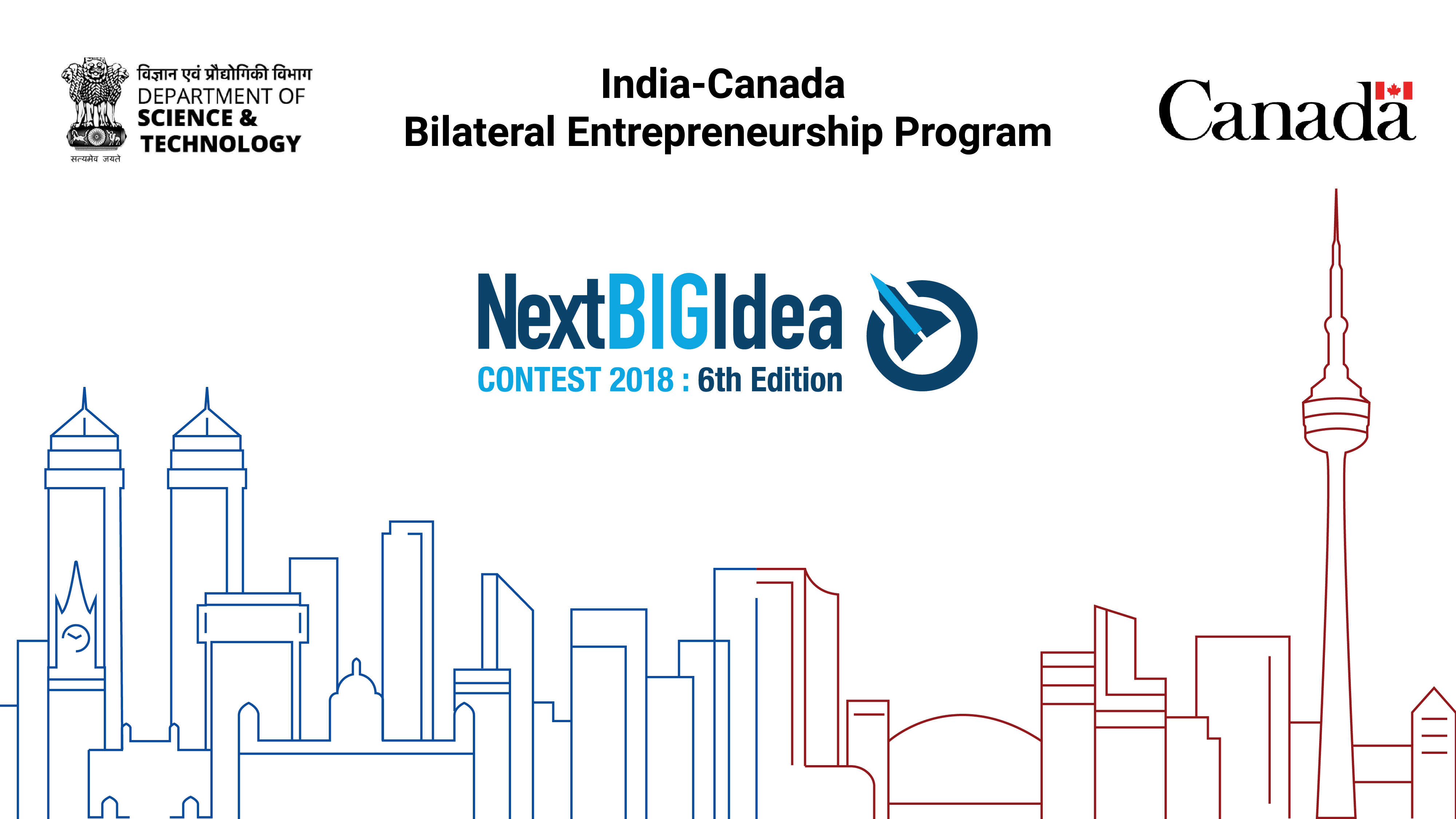 24 October 2018, India:
Next Big Idea 2018 has shortlisted 13 startups for Indo-Canada Bilateral Entrepreneurship exchange program. Next BIG Idea (NBI) Contest has been operated by startup accelerator Zone Startups India.
The startups selected for 2018 edition are Appmaker, Bitryt Solutions Private Limited, PerfectFit Systems, Trendlyne (Giskard Datatech Private Limited), Detect Technologies, Oizom Instruments, IBSFINtech India, Bitonic Technology Labs (Yellow messenger), Lendfoundry,  Pingal Technologies, Relatas, SIBIA Analytics and Wobot Intelligence.
Dr. Naveen Vasishta, Scientist E, NEB Division, Department of Science and Technology, said "The Department of Science and Technology, GOI is partnering with the Department of Innovation, Science and Economic Development, Canada to accelerate the growth of emerging hi-potential technology startups from India & Canada. Under the program, the selected companies will be visiting Canada for a market access program to collaborate and develop product/solutions for the benefit of both Indian & Canadian economy. It was a great experience to see the top 50 companies selected for the boot camp were ready for the global expansion, we are happy to see such companies are emerging and Identified by Zone Startups India for the bilateral programs."
Ms. Tara Scheurwater, Acting Consul General and Senior Trade Commissioner, said, "I am pleased to welcome 13 Indian companies to Canada as part of the Next Big Idea contest. The companies will make connections that will help them build their businesses. At the same time, they will get to experience Canada's outstanding entrepreneurial ecosystem and our openness to ideas and people."
Ajay Ramasubramaniam, Director, Zone Startups India said, "Over the years, the Next BIG Idea contest has become an ecosystem development initiative for us, and leveraging our presence in Canada and India, we are able to provide a great market entry for India startups aspiring to tap into the North American economy. Being able to get the Next BIG Idea Contest to become a part of a larger cross-border initiative, supported by 2 Governments, is a major validation for us, with respect to building an international startup bridge. 1,100 applications is a lot, and it came by virtue to extensive roadshows conducted across 20 Indian cities – many of them being tier-2 and tier-3 cities. The fact that each year we are able to attract more applications, only shows the burgeoning reputation of the contest, and the increasing interest of Indian startups in Canada."
(Image – Next Big Idea)