Chat Bots are the Future
We essentially are progressing towards an era where computers, like humans, have begun to learn from experience and make decisions accordingly. Appropriately, we call it Machine Learning or Artificial intelligence- highly inter-dependent fields that they need each other to analyze and perform activities.
Artificial intelligence is a broad term referring to computers that are capable of essentially coming up with solutions to problems on their own. The information needed to get to the solution is coded and AI uses the data to come up with a solution.
On the other hand Machine Learning takes the process one step further. Machine learning is capable of generalizing information from large data sets, and then detects and extrapolates patterns in order to apply that information to new solutions and actions.
Machine Learning In Cloud: Tools To Harness Artificial Intelligence
Moreover, the messaging app is the most popular app on smartphones today. In an emerging trend, messaging apps are expanding scope to now subsume other services that were previously independent apps. For example, Wechat, the Chinese messaging app, and Line, the Japanese messaging app, and Facebook Messenger are gradually becoming full-fledged platforms. The Wechat and Line messaging apps, nay platforms, enable users to shop, order pizza, book a taxi, do banking, send payments, and just recently, even stock trading.
The alternative is emerging in the form of a new mobile paradigm that is rapidly gaining traction: Messaging is the new platform. Bots are the new apps.
Forget Apps ! Message Bots Are The Future of Customer Engagement !
Chat-bots are not a very recent update. A.I. chatbots like Siri, Cortana, Alexa and others are being used for long now but they all suffer from imperfect voice recognition and are unsatisfying to use. As per the reports in the Wall Street Journal, Google has been working on a messaging-based chat bot.
Consumers can expect launch of several chat bots platforms which would address the productive and commercial needs of them.
An artificial intelligence (AI) startup
Niki.ai is an Artificial Intelligence startup.
Brainchild of IIT Kharagpur alumni, Niki.ai was founded in April, 2015 by Shishir Modi, Sachin Jaiswal, Keshav Prawasi and Nitin Babel, and is headquartered in Bangalore.
Niki.ai's product Niki – niki.ai/app – an Android (mobile) app is an automated Ordering chat bot that helps you order anything in the shopping gamut. Niki understands human language in the context of products/ services that consumer would like to purchase, guides her along with recommendations to find the right service and completes the purchase with In-chat payment. Currently, it also performs end-to-end transactions on Recharge, Cab Booking & Bill Payments.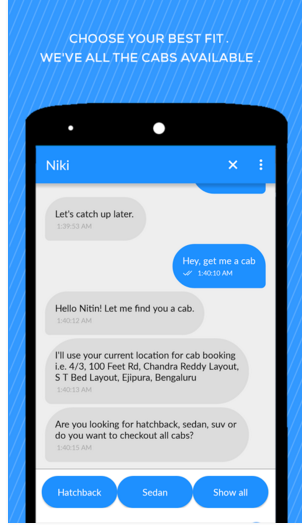 You can download the app here- Niki Android App
Just on a chat with Niki, you will be able to recharge phone, book cabs, order pizza, book travel tickets, book hotels, order food, laundry, appointments and others. Moreover, Niki will also provide you with additional services like recommendations, offers and arrange products and services especially tailored made according to your needs, by taking advantage of Natural Language Processing and Machine Learning.
Niki aims to be the ideal personal digital assistant and one-stop destination for ones all commerce needs – one that allows users to make smart shopping choices based on suggestions and recommendations thus avoiding the waste of time, strain, and the confusion.
Technology:
Currently, the focus of Niki is to enable search, discovery and confirmation through the platform.
The chat bot is essentially an application of artificial intelligence. The various elements of the chat bot are developed with incorporation of Natural Language Processing and Machine Learning Techniques. 
To understand the human language, Niki makes use of natural language processing and understands free text quarry. So if you are looking forward to book a cab, all you have to do it either speak to Niki 'book nearest cab' or just type it and work will be done.
Nikki also uses machine learning technique for correction. It understands human typo and corrects them based on the context.
Inspiration: 
The four founders Shishir, Sachin, Keshav and Nitin knew each other during the college days itself. They had worked together during the college days and ever since then were interested in starting something which implements cutting-edge technology.
Meanwhile, they got very keen on Artificial Intelligence. When they were looking for used cases of AI, they got the idea of building a chat bot. In February 2015, they started to interact with potential customers and industry experts to explore the potential. The founders received a positive response and were excited to start Niki .
Challenges:
After successfully launching its app, the company is looking to include more services. This addition of new features is definitely going to be a challenge at technology front. The other challenge is to find right set of talent for growth. Customer adoption is another challenge which Niki.ai is confronted with.
Funding:
In October 2015,  Niki.ai, raised an undisclosed amount of funding from Ronnie Screwvala led Unilazer Ventures. The amount raised will be invested in product development and expanding service offerings.
Growth: 
The company launched its app at in YourStory's TechSparks event last year and was one among awardees for the Tech 30.
Currently, it has a team size of 18 people.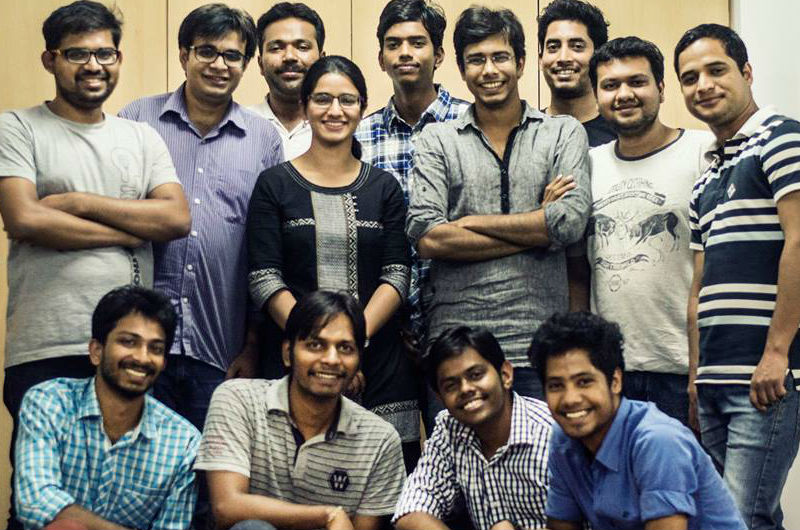 As of now, users can do recharge, bill payments, bookings through the app. In coming months, company is looking to add new services like support bus booking among others. It will also work towards enhancing voice recognition capabilities.
"Artificial Intelligence is at a very nascent stage in the country. We are still in phase of beta implementation. However, with onset of new technology driven startups, this is gradually catching pace. As soon as people will realize the potential, we can expect more such ventures to join the industry" says Sachin Jaiswal, Co-founder, Niki.ai.
Similar Reads:
How Sukruti Vadula's Robotics & Artificial Intelligence Foundation is creating a tech savvy generation !
Husband Wife duo – Anand and Ashwini are bringing the power of Artificial Intelligence to every mobile user !
Comments
comments