Prime Minister Narendra Modi today launched the Drone Festival of India 2022, a drone conference and expo in India. PM Modi started flying a drone manufactured by Asteria Aerospace Limited, a Bengaluru-based full-stack drone tech firm, during the conference.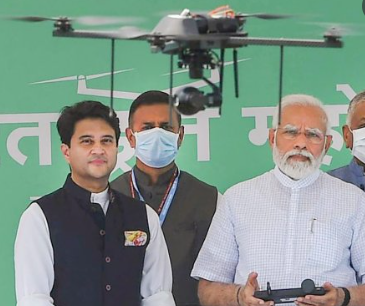 Asteria demonstrated its rugged, dependable, and performance-driven drones for security and surveillance, surveying, and inspection applications across industry sectors at the Drone Mahotsav 2022. Asteria also demonstrated SkyDeck, its cloud-based drone operations platform for delivering scalable Drone-as-a-Service solutions.
PM Modi flew one of Asteria's drones after inaugurating the event hosted by the Ministry of Civil Aviation and the Drone Federation of India. Asteria Aerospace co-founder Nihar Vartak stated that this event is an excellent opportunity for the company to showcase its technology and solutions.
PM Modi stated during the event that the government of India will provide full support to the industry in order to make this vision come true. PM Modi also invited startups and manufacturers to help turn India into a drone technology hub.
Asteria Aerospace Limited is a drone technology company that provides actionable intelligence based on aerial data. Asteria uses its in-house hardware design, software development, and manufacturing capabilities to create highly customized drone solutions for government and enterprise customers. Asteria has been a trusted partner in the defense and homeland security, agriculture, oil and gas, energy & utilities, telecommunications, mining, and construction sectors, providing long-term, quality-focused, and reliable products and services.
Asteria Aerospace Ltd is a wholly-owned subsidiary of Jio Platforms Ltd, which is wholly owned by Reliance Industries Ltd.