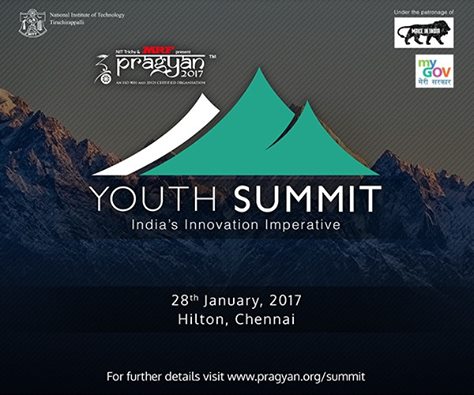 As a developing nation, India is striving to achieve distinction in various economic sectors. It is thus essential to create a successful development strategy which can build innovation capacities to address hurdles specific to the local contexts and ultimately fostering growth at the global level in a bottom-up approach.
With this in mind, Pragyan intends to deliver clearness to the youth populace by providing a platform for discussion through the Pragyan Youth Summit. This year, with the theme showcasing 'India's Innovation Imperative', the Summit aspires to galvanize this vision for the future. Hosting some of the top economists, policy makers, bureaucrats and innovators of the country, PYS aims to shed light on the progressing innovation landscape and debate on the snakes and ladders that will confront our country.
The Youth Summit will aim to dissect this imperative into two discussions in order to cover the various viewpoints involved. These two discussions will provide outlooks on Marching towards the Innovation Economy and Inclusive Innovation.
While the Indian economy is the fastest growing in the world, projections estimate that it won't be for long. While 2010-2020 has been declared as the Decade of Innovation, our country continues to lag behind neighbouring countries in a comparative look at innovation. The first panel will inspect the weak linkages between stakeholders coupled with poor infrastructure that are obstacles in the journey towards an innovation driven economy and deliberate whether heavy tinkering is required.
Inclusive innovation is defined as a novelty that leads to affordable access of quality goods and services creating livelihood opportunities for the excluded population, primarily at the base of the pyramid, and on a long term sustainable basis with a significant outreach. However, there is an abundance of issues which need to be addressed before its large scale implementation – policy changes have to be made on a drastic scale to incentivize inclusive innovation, and an efficient metric has to be constructed to quantify inclusive innovation. The second panel will debate and discuss these issues and their solutions.
The Pragyan Youth Summit will be held at the Hilton Hotel, Chennai on the 28th of January, 2017.
Also Read: Make In India But Can India Make It ? – Pragyan's Youth Business Summit Discussion !
Comments
comments