Titled Spare– Prince Harry's memoir, has become the UK's fastest selling non-fiction book of a time. The autobiography of the Duke of Sussex was officially released on January 10 this year. On Tuesday, the publishers of the book said that they had sold around 400,000 copies so far across hardback, e-book and audio formats.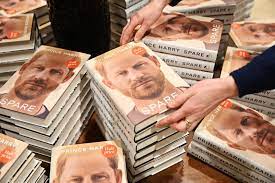 In a statement, Transworld Penguin Random House Managing Director Larry Finlay said, "We always knew this book would fly but it is exceeding even our most bullish expectations. As far as we know, the only books to have sold more in their first day are those starring the other Harry (Potter)."
The controversial memoir Spare has made headlines in the weeks leading up to its publication, finally hitting the shelves on Tuesday. Figures include sales for hardbacks, ebooks and audiobooks.
The tell-all autobiography claims that Prince William physically attacked him. Harry also accused his father, King Charles, of putting his own interests first.
In his latest TV interview to promote the book, the prince pointed the finger at the Queen Consort, Camilla, over allegations he had been "sacrificed on her personal PR altar".
In an interview with Good Morning America, the couple was asked if they could return to the royal fold, he said he did not think "it's ever going to be possible".
"Even if there is an agreement, or an arrangement between me and my family, there is that third party that is going to do everything they can to make sure that isn't possible," he told the host, Michael Strahan, implying he was referring to the media and competing royal press offices.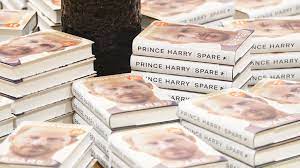 Prince Harry said he believed his late mother would be heartbroken over the rift that has developed between him and his brother William. "I think she would be sad … she would be heartbroken."
In the UK, bookshops opened early on Tuesday but queues were sparse after leaks before of the publication, with industry experts predicting Spare would be one of the bestselling pre-order titles of the past decade.
It is being sold for £14, not the recommended retail price of £28, in places such as Waterstones and WH Smith, as well as on Amazon.
The editor of the Bookseller, Philip Jones, told the PA news agency it is "quite normal" to have a "big hardback" that booksellers think will do well sold at half price by major retailers.
Speaking before the sales announcement, Jones said he believed Waterstones when the retailer said Spare had been one of its biggest pre-order titles of the past decade. He further added: "It is likely to be one of the biggest books of the year in terms of sales and impact."