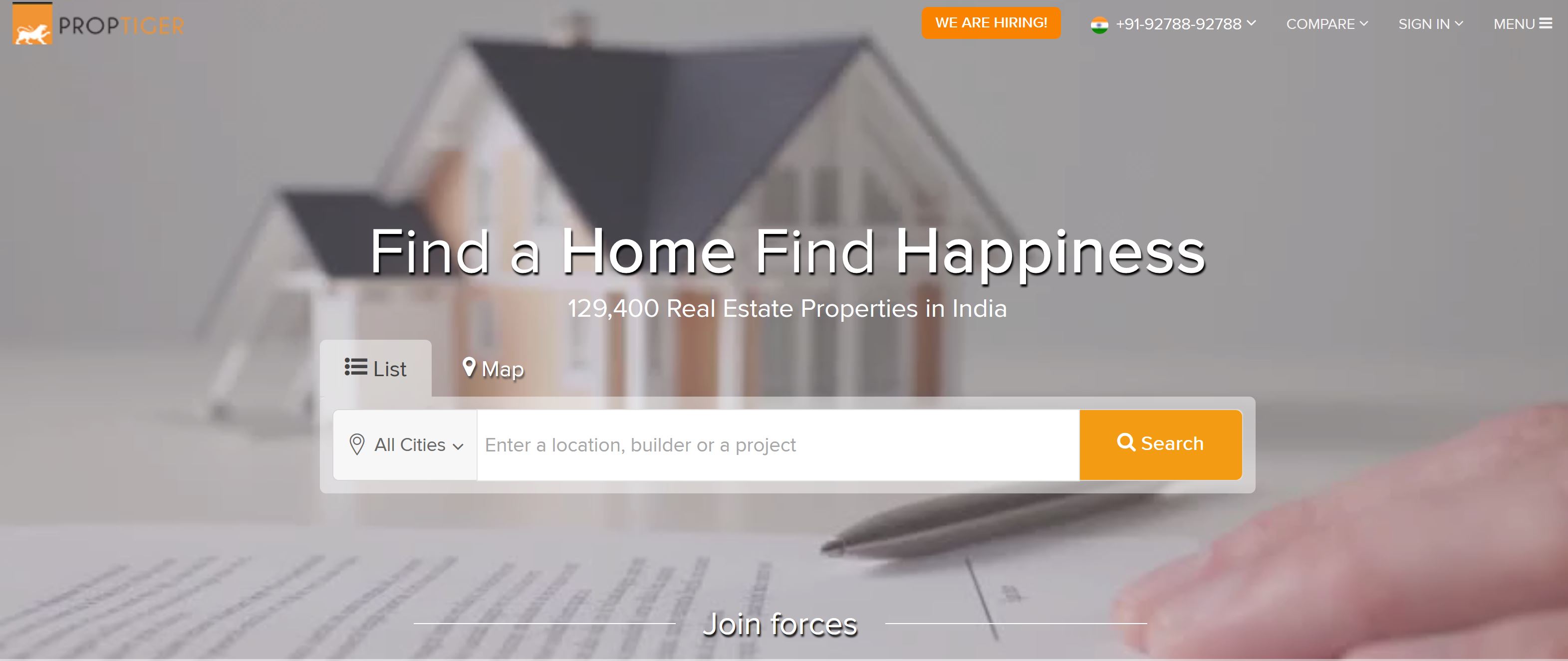 Online real estate market in Indi is heating up with Magicbricks, 99acres, Commonfloor, Indiaproperty, Housing and Proptiger  fighting it out for the no 1 spot. In this interview with Dhruv Agarwala of PropTiger, we discuss some of the trends in online real estate space, about the happenings at PropTiger post the News Corp deal and their plans for the future !
Online Real Estate Market In India
The real estate market in India is not doing all that well right now. The world of online real estate portals however seems to be witnessing a completely different story. There has been a lot of influx of competition in the real estate portals domain in the last 4 to 5 years. The reason for this seem to be obvious. There has been and will be a lot of influx of population into Indian cities thus creating a large demand for homes in the cities. Home is a big ticket requirement that every individual will purchase atleast once in a lifetime and therefore the Home Buying segment surely seems to be a big opportunity. According to a Google study 53% of current property transactions are digitally informed and this number is expected to increase as the country becomes more and more digitally savvy.
Magicbricks, 99acres, Commonfloor, Indiaproperty, Housing and Proptiger are some of the big players operating in this domain. Companies who have been around for a while such as 99acres and CommonFloor seem to be enjoying the leadership position in the industry as of now. Whereas in terms of number of transactions being done, IndiaHomes and PropTiger seem to be doing very well and are also growing at a fast pace.
Although this segment has seen some huge investments, firms have not been able to become profitable as yet. 99acres  is the only firm that made some profits back in 2012. Each of the site follows a different revenue model and has been trying to collect the most authentic data and build related services in order to make sure that the process of buying or renting property is made smoother for the consumers.
Online real estate is expected to follow the same story that e-commerce and travel segments have seen in India. The market obviously cannot sustain 8 to 10 big players and is expected to see some consolidation. The process seems to have begun with the acquisition of Makaan by PropTiger in April 2015.
The PropTiger Story
PropTiger was started in 2011 by Dhruv Agarwala, Kartik Varma & Prashan Agarwal.  Unlike most other sites that act as directories of property listings, PropTiger provides a lot of additional information to home buyers by hand holding them in their journey from beginning to end of their purchase process.
Their large data teams collect information on the ground and their various products such as livability scores that compare properties in a neighbourhood, a property portfolio tracker that keeps a watch on performance of property investments and up-to-date construction and neighbourhood pictures , makes PropTiger a unique player in the property portal domain.
"Online is the best way to search and discover property. Finding information online also makes the offline process much easier. We therefore are always working on making sure that the most accurate data is presented to buyers when they are looking for homes online. We have a huge focus on data collection and analysis at PropTiger, " said Dhruv Agarwala in an interview with Techstory.
The company makes its revenue through online classifieds, advertising and property buying. A lot of people who are buying a second home as an investment and are not planning to live in that house are even buying homes online. This number is also expected to increase in the future.
Proptiger today has sold more than 12000 properties through its sites with a total sale value of about $1.2 billion. PropTiger today has 800 employees spread across 10 cities in India.
Investment by News Corp & Acquisitions of Makaan, Out of Box
The big investment happened in PropTiger in November 2014 when NewsCorp picked up 25 % stake for $30 million, or Rs 183 crore (Rs 1.83 billion), in Elara Technologies, the parent company of PropTiger. This also marked the entry of News Corp in the Indian market. In June 2015, News corp increased its stake to 30%.
Post the funding by News Corp, Prop Tiger acquired Makaan in April 2015. Makaan, founded in 2007, was one of the first online real estate marketplaces in India. Post the acquisition of Makaan, PropTiger also started listing property on their site and today there are more than 350,000 property listings across Makaan and PropTiger. The combination of PropTiger and Makaan is expected to create a complete portfolio of services for home buyers and is expected to create a force to reckon with in the Indian online real estate segment.
In April 2015, PropTiger also acquired Out of Box Interaction, a user interface design firm, for an undisclosed amount. Out of Box currently provides marketing products for real estate projects such as Android and iOS apps with features like augmented reality, multi-touch kiosks, tables and screen for presentation at marketing offices and property expos, interactive 'video wall' and lead tracking software etc. This also enforces PropTiger's commitment to make the best of information available to their users.
Future Plans
The company is currently focused on product and innovation side and is working on adding more and more innovative features to their product to help consumers, partners and their sales team. The company might also acquire an enterprise in the tech space to aid their innovation. The company is also planning a sales force expansion in the coming future.
Mobile is an integral part of the company's strategy as more than 50% of their traffic now comes from mobiles. More and more property search is originating from mobile and therefore mobile is also an integral plan of the company's roadmap going forward. The company will also look to build more and more capabilities on mobile going forward.
Comments
comments