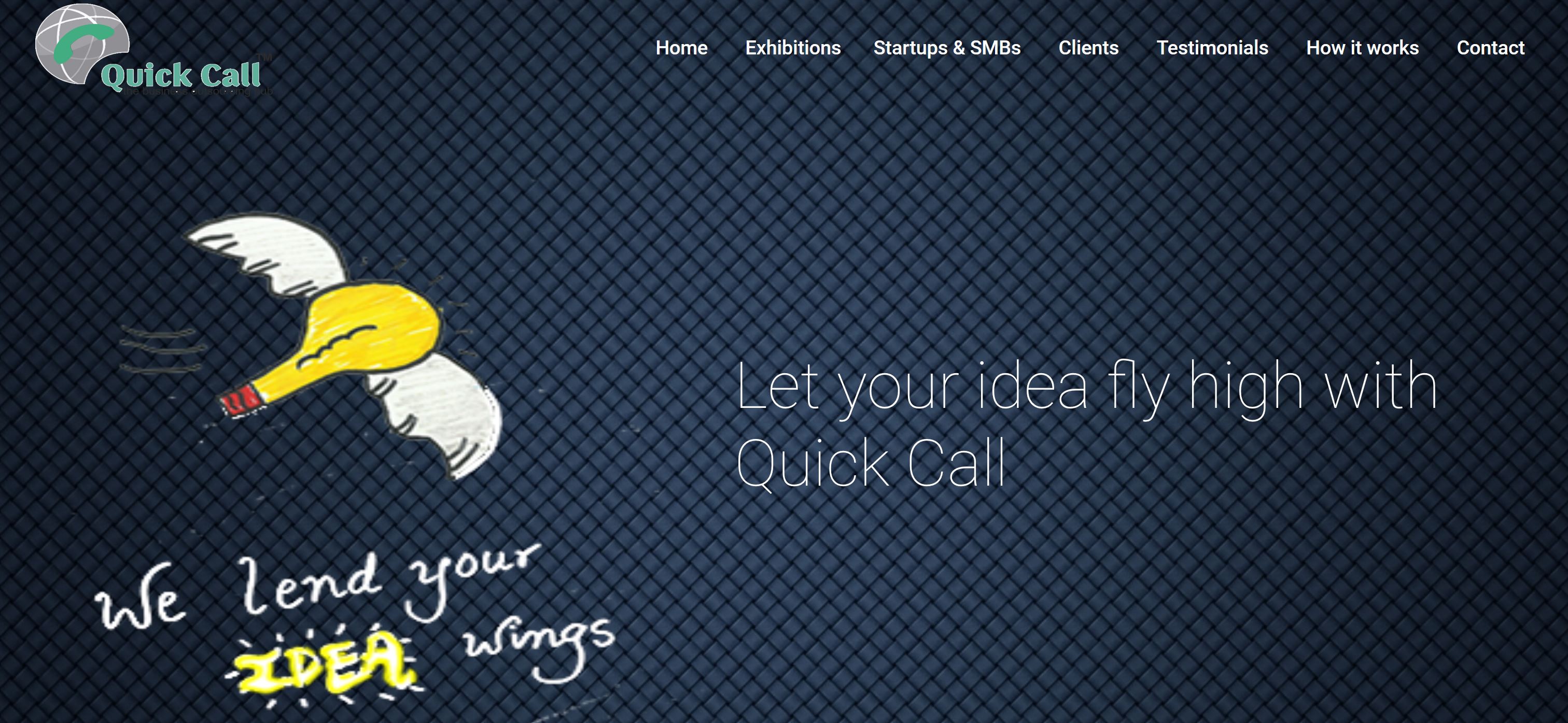 Most of the times, startups and businesses in their early stages face numerous problems which hinder their progress. Paving their way to success on their own happens once in a blue moon. Quick Call is one company which extends its hands to these startups providing quick, easy and low cost outsourcing solutions in customer care, business research and business development. It is the helping hand of any firm which is looking to scale rapidly and cover market quickly without the hassle of hiring, tracking and managing employees. It allows you to focus on your vision and increase profits by taking up all your organizational tasks on project basis.
The founder of Quick Call, Neeraj Tyagi, having an experience of around 6 years of working in enterprises sales in telecom sector and across several telecom majors including Tata Group and Sify Technologies, started this company in April 2014. Having an initial idea of starting a corporate training venture, he believed that the greatest impediment to execution or testing viability of any idea was having dedicated manpower and office space, and witnessed struggles of tons of startups with the same issues. With an aim to find a solution to these problems, he founded Quick Call as a tool to bring any idea to execution with its disruptive offerings to managing almost all functions of an organisation, from customer care to business development, and business research to network development and revenue collection.

Outsourcing with Quick Call doesn't mean the general per agent per shift charges, but commercials, deliverables & SLAs are decided on project basis and they take complete ownership for execution with utmost confidentiality. The kind of projects they do range from attaching taxi drivers to aggregator apps, getting sellers to register on mushrooming e-commerce portals, selling exhibition space and a lot more. Manpower resources at Quick Call are shared across processes which increases their efficiency keeping them in the race. Also, the net cost of a project to each client works out much cheaper than inhouse as well as traditional per agent per shift outsourcing.
"The biggest challenge exhibition organisers today face is the inability to hire and train manpower to address the spike in activities as the event approaches. Moreover, the hired manpower & infrastructure would sit idle after the exhibition is over. To address this issue, we bring its offerings to the table which include setting up a 24×7 event customer care, event outgoing campaigns, event research & event sales. All on pay per project basis not on traditional per agent per shift basis.
Similar is the case with flourishing start-ups & SMBs. Manpower costs combined with overhead expenses per employee really make it difficult for a small organisation to scale and cover market quickly. To this effect, we have solutions like 24×7 customer care, Business Research & Outsourced Business Development for start-ups & SMBs." says Neeraj
As per a study by Gartner, domestic BPO market is currently worth $3billion growing 25% every year. With such a huge market and increasing number of startups and firms, Quick Call seems to make its way swiftly. On top of this, there is hardly anybody who offers the same service as them in India on their business model. Having acquired more than 20 customers so far, their client list includes some of the biggest exhibition organisers in lndia like Fairfest Media Limited (Owner of brands TTF, OTM & Travel Digest) and Indian Exhibition Industry Association.
"When I  started last year, I only had a vague idea of what I want to do but certainly had no clue of where we have reached today. Initially we worked for free, we worked for NGOs we experimented with all sorts of things. We are no longer doing a lot of things which we did when we started last year but none of those things have gone waste and we have been able to find our niche in the market as a fallout of each of the challenges we faced. So, at the end of the day its not about a great idea and a fascinating business plan is, its rather about your perseverance and resourcefulness to make headway through dead ends", adds Neeraj.
Currently, Quick Call is a team of 12 people with monthly revenues of over 4.5 lacs, projected to grow at 15% month on month. They are adding 3-5 new customers every month and their annual revenues this financial year are expected to touch INR 1cr. Starting next quarter, they look to equip ourselves with technical resources who would work on customer project in analytics, big data and digital marketing. They are open to investment in their organisation but are not actively on the lookout for VCs.
Comments
comments