The founder of Paytm, Mr. Vijay Shekhar Sharma and the Minister of State for Skill Development and Entrepreneurship, Mr. Rajeev Chandrasekhar met at Mr. Chandrasekhar's office on the 10th of June.
Both men took pictures with each other posted on their Twitter accounts and they had nothing but praise for each other.
Mr. Vijay Sharma put up a selfie on his Twitter account of him and Mr. Chandrasekhar and typed out the caption saying that you never meet many people who takes their job very seriously but Mr. Chandrasekhar does.  He also pointed out a timer which Mr. Chandrasekhar put on his office wall which show cases the number of days left for his tenure and made sure the timer could be seen at the background of his selfie. He ended his caption by saying that it was an honour and privilege meeting someone like him and even referred to him as sir.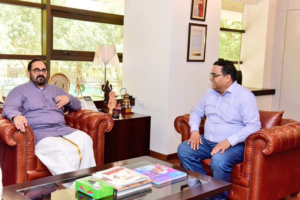 The post has been up for just under 19 hours and has gone to rack up close to 200 likes and has even gotten a few retweets.
However, the comments on the post could not match the vibe of the post. Paytm has been having a 2022 to forget which started when their initial public offering horribly failed with share prices dropping consistently ever since. The comments all spoke about the struggling company he is running telling him to focus more on that rather than meeting government officials. One comment told Mr. Sharma to repay all the investors who lost all of their money by investing in his company. Another comment told him that investors are suffering since the day they went public because of his actions.
Mr. Chandrasekhar posted a few candid pictures of him and Mr. Sharma sitting in their office and having a conversation with the caption saying that Mr. Sharma, the founder and chief executive officer of Paytm and him had a conversation in his office.
The tweet has been up for about 19 hours and has gone on to rake up close to 150 likes and has also gotten almost 10 retweets. The comments on the tweet have been mixed with some followers appreciating their meeting, while others spoke about why he is meeting Mr. Sharma when his start-up company is failing royally and is dropping in value consistently as the days go by.
Irrespective of what they spoke about, their meeting has had mixed reactions from the public.