Debit card users in Russia are being cautioned by their institutions that new United states and UK sanctions may prohibit their cards from operating abroad.
One day after the US and UK implemented broad additional sanctions allowing the denial of transactions from a list of Russian banking firms, emails from countless Russian banks instructed their customers to withdraw money as soon as possible from accounts associated with UnionPay-branded cards.
Some Russian institutions used the Chinese payment platform UnionPay before the war, and more did so when MasterCard and Visa left the nation after the invasion a year earlier.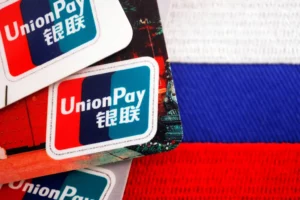 According to the United States Treasury Department, the penalties will enter into force in full on May 25.
"Due to the imposed sanctions, operations on your UnionPay card abroad may be suspended in the near future," Zenit Bank, which is included on the sanctioned list, wrote in a mass email, Russian business news channel RBC reported. "We recommend promptly withdrawing the necessary funds."
Other banks followed suit.
"If you are not in Russia, withdraw money from your UnionPay card. In the Russian Federation, all cards will work as usual, but difficulties may arise abroad: it is better to withdraw cash," a message from MTS Bank reportedly said.
Bank Saint Petersburg, Uralsib Bank, and Primorye Bank all issued similar advisories. The new list of sanctions includes five out of the twelve Russian UnionPay auto issuers overall.
According to Treasury Secretary Janet Yellen, the sanctions are meant to stop the flow of funds to Russia's armed forces in response to the current war.
"Over the past year, we have taken actions with a historic coalition of international partners to degrade Russia's military-industrial complex and reduce the revenues that it uses to fund its war," Yellen said in a press release Friday.
"Our sanctions have had both short-term and long-term impact, seen acutely in Russia's struggle to replenish its weapons and in its isolated economy,"
About UnionPay:
UnionPay is a Chinese government banking and finance with its headquarters in Shanghai. It is sometimes referred to as China UnionPay, CUP, or UPI worldwide. It offers bank card services and runs a significant card programme in mainland China.
China UnionPay, a group that represents the country's financial card sector, was established on March 26, 2002, with the People's Bank of China's blessing (PBOC, central bank of China).
It is the sole interbank network in China that connects all of the automated teller machines (ATMs) of all institutions, and it is also an electronic funds transfer at the point of sale (EFTPOS) network. In 180 nations and territories globally, UnionPay cards are eligible for use.