Using cryptocurrency on Russian soil would be prohibited by the Russian central bank, which cited concerns for financial stability, individual wellbeing, and the country's monetary policy autonomy.
The Russian central bank recommended a complete ban on all cryptocurrencies, citing threats to the country's economy and ecology.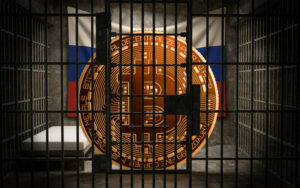 According to a paper released by the central bank on Thursday, cryptocurrency shows all the signs of a pyramid scheme and threatens monetary policy sovereignty. In addition, the bill targets mining, claiming that it violates Russia's green program, threatens the country's energy supply and compounds the bad consequences of cryptocurrencies by creating incentives to avoid regulation.
Russian Central Bank Propose Ban on Cryptocurrencies, Crypto Mining
On Thursday, Russia's central bank proposed prohibiting the usage and mining of cryptocurrencies on Russian soil, citing concerns to financial stability, residents' well-being, and the country's monetary policy autonomy.
For years, Russia has argued that cryptocurrency may be used to launder money or fund terrorists. In 2020, they were granted legal status, but their use as a form of payment was prohibited.
After Reuters reported, citing sources, that Russia's regulator was in favor of a blanket ban on cryptocurrencies, the price of bitcoin dropped in December. The central bank stated in a paper released on Thursday that speculative demand drove cryptocurrencies' rapid growth and that they had features of a financial pyramid, warning that market bubbles might jeopardize financial stability and citizens.
The bank proposed prohibiting financial institutions from engaging in any cryptocurrency transactions and suggested that measures be devised to limit transactions involving the purchase or sale of cryptocurrencies for fiat or traditional currencies. Crypto exchanges are included in the proposed prohibition.
According to the central bank, Russians are active cryptocurrency users, with an annual transaction volume of roughly $5 billion.
Russia is the world's third-largest bitcoin mining country, trailing only the United States and Kazakhstan, but the latter may see a miner exodus as a result of fears of tighter regulation following upheaval earlier this month.
Crypto mining, according to the central bank, is causing energy consumption issues. Bitcoin and other cryptocurrencies are created through a process known as "mining." "by powerful computers competing to solve complicated mathematical puzzles against others connected to a worldwide network The process consumes a lot of electricity and is frequently run on fossil fuels.
"The ideal option is to prohibit cryptocurrency mining in Russia," says one expert "According to the bank.
If you find this article informative then do share it with your friends and family!
Also read: Crypto.com CEO confirms of hundreds of accounts being hacked
Comments
comments