On Monday, the Nobel Prize in medicine was awarded to two remarkable scientists whose groundbreaking research paved the way for messenger RNA vaccines, drastically altering the course of the COVID-19 pandemic. In her early career, Katalin Kariko, a scientist originally from Hungary, recognized the medical potential of mRNA and dedicated herself to its exploration with unwavering determination. However, this passion often led her to the fringes of the scientific community. Around 25 years ago, a chance encounter at the University of Pennsylvania brought her together with Drew Weissman, an immunologist. Weissman shared Kariko's vision and saw the technology's potential to revolutionize vaccine development. Their collaboration laid the foundation for the messenger RNA vaccines we know today.
Today, the potential of messenger RNA (mRNA) is widely recognized, particularly in the rapid development of coronavirus vaccines that have been administered billions of times. However, for decades, the notion that this delicate genetic material could serve as a medical tool seemed like a distant and improbable concept at the fringes of mainstream science.
The combined expertise of Kariko and Weissman played a crucial role in understanding how to modify messenger RNA chemically, transforming fundamental biology into a practical medical technology just in time for the pandemic. Their breakthrough has been integrated into the coronavirus vaccines produced by Moderna and Pfizer in collaboration with BioNTech, which have seen extensive use globally.
A Pioneering Journey: From Adversity to Nobel Laureate
Over the years, Kariko and Weissman encountered remarkable ideas, underappreciated successes, and numerous rejections. Since 2021, they have been honored with many esteemed awards in the field of science, leading to mounting expectations of a future Nobel Prize recognition. In a recent interview, Weissman mentioned his struggle with sleep, and on a Monday morning at his residence in Philadelphia, he was up early. However, he did not anticipate a call from Stockholm this year, estimating it would likely be another six years before their groundbreaking work received the Nobel spotlight.
He received the news about the award not directly from the Nobel committee but through a text from Kariko. She informed him that she had received the call and the committee was trying to locate his phone number. They exchanged congratulations in a state of disbelief. The official call came in at approximately 5:20 a.m.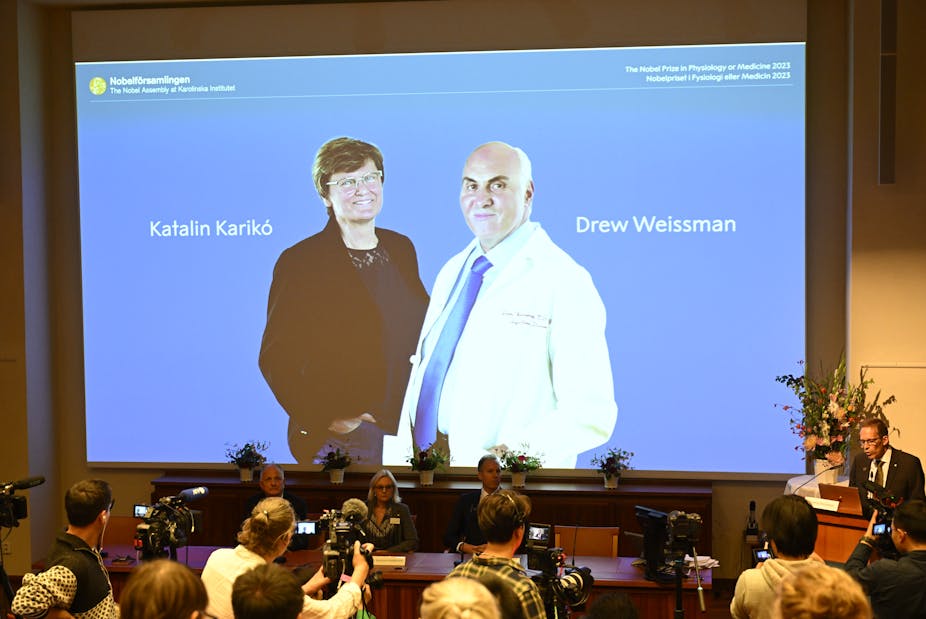 Weissman described it as an incredible moment. He celebrated with his wife and had a FaceTime celebration with his daughter.
Thomas Perlmann, the secretary general of the Nobel Assembly, mentioned that when he spoke to Kariko early that Monday, she reflected on the sudden change in her circumstances. A decade ago, she faced challenges and was far from being considered a traditional scientific success. She struggled for years to secure essential grant funding for her scientific pursuits. Moreover, she did not have tenure at the University of Pennsylvania.
In an interview for the Nobel Prize website, Kariko recollected that she was "kicked out and forced to retire!" from Penn exactly a decade ago. Nonetheless, she remained passionate about science. She made the decision to relocate to Germany and work for a lesser-known startup called BioNTech, which was focusing on harnessing mRNA for medical purposes.
Unlocking the Potential of Messenger RNA
Weissman played a crucial role in making 'hugs and closeness possible again.' Eventually, that company partnered with Pfizer to develop an mRNA vaccine against the coronavirus.
"Every once in a while, you get a discovery that is transformative in that it's not only for a specific discovery itself, but it essentially impacts multiple areas of science — and that's what mRNA technology is," said Anthony S. Fauci, a professor at Georgetown University and the former director of the National Institute of Allergy and Infectious Diseases.
Weissman worked in Fauci's lab for several years early in his career. Fauci said that Weissman and Kariko brought different skill sets to a difficult scientific problem, and he praised their "persistent, dogged" work over decades.
"There was a great deal of skepticism early on. They didn't have a lot of support, but they persisted," remarked Fauci. "It was an amazingly productive collaboration."
Messenger RNA is essentially a code composed of four letters, dictating genetic instructions for constructing proteins within cells. In theory, the potential for utilizing the body's inherent machinery to build proteins was vast. However, Kariko and Weissman encountered a critical issue: messenger RNA alone could trigger an inflammatory response.
In 2005, they made a breakthrough by chemically modifying one of the RNA letters, nearly eradicating the inflammatory response. While the Nobel committee recognized this pivotal discovery, the scientific community initially paid little attention.
Revolutionizing Medicine: mRNA's Global Impact and Potential in Sickle Cell Disease
Over time, biotechnology companies started showing interest in this technology. Yet, the urgency of the pandemic, demanding the rapid development of vaccines, truly highlighted its potential to the public.
Weissman expressed his enthusiasm for expanding the use of messenger RNA to combat novel diseases. He aspires to employ messenger RNA in crafting a gene therapy for treating sickle cell disease, administered through a single shot. This innovation could cure regions with a high disease prevalence and limited resources, notably in Africa and India.
Cutting-edge experimental therapies for sickle cell disease are on the horizon. Still, they necessitate the extraction of patients' bone marrow cells, specialized laboratory modifications, and subsequent reinfusion—a laborious and costly process not feasible in countries lacking extensive medical resources.
The endeavor is still in its early developmental phases.
"Their approach costs a few million dollars per person, and in my view will never be useful worldwide," Weissman asserted. "Ours is: You line people up, give them an IV injection, and they're cured. That can be done anywhere in the world easily."
The Nobel Assembly highlighted the significance of their work in accelerating "the unprecedented pace of vaccine development during one of the most significant threats to human health in modern history."