Ford On the Cusp of Revolutionary Change- For the past hundred years, innovation within the automotive sector has brought major technological advances, leading to safer, cleaner, and more affordable vehicles. But for the most part, since Henry Ford introduced the moving assembly line, the changes have been incremental, evolutionary. Now, in the early decades of the 21st century, the industry appears to be on the cusp of revolutionary change—with potential to dramatically reshape not just the competitive landscape but also the way we interact with vehicles and, indeed, the future design of our roads and cities. The revolution when it comes, will be brought about by the advent of autonomous or "self driving" cars. And the timing may be sooner than you think.
The new technology could provide solutions to some of our most intractable social problems-the high amount of traffic crashes and the heavy cost of transportation infrastructure, the millions of hours wasted in traffic jams and the wasted urban spaces taken away by the parking plots are a few. If the self driving cars become a reality, the implications will be profoundly disruptive for every stakeholder of the automotive sector.
What is a Self Driving Car?  It is an autonomous car capable of sensing the environment and navigating without human input. Autonomous vehicles feel their environment using techniques like radar, lidar, GPS and odometry. Advanced control systems interpret sensory information to identify appropriate navigation paths, obstacles and relevant signs. A self driving car updates its maps using sensory input. It allows the car to keep track of its position even when conditions change or they encounter uncharted conditions. The cars have control systems capable of analysing sensory data to distinguish between different cars on the road.
The Birth: Experiments have been conducted on automating cars since at least the 1920s; promising trials took place in the 1950s and work has proceeded since then. The first self-sufficient and truly autonomous cars appeared in the 1980s with Carnegie Mellon University's Navlab and ALV projects in 1984 and Mercedes-Benz and Bundeswehr University Munich's Eureka Prometheus Project in 1987. Since then, numerous major companies and research organizations have developed working prototype autonomous vehicles, including Mercedes-Benz, General Motors, IAV, Bosch, Nissan,Toyota, Audi, Volvo, Tesla Motors, Peugeot, AKKA Technologies, Vislab from University of Parma, Oxford University and Google. While autonomous cars have generally been tested in regular weather on normal roads, Ford has been testing its autonomous cars on snow-covered roads.
Basic Working: The car processes both map and sensor information to determine its location. It knows which street and on which lane it is on. The sensors help detect the objects around it. The software classifies the objects on their size, shape and movement pattern. It distinguishes a pedestrian and a cyclist at this stage. The software then predicts what the objects around the car might do next. It predicts that the cyclist will ride by and the pedestrian will cross the street. The software then chooses a safe trajectory and speed for the car. The car nudges away from the cyclist and then slows down for the pedestrian to cross the road.
So what do car and tech companies have in store for us? Most of the major automotive houses are testing their self driving cars and they are expected to be on roads by 2020.
AKKA Technology and and Dassault Systemes:  During the 2014 Geneva International Motor Show, AKKA technologies unveiled the Link & Go 2.0 concept, a self-driving car created and designed for the city of the future. Hooked up to a completely integrated electric platform, the Link & Go 2.0 rethinks the urban environment and mobility by linking the inhabitants with other system users. The concept vehicle is fully autonomous, and is equipped with several sensors such as cameras and lasers, which are capable of analyzing the vehicle's environment in a 360 degree radius, preventing any blind spots. complete with a wire control system. The vehicle also incorporates four directive and motorized wheels that offer new energy recovery and braking strategies. The car merges different localization techniques to address self-driving needs in all environments. Watch the video here.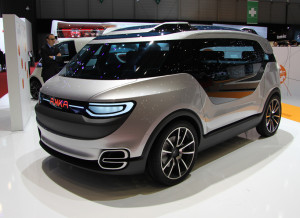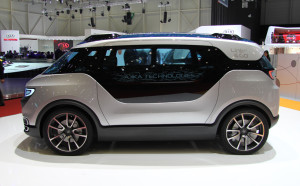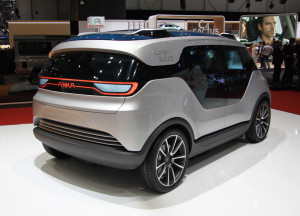 Audi:  The German auto-giant has a self driving as well as a self parking car ready. The car has completed several tests successfully. Audi engineers says they have done more than 1000 miles of testing on public roads in America using the self-driving technology. They have run the long, southeastern route through Bakersfield at least six times. There were two engineers in the car at all times. The one in the back had a laptop and was constantly screening data. The fellow in the right-hand seat paid keen attention to the road ahead. The A7 prototype uses an array of stock sensors, including radar and a front-facing camera, to navigate through traffic. It stays in the right-hand lane until it comes on slower-moving traffic, and then will engage its turn signal, pull into the left lane, and pass.Watch the video of self parking car and the self driving Audi A7 as well as the autonomous Audi RS7 in action.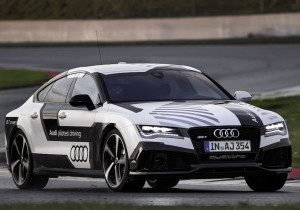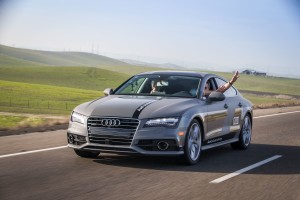 Baidu and BMW: Chinese search giant – Baidu – and the Bavarians from BMW are joining powers to compete with Silicon Valley's best and brightest. The two companies are working on a joint project to produce a self driving car for the Chinese market. Baidu reports that it just completed the first successful tests of its driverless car through the streets of Beijing. Using a revamped BMW 3 Series, Baidu's road tests included a complex set of driving instructions while the vehicle had to respond to its surroundings. Watch the video of a BMW 3 series taken for a spin on track which has been "memorized" by it.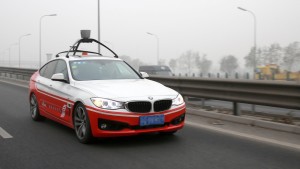 Bosch: Bosch is currently testing a BMW and a Tesla. The cars are equipped with forward and rear facing long-range and mid-range radar sensors, inertial sensors, backup braking, and electronic control unit (ECU) systems. and a custom computer in the trunk that runs proprietary high-resolution mapping and operating system software. The Velodyne lidar scanners enable 360 degree vision around the car and are mounted behind the panels. Hence the car looks similar to the stock car except for a subtle GPS antenna on the top. The cars can swap lanes, overtake vehicles and merge into traffic via on ramps and off ramps. Watch the self driving BMW and the Tesla here.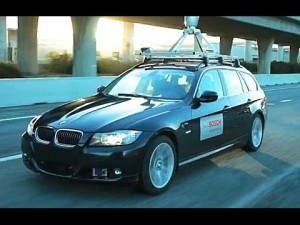 Ford: Ford plans to add 20 Fusion Hybrid autonomous vehicles this year, bringing the company's autonomous fleet to about 30 vehicles being tested on roads in California, Arizona, and Michigan. Ford recently enrolled in the California Autonomous Vehicle Testing Program, which already includes companies like Nissan, Volkswagen, and Google. The tests are part of Ford's 10-year autonomous vehicle development program and its-called Ford Smart Mobility. The initiative involves building cars with additional Internet connectivity, experimenting with the different forms of transportation such as car-sharing as well as using big data analytics like grabbing information from in-vehicle sensors to learn more about how people travel. Ford announced at the Detroit Auto Show that it's now testing its autonomous research vehicles in snowy conditions. Inclement weather — conditions like heavy rain, snow, hail, and the like — have long been viewed as one of the final unsolved technical challenges to bringing self-driving cars to market. Watch the car in action.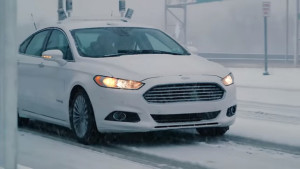 Google: Google is currently leading with a fully functional prototype ready. The prototype was launched in 2014. In 2009, the company started working towards accomplishment of  the project with a team of engineers who had already dedicated years towards this technology. The company made its self driving car undergo rigorous resting. Here is what Chris Urmson, Director, Google self driving cars project had to say. Watch the video on the working of Google's self driving car. Here is a video of the car undergoing test in city streets. The people were given a test drive in the self driving prototype developed by the company. Find out how their reaction to it here.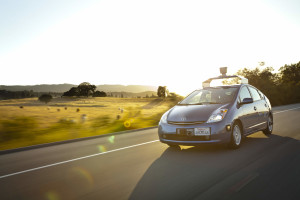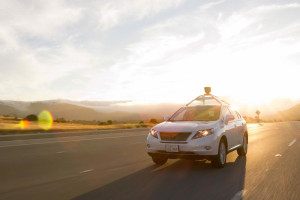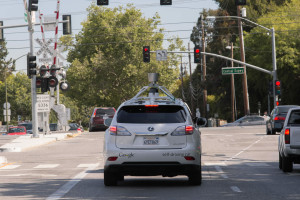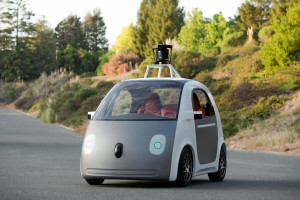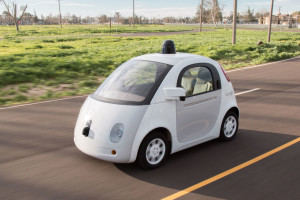 General Motors: The company is quietly developing autonomous vehicle technology and plans to have a fleet of self-driving Chevrolet Volts roaming the campus of its technical center in suburban Detroit. The company has been relatively quiet about the technology, which companies like Google, Tesla Motors, Mercedes-Benz, and Audi have championed with big promises and impressive demonstrations. But General Motors is no stranger to autonomous tech, which it started exploring almost a decade ago when it collaborated with Carnegie Mellon University for an autonomous vehicle competition sponsored by DARPA. It plans to capitalize on that work with "Super Cruise," a semi-autonomous feature that will let a car handle itself on the freeway. The feature is expected to appear on an unspecified Cadillac model next year.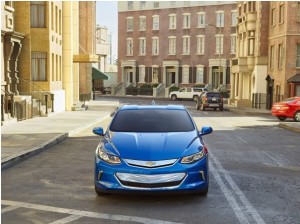 Hyundai: Hyundai Group will develop highly autonomous vehicle technology by 2020 and fully autonomous vehicle technology by 2030. The comppany announced R&D investments of $9.75 billion over the next five years for future driverless car technology. Included in that amount is $2 billion on R&D to Kia Motors — the country's second largest car maker and affiliate of Hyundai Motor's sister company — over the next three years to develop the first of its new Advanced Driver Assistance system (ADAS) technologies and to recruit more engineers. Hyundai Motor Group said that it is focusing Kia's R&D resources on vehicle-to-vehicle (V2V), vehicle-to-infrastructure (V2I) and vehicle-to-everything (V2X) communications. The new technologies will join the suite of technologies already offered by Kia on its latest production vehicles in many of its global markets, including the Sorento and the soon-to-be-launched all-new Optima and Sportage. The Hyundai Genesis EQ900, which will be launched soon, will come equipped with some of the new autonomous driving technology, such as an advanced highway driving assist (HDA) system, which has been described in the local press as "partial autonomous" technology focused on the freeway. The HDA system includes three technologies integral to autonomous driving: Advanced smart cruise control (ASCC), automatic emergency braking (AEB), and lane keep assist (LKA). The systems collectively cull data from an array of active sensors, and feed them to the vehicle's onboard computer, making it possible for the vehicle to autonomously maintain its distance from objects and other cars, and its position in the lane. The systems also permit hands-free overtaking or passing of other cars when necessary. The company recently completed a challenge. What was the challenge? Watch it here.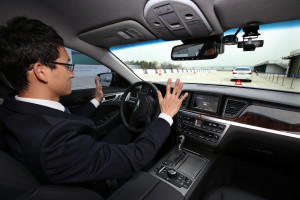 Honda: The ultimate goal, Honda says, is a car you have the choice to drive, or to be driven in. That's the end game in the Japanese firm's ambitious autonomous vehicle plan, which by 2020 includes a milestone of a car "that can drive you to your chosen destination" according to the engineers working on the project. Like other manufacturers, Honda is counting on a combination of high-resolution maps, lane recognition, and 3D sensing for its self-driving cars. Different teams are tackling different aspects, with some of the early technologies filtering into today's production vehicles as driver assistance aids. The prototype uses more advanced sensors than a current production Honda might be fitted with: a stereo camera facing ahead, six radar sensors – two long-range front and rear, and then a mid-range at each corner – six laser rangefinders, and a high-accuracy GNSS (Global Navigation Satellite System) paired with a gyroscope. Currently, Honda, depending on the type of model, has adaptive cruise control that works – model depending – from standstill through highway speeds, and lane-keeping assistance (LKAS) which can operate from 45 mph and up. What Traffic Jam Assist does is slot in at lower, city speeds, effectively allowing the car to follow whatever is ahead, match its speed, and navigate the turns of the road. Watch an under-test Honda Accord here.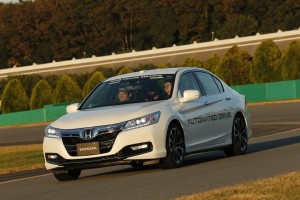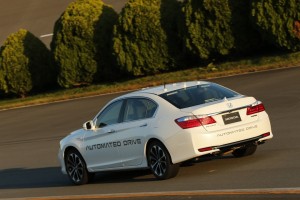 IAV and Microsoft: Microsoft is not a new name in the field of autonomous or self driving car. The Redmond giant has been investing and deploying its skills in developing dashboard technologies for cars since many years. Now Microsoft, in collaboration with IAV, is delving into something new that can revolutionize self-driving cars. The self driving car, in process is called The Connected Highly Automated Driving vehicle or CHAD. The best things about CHAD are that it can interact with other devices especially Microsoft Bands, smartwatches and smartphones and keep track of all the vehicles and the pedestrians ensuring the safety of both. The self driving cars usually rely on camera. This means when an an object is obstructed by any big object, then the self-driving car won't be able to find it. However this is not the case for this one. A demonstration was given in which a pedestrian was standing behind a parked car. When the self driving car was approaching, it could not detect any object with its camera, but detected the hidden pedestrian with the aid of the smartphone or Microsoft Band possessed by the pedestrian. The car could sense an object in that particular location and hence slowed down its motion. This technology is called V2X which implies to a vehicle communicating with x number of external devices. The external things can be smartphones, IoT (Internet of Things) devices embedded in the road or stop signs, wearables on pedestrians or any other self-driving car on the road. Microsoft and IAV cars have already traveled more than 70.000 kilometers, that's 43,000 miles, across Europe and the US and have successfully passed the tests.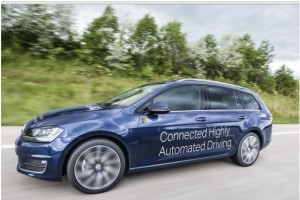 Mercedes-Benz: The company is developing a more luxurious self driving car as compared to Google. The car has been named F 015-Luxury in Motion. The company has also come up with an autonomous truck. The car is nothing less than a spacious lounge.The autonomous car takes over from the driver in situations where driving isn't much fun, such as slow-moving traffic. It gives real added quality to time spend on the road. In addition to the luxury, the car entirely works on electrical energy.  One core theme of the innovative interior concept is a continuous exchange of information between vehicle, passengers and the outside world. Six displays are installed to this end all around, tastefully mounted in the instrument panel and the rear and side walls, making the interior of the F 015 Luxury in Motion a digital living space – a perfect symbiosis of the virtual and the real world. Passengers are able to interact intuitively with the connected vehicle by means of gestures or by touching the high-resolution screens.The electric hybrid system has a total range of 1,100 kilometres, including around 200 kilometres of battery-powered driving and around 900 kilometres on the electricity from the fuel cell. This enables the F 015 Luxury in Motion to cover distances similar to those of a comparable diesel-engined car, but purely on electric power with zero local emissions. The F 015 Luxury in Motion communicates with its surroundings both visually and acoustically. Large LED displays at the front and rear as well as a laser projection system directed toward the front are responsible for the visual part, while the acoustic communication part includes both sounds and specific spoken instructions. Watch a detailed video of the car.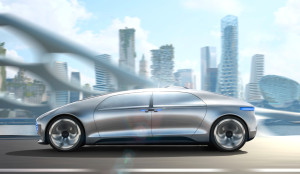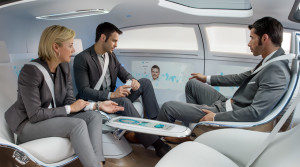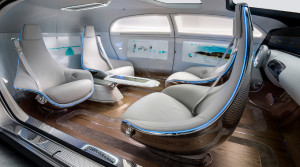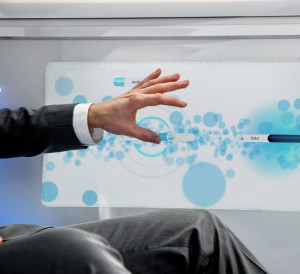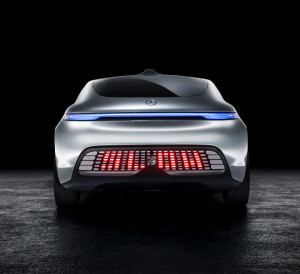 Nissan: Nissan has been working to develop this technology alongside teams from some of the world's top universities, including MIT, Stanford, Oxford, Carnegie Mellon and the University of Tokyo. The combined research time equals 80 years of research and development, the kind of effort it takes to put Nissan at the forefront of this important development. The building blocks of autonomous driving technology already exists in Nissan vehicles in the form of Nissan's Safety Shield-inspired technologies. These technologies can monitor a nearly 360-degree view around a vehicle for risks, offering warnings to the driver and taking action to help avoid crashes if necessary. The autonomous car takes the basics of the Safety Shield philosophy steps further. The prototype car can drive autonomously on a highway. Renault-Nissan CEO Carlos Ghosn says that he isn't trying to build a fully self-driving car and that he doesn't believe that is what drivers want. Instead, he said he is aiming for a car that can avoid most accidents while also allowing the driver to hand over control to the car at certain times. Video.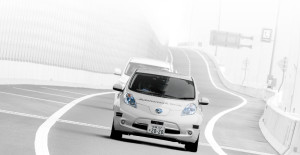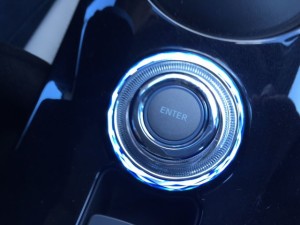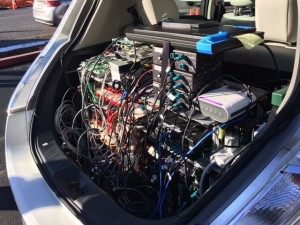 Peugeot: PSA Peugeot Citroën plans to market a self-driving system by 2020 and to make it affordable to the greatest number. The objective is not to use elitist technologies but to use proven, optimised equipment for maximum operating safety. The system under development by PSA Peugeot Citroën works primarily on the motorway. It is activated at the driver's request, where driving conditions permit, or following a prompt from the system itself. Technically, the driver can then release both the steering wheel and pedals, traffic rules allowing. The car then remains in its lane, adapting its speed to reflect the speed limit and other external factors, such as bends and the presence of other cars. It takes care of all the usual motorway manoeuvres: braking to a complete standstill, overtaking and moving back into the lane, and changing lanes to follow a specific route. The system also ensures that the driver remains attentive, with an onboard camera able to measure signs of drowsiness or lack of vigilance. Before bringing this self-driving system to market, PSA Peugeot Citroën plans to gradually introduce a range of driving assistance functions. Between 2015 and 2018, adaptive cruise control with stop and go, a new generation of automatic braking systems, lane keeping aids, a low-speed self-driving system for use in congested traffic (Traffic Jam Assist) and fully automated parking will all be rolled out on Group vehicles. Watch the video.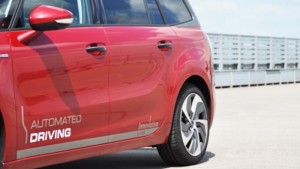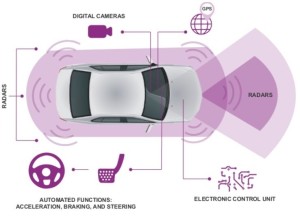 Tesla: Model S comes with a lot of with hardware to allow for the incremental introduction of self-driving technology: a forward radar, a forward-looking camera, 12 long-range ultrasonic sensors positioned to sense 16 feet around the car in every direction at all speeds, and a high-precision digitally-controlled electric assist braking system. The Tesla Version 7.0 software release allows these tools to deliver a range of new active safety and convenience features, designed to work in conjunction with the automated driving capabilities already offered in Model S. This combined suite of features represents the only fully integrated autopilot system involving four different feedback modules: camera, radar, ultrasonics, and GPS. These mutually reinforcing systems offer real time data feedback from the Tesla fleet, ensuring that the system is continually learning and improving upon itself. Autopilot allows Model S to steer within a lane, change lanes with the simple tap of a turn signal, and manage speed by using active, traffic-aware cruise control. Digital control of motors, brakes, and steering helps avoid collisions from the front and sides, as well as preventing the car from wandering off the road. The car can also scan for a parking space, alert you when one is available, and parallel park on command. Tesla Autopilot relieves drivers of the most tedious and potentially dangerous aspects of road travel. While truly driverless cars are still a few years away, Tesla Autopilot functions like the systems that airplane pilots use when conditions are clear. The driver is still responsible for, and ultimately in control of, the car. What's more, you always have intuitive access to the information your car is using to inform its actions. This release also features the most significant visual refresh yet of the digital displays for every single Model S around the world. The Instrument Panel is focused on the driver and includes more functional apps to help monitor your ride. Watch the video here.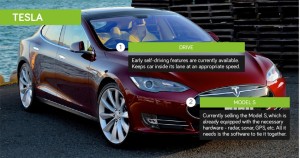 Vislab: VisLab is the Artificial Vision and Intelligent Systems Laboratory of Parma University and it is involved in basic and applied research developing machine vision algorithms and intelligent systems for the automotive field. It has set many milestones since it first put a self-driving car on the road. In 2013, the company's autonomous vehicle covered 13,000 km from Parma to Shanghai. Watch the video here. The vehicle owns an area map also featuring a subset of ADAS information. Once determined the route, the vehicle defines its future trajectory considering information such as GPS map, lane markings, possible obstacles on the path. At the same time it defines its speed profile based on road geometry, obstacle presence, and obviously also respecting speed limits.

Volkswagen: The company has converted a 2010 Volkswagen Passat into a self driving car. The car has been named Autonomos. The research trip recently completed a 1500 mile test drive of the car across Mexico. The Autonomos is equipped with seven laser scanners, nine video cameras, seven radars and an incredibly precise GPS unit, all of which were used in various combinations to navigate during the trip. Raul Rojas, a professor at University of Nevada, and his company preprogrammed the route into the self-driving software, but the car handled maneuvers like braking and lane changes on the fly. Watch a short video of the trip. The company has also come up with a self parking VW Golf. Watch the video.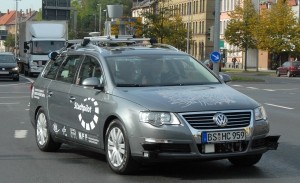 Volvo: Volvo Cars will play a leading role in the world's first large-scale autonomous driving pilot project in which 100 self-driving Volvo cars will use public roads in everyday driving conditions around the Swedish city of Gothenburg. The ground-breaking project 'Drive Me – Self-driving cars for sustainable mobility' is a joint initiative between Volvo Car Group, the Swedish Transport Administration, the Swedish Transport Agency, Lindholmen Science Park and the City of Gothenburg. Today, Volvo Cars uses advanced technology to create semi-autonomous cars that make your journey easier and safer, while leaving us fully in control. The all-new XC90's Pilot Assist function, for example, can accelerate, brake and steer for you, keeping you a set distance from the car in front and in lane, at speeds up to 50 km/h. City Safety – standard on all Volvo models – detects other vehicles, cyclists, pedestrians and, in some cases, even large animals on the road ahead. It warns the driver of hazards and will brake the car if necessary to avoid or mitigate a collision. Here is what the company has in store for us.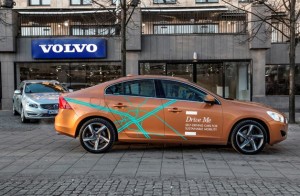 Potential Advantages of the Revolution: Once this technology will be considered sufficiently mature, human and goods mobility will totally change:
No more personal vehicles: All vehicles will be driverless and shared, just like cabs without a driver. The vehicle will be called upon necessity, and once the destination will be reached, the vehicle will be available to the next passenger.
No more parked cars alongside roads: On reaching its destination, the vehicle will be available to the next passenger or will autonomously reach a parking space, which may also be in a remote location.
No more traffic lights: Vehicles, due to their inter-vehicle communication capabilities, will coordinate to pass through intersections with a constant flow, without interfering with each other.
No more traffic jams: Vehicle will coordinate, avoiding to hit congested areas in order to minimize travel time.
No more driving licences: Everyone will enjoy enhanced mobility on roads without the need for a driving licence, included elderly, young, and handicapped individuals.
No more building of new roads: Vehicle will be able to move at high speeds and with a short inter-vehicle distance so that the current road network will be able to host a larger number of vehicles.
No more excessive, invasive, expensive, and polluting road illumination
No more accidents: Finally the road will be an accident-free environment and road casualties will be a thing of the past.
Obstacles in way: 
In spite of the various benefits to increased vehicle automation, some challenges persist:
Liability placed on manufacturer of device and/or software driving the vehicle.
Time needed to turn an existing fleet of vehicles from non-autonomous to autonomous.
Resistance by individuals to forfeit control of their cars.
Implementation of legal framework and establishment of government regulations for self-driving cars.
Loss of driving-related jobs.
Loss of privacy. Sharing of information through V2V (Vehicle to Vehicle) and V2I (Vehicle to Infrastructure) protocols.
Self-driving cars could potentially be loaded with explosives and used as bombs. Ethical problems in situations where an autonomous car's software is forced during an unavoidable crash to choose between multiple harmful courses of action
Current police and other pedestrian gestures and non-verbal cues are not adapted to autonomous driving.
Software reliability.
A car's computer could potentially be compromised, as could a communication system between cars by disrupting camera sensors, GPS jammers/spoofing.
Autonomous cars may require very high-quality specialised maps to operate properly. Where these maps may be out of date, they would need to be able to fall back to reasonable behaviors

. 

Competition for the radio spectrum desired for the car's communication.
Current road infrastructure may need changes for autonomous cars to function optimally.
Sources: Mercedes-Benz.com, Wired.com, Mywindowshub.com, Forbes.com, Audi.com, Teslamotors.com, Psa-peugeot-citroen.com, Vislab.it, Theverge.com, Bloomberg.com, Cnet.com