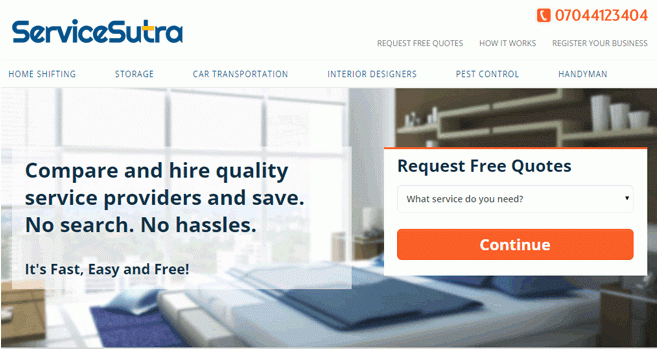 There are a number of small businesses that have been around for a while but cannot compete in the 'online' world today due to lack of exposure. At the same time finding the right person for a home improvement task has always been a huge hassle. Pradeep Chaudhary,cofounder of  ServiceSutra is about to solve this problem faced by small businesses and customers who require home improvement services.
"We want to empower our customers and the small businesses."
says Pradeep. Pradeep along with his friend Jay N Prasad started operations of ServiceSutra from September 2014.
[box type="shadow" align="aligncenter" ]ServiceSutra is an online service platform where you can compare and book local services without the hassles of searching and making random calls.[/box]
If you are looking for a movers and packers or a plumber, pest control agency or a housekeeping company, you can post your detailed requirements along with your contact details, budget, schedule etc on ServiceSutra. The team at ServiceSutra will verify your request and connect you to up to three relevant service providers who offer those services, in that kind of budget. These service providers will call you back to discuss and understand your needs and they will give you a tentative estimate on phone or send formal quotation over the email.
For a customer ServiceSutra thus reduces the huge task for going through directories to search for service providers, contacting them and then understanding if they meet your requirements and budget or not.So as a customers, instead of you searching and calling random numbers here and there, you get options to evaluate and choose from.
ServiceSutra thus brings service providers to the users instead of users approaching them one by one. The consumers can therefore take control over whom they want to hire at what price and terms.
Currently the company is primarily focusing on home improvement kind of services like home shifting, storage, handyman, pest control, housekeeping etc. The company plans on introducing more services like professionals, caterer, web developer, SEO experts etc soon.
There are a number of directories and platform with similar kind of models such as Sulekha, Asklaila and Justdial that exist today where one can search and inquire  for various products and services.
"We are not building yet another directory rather building a platform where you don't have to search and make phone calls. Instead of you approaching the professional , we bring them to you and help you take control over whom you want to hire at what price and terms.Making better match between consumer and service provider is what makes us different."
says Pradeep. Pradeep and Jay N Prasad have have been ideating about ServiceSutra since 2012 and the company started operating in September 2014 . The two have been friends since 1996 . Jay looks after movers and packers verticals and overall on boarding of service professionals and team. Pradeep takes care of product development, contents and marketing. Both have prior experience in coding and business execution.
The founders believe that they have spent a lot of time brainstorming about their idea,talking to different people and have got their model right. They believe that they now have more clarity about what they want to achieve and how.
ServiceSutra is now a 7 member team and is currently a profitable enterprise. Other than shifting and relocation services which are available from 100 plus locations, all other services of ServiceSutra are available in Bangalore, Hyderabad, Pune, Mumbai, Kolkata, Chennai, Delhi, Ahmedabad, Gurgaon.
A number of startups in their initial days face the chicken and egg problem and the same was faced by ServiceSutra too. When they approached the consumers, consumers wanted quick response to their queries. For this the company needed to have registered service providers. When ServiceSutra approached service providers, they inturn asked ServiceSutra about the number of user inquiries they had. The founders however have worked around this issue and have a number of professionals listed on their site and have a steadily growing user base.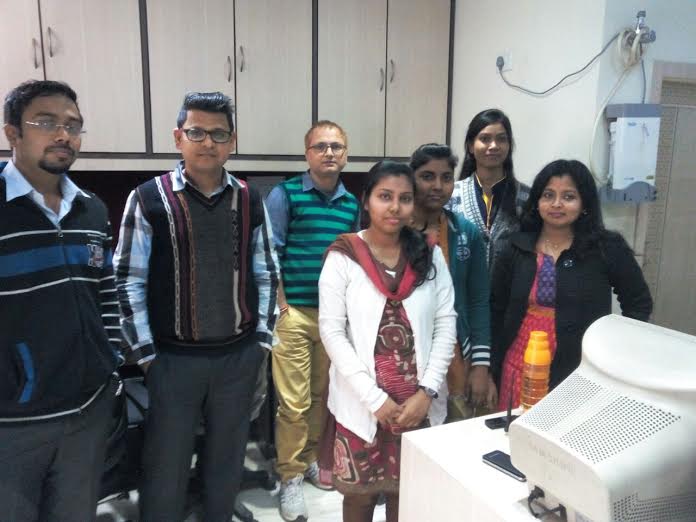 The other challenge that ServiceSutra faces is that of recruiting and building a strong team and the company is continuously working in that direction.
So what has been the biggest learning for the entrepreneurs along the way ?
"Biggest learning has been to stick to the policy, maintaining honesty and paying attention to detail."
says Pradeep. In the near future the company is planning on adding more categories and locations to their offering.
When asked about funding Pradeep says
"Till last couple of month I was not sure whether to go for funding or not, but given what we want to do and the kind of resources we need, we have to get funding. It's going to help us speedup the process. "
Comments
comments