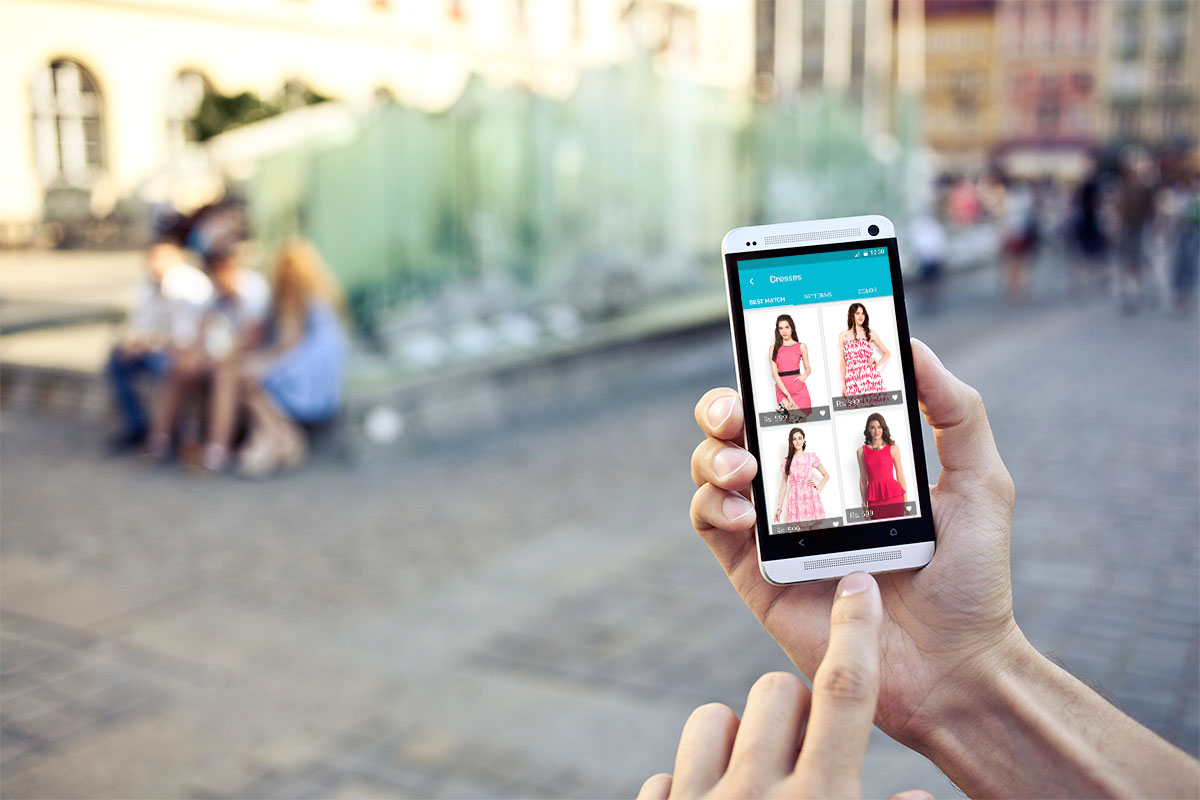 How many times has it happened that you saw a beautiful dress and had an irresistible craving to grab a similar one ? You end up hunting for it everywhere in the shops around the corner and of course the internet. All these searches land you in heap of 'similar dresses' junk and if you are lucky enough then after several hours of fishing around, you might find what you are looking for.
Now, put yourself into a hypothetical situation where you see a dress which you like and take a picture of this dress. You are are provided with a tool which searches through millions of possible matches, ranks them and prioritizes them before presenting to you a list of similar apparel and accessories. Sounds plain sailing yet impressive idea right? But is it even feasible to realize this?
Indeed! It is possible to attain it. In fact, that is what platform Snapshopr is doing.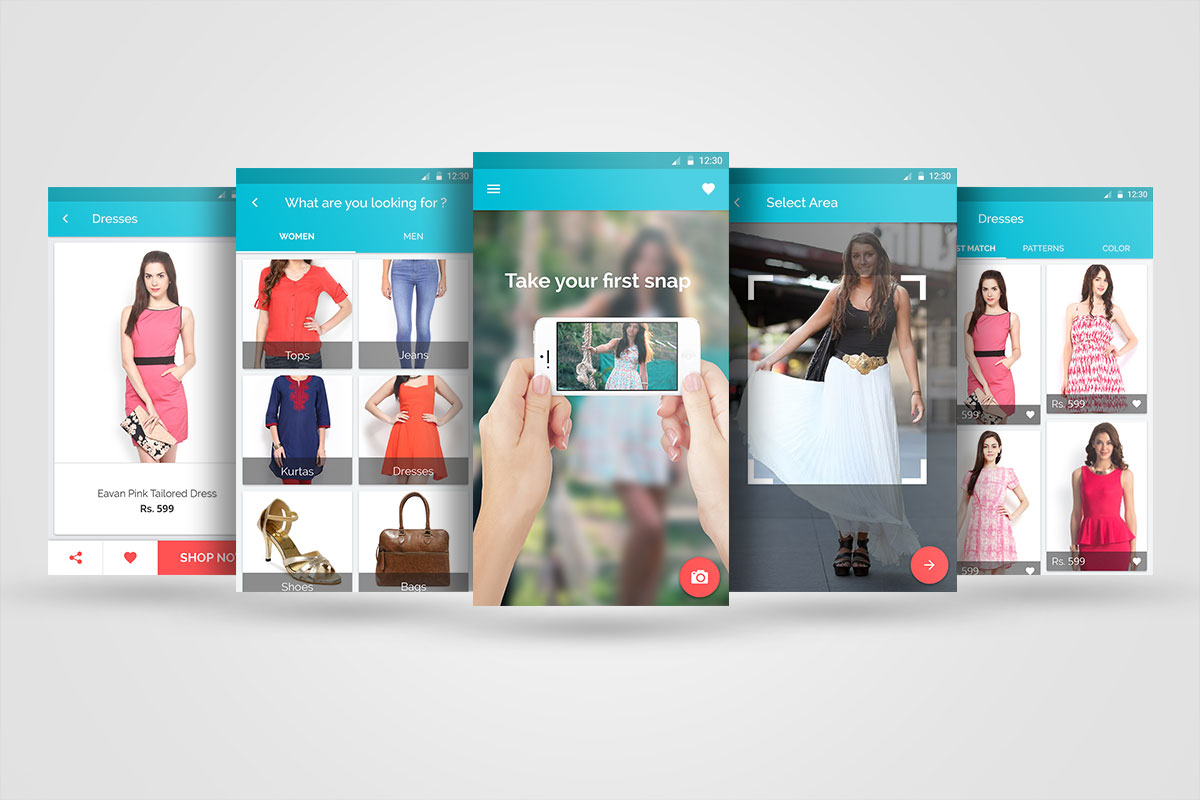 Snapshopr is a deep learning platform founded by a team with proven experience in artificial intelligence, data science and robotics. Their product, a visual search and image recognition platform is targeted toward brands, retailers and mobile apps developers.
Snapshopr is founded by  two friends Navneet Sharma and Debashish Pattnaik.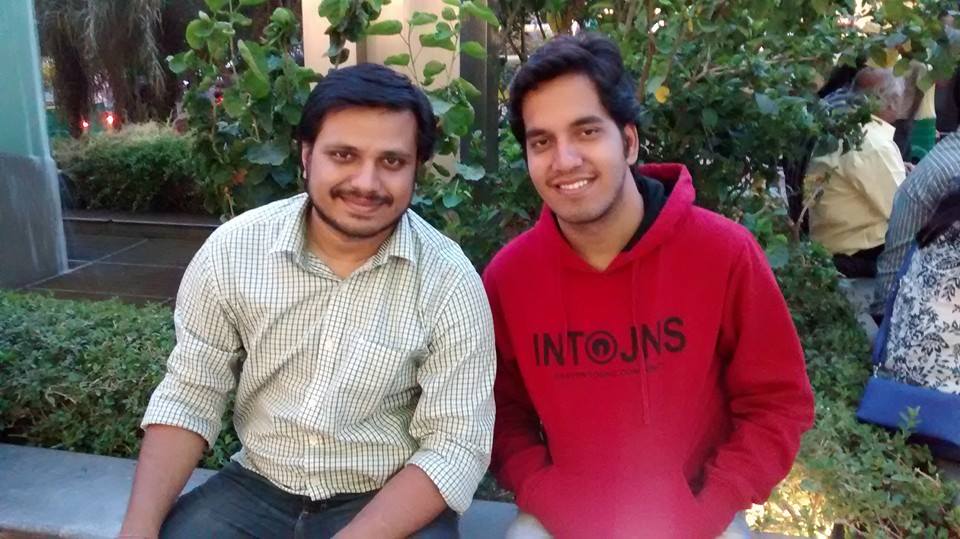 Navneet has a bachelors degree in maths and masters in CS from VIT University. He has worked with a couple of startups in Bangalore before starting Snapshopr. He is an active adviser to 'Artificial Intelligence (AI) research group' and takes care of product and business growth at Snapshopr. Debashish has a bachelors degree in CS and has worked with Cognizant for three years and then with a startup in Bangalore for 6 months before joining Navneet at Snapshopr. He is a self-taught data scientist and technology-expert at Snapshopr.
https://www.youtube.com/watch?v=MOSwoh5FWXo
They say an inspiration can come from anywhere and for Navneet, it came while trying to buy a dress for his girlfriend.  In an interview with Techstory, discussing about 'how the idea of Snapshopr was born', Navneet says "This came out of a personal experience in early 2014 when I saw a mannequin wearing a really nice dress and  wanted to buy it as a birthday gift for my girlfriend. Unfortunately, the dress was way too costly for me and so I started looking for similar dresses on e-commerce sites.I could not find anything similar online and it was then that it occurred to me that there has to be an easier way to search for visual items. I discussed this idea with Debashish and a  couple of months later we came together to build the solution."
The next challenge team Snapshopr had was to test their idea in the market with limited resources.
"We wanted to study user behavior and response to this new way of searching directly and so released a mobile app in September 2014. We got some free cloud credits from our connections that would help us keep a server running for about 4 months." Once they gained enough confidence about expectations of users from this technology, they decided to open up the API (Application Program Interface) in late February 2015.
Today the Snapshopr API is open to brands, retailers and mobile app developers interested in integrating visual search technology into their products.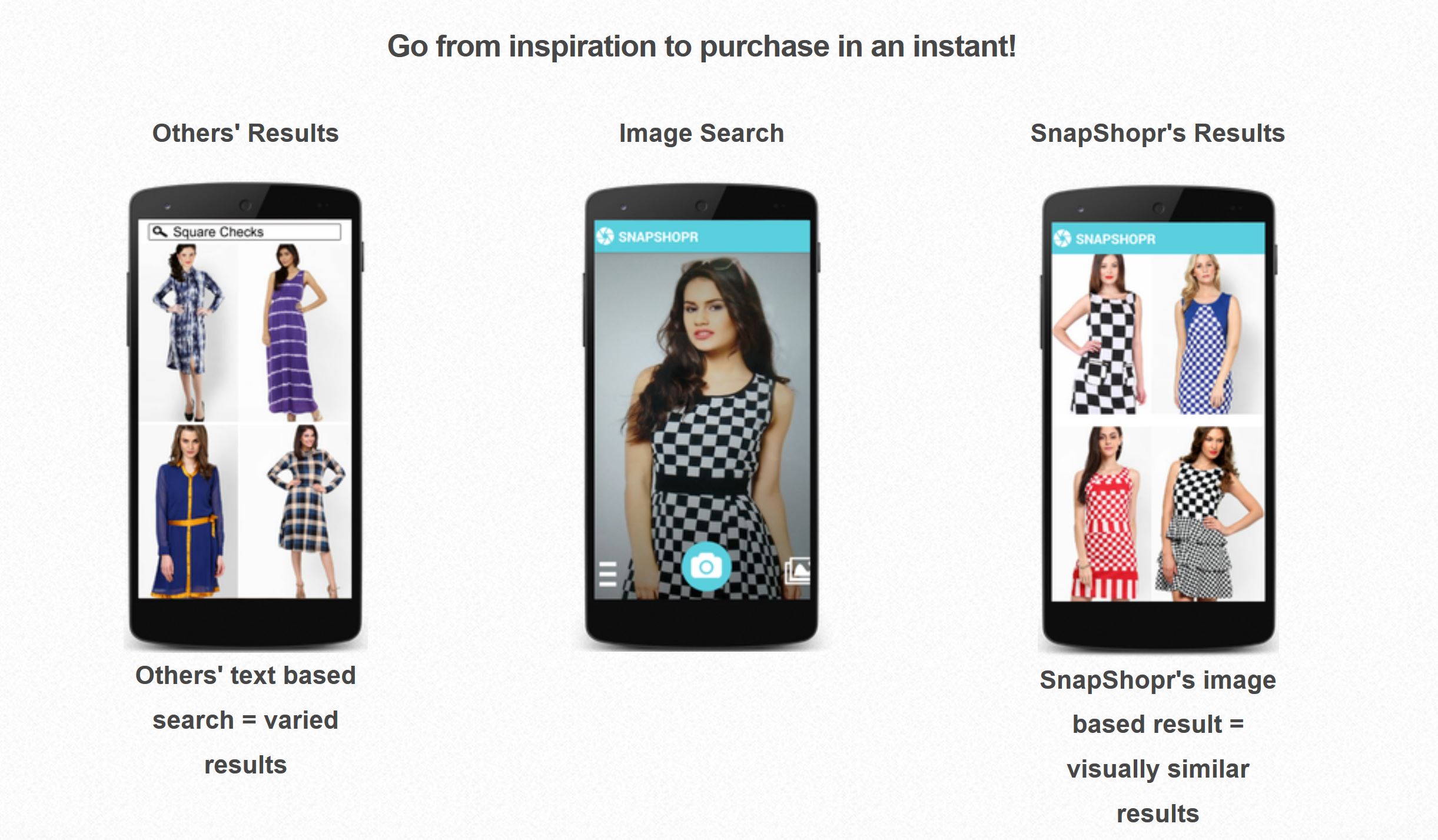 The product differentiation for Snapshopr comes from deep learning based technology that is coming from founder Navneet's years of work in AI and applied mathematics. Taking product to the market quickly and using customer feedback to build further features is a strategy used by many startups and has almost always been successful.As their end users were going to be mobile shoppers Snapshopr first released a mobile app in September 2014 to collect data necessary for the platform development. Then they continued to tweak their system based on feedback they got from the users of Snapshopr App. This approach took Snapshopr to a whole new level and the company went on to win the Best App Runner-up at the Google App Expo, 2015.
Currently the company is a team of 5 and is focusing on fashion and apparel market.
Navneet believes that sustainability is of key importance for a startup and being focused and moving fast helps startups get through the initial turbulence. "A good team does good execution and so a great founding team will help a startup remain alive for long enough to figure out things to build a sustainable business. Focus on your customers and keep them in the loop while building your product. However, if you are a technical founder, build business development skills as most startups die not because of poor product or technology but due to poor distribution. Also, don't think much about competition or you will become one like them and lose your innovative edge. Rather, focus on reaching out to investors at early stage itself to know how things work and build good network that will be helpful later."
Visual search market is relatively nascent and has room for a lot of innovation from both big companies like Google, Amazon as well as new innovative startups like Snapshopr. Many are still figuring out the use cases of this technology.
Snapshopr is currently doing pilots with few customers and you can expect to see Snapshopr integrated in many of the popular apps pretty soon. The company will also be introducing innovative features for their product.