SpaceX launches NASA Space Crew-3 successfully after many delays since October 31st. The success of the launch was announced and the astronauts went to sleep atSpaceX launches NASA Space Crew-3 successfully after many delays since October 31st. 6:00 am the next day. While the launch started at 9:03 pm EST on 11 November. A crew dragon endurance video was recorded by the astronauts.
By 9:03 pm EST, the astronauts were strapped to their seats and were ready for the launch. The dragon seats rotated for the launch after the leak checks were cleared and the launch was set to go. Even during the launch preparations, two hours prior to the launch the weather was a no-go. However, the team was expecting better weather just by the time the launch was to happen. After various checks like communication checks, the weather was clear just in time, the rain passed.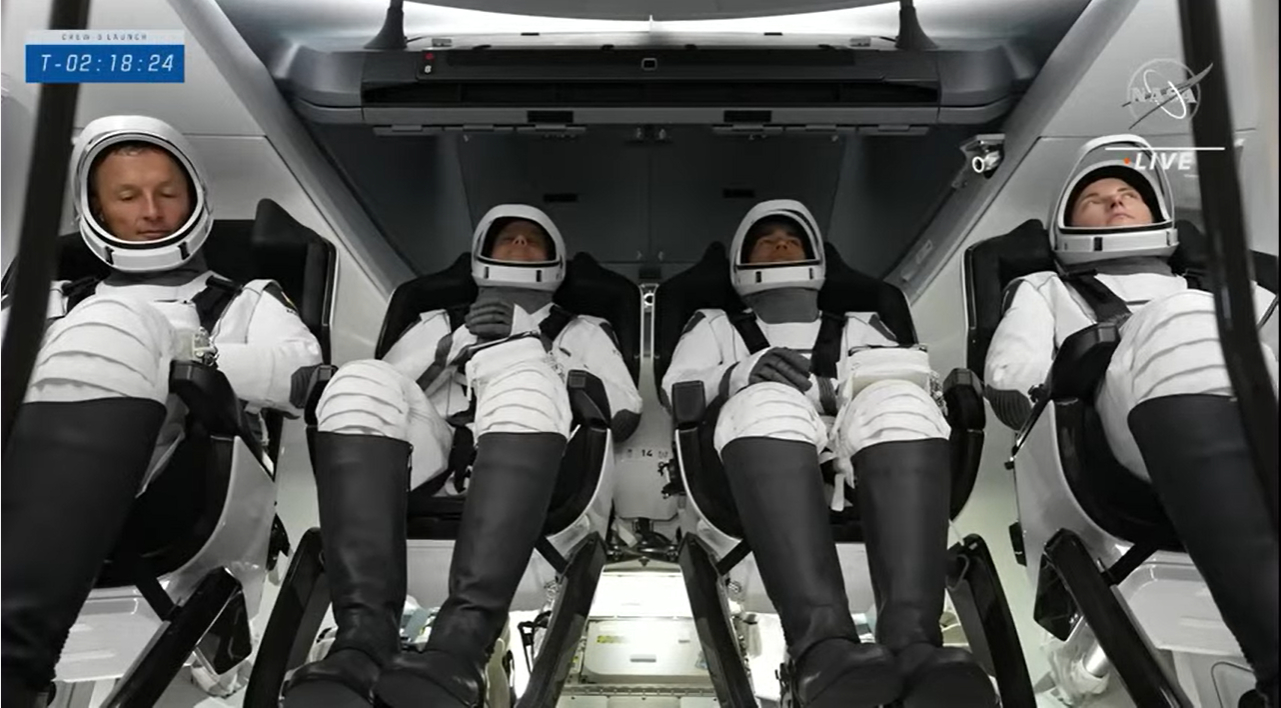 For the launch, SpaceX retracted the Crew Access Arm away from the Falcon 9 rocket. Instead, the rocket carried the Crew-3 Dragon Endurance system and included its launch escape system. This ensures that if there is an emergency the crew can launch it and the powerful SuperDraco thrusters will pull the Crew Dragon Endurance away from the rocket. This pusher system pushes the capsule away from the rocket, unlike the Russian escape system which pulls away from the rocket.
Crew-3 commander Raja Chari radioed flight controllers saying, "Sometimes when you try to fly on Halloween you get a trick instead of a treat, but we'll be proud to be flying on Dragon on Veterans Day," This is in reference to the fact that they were supposed to have launched on Halloween day, however, they will reach the orbit on the Veterans Day, November 11. The rocket was launched from pad 39A, thus making it the first flight for the SpaceX Crew Dragon Endurance. Also, this will be the second flight for the first stage of Falcon 9.
Later after the launch, after almost 7 minutes post-launch, the Crew Dragon Endurance separates from the Falcon 9 upper stage. Then Crew-3 commander Raja Chari tells the launch control, "Thanks for the great ride, it was better than we imagined,"
Eventually, NASA held a post-launch conference, which included notable key speakers.
Kathryn Lueders, associate administrator, Space Operations Mission Directorate, NASA Headquarters
Steve Stich, manager, Commercial Crew Program, NASA's Johnson Space Center in Houston
Joel Montalbano, manager, International Space Station Program, NASA Johnson
Frank de Winne, program manager, International Space Station, ESA
Below is the video link to the post-launch conference as they talk about various things from NASA's mission to how the launch was successful.