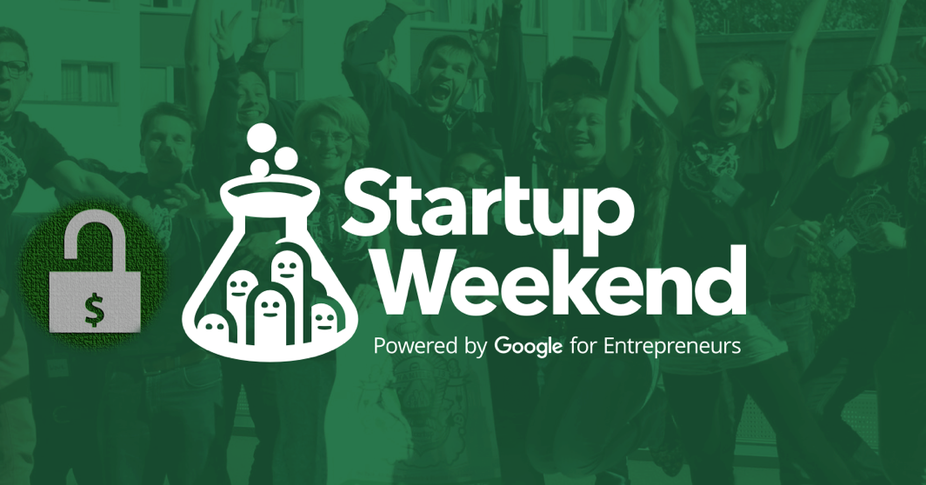 Startup Weekend CEG Edition is all set to start in College of Engineering, Guindy on 24 February, 2017 (Friday) and will take place till 26 February, 2017.
The main objective is to provide the budding and passionate entrepreneurs with the learning in relation to the real world and the network to pitch their potential ideas and achieve the results that they deserve.
Startup Weekend has held 1000+ events in 150+ countries getting bigger and better each time and hopes to do the same this year in CEG.
With 10+ mentors and speakers and judges from the field, Startup Weekend aims to help the hustlers to become high-flyers and to successful entrepreneurs.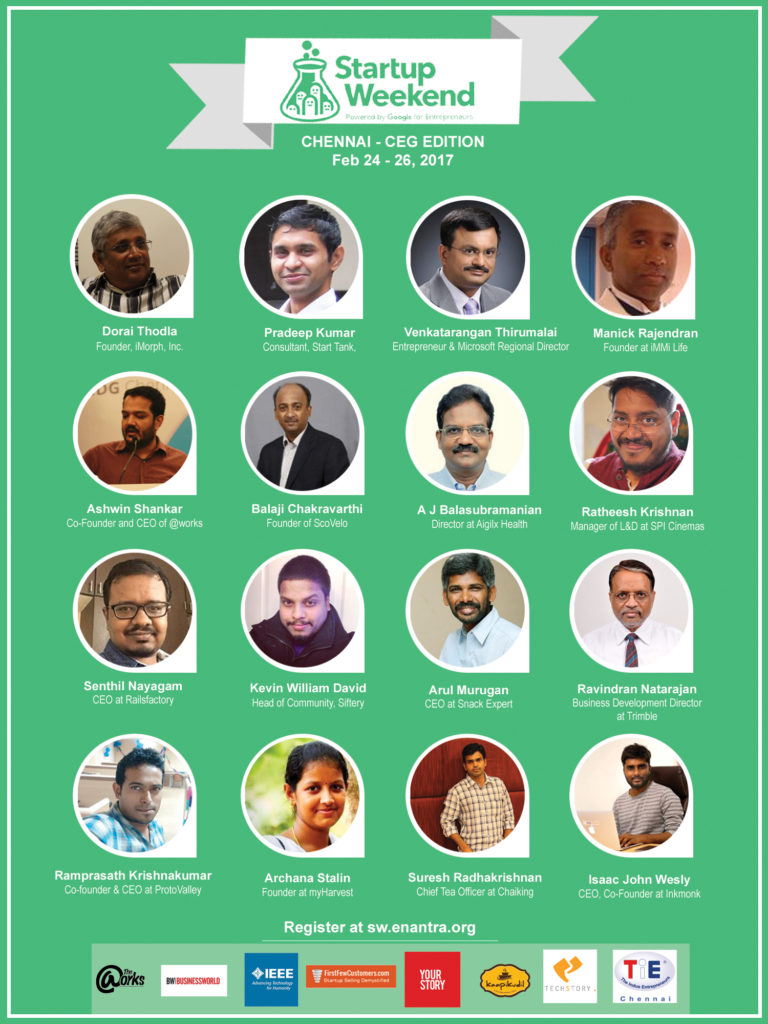 What is Startup Weekend?
Startup Weekend is a global grassroots movement of active and empowered entrepreneurs who are learning the basics of founding startups and launching successful ventures.
How does Startup Weekend work?
Startup Grind aims to bring together enthusiasts like you to share ideas, form teams, build products, and, most importantly, launch startups.
Friday: Attendees pitch their ideas and inspire others to join their teams. Teams are therefore created to work on the best ideas.
Saturday and Sunday: This is where you debate, build, pitch. And build some more. Teams will focus on building a prototype of their idea/product. During this period teams will also focus on customer development, validating their ideas, practicing LEAN Startup methodologies and building a minimum viable product.
Sunday: In the evening teams demo their prototypes and receive valuable feedback from a panel of experts.
Who can Participate ?
Think of a typical Startup Weekend session as a hackathon with a strong emphasis on business and design. Your prior educational qualifications or stream doesn't matter at all, as passion to innovate is give more priority. Typical crowd of Startup Weekend consists of
Hackers and Nerds who can code with speed and skill.
Domain experts and Business guys who know the market need on the tips of their fingers.
Designers with a strong aesthetics and strong UI, UX skills.
Hustlers who can drive the project and can pitch their idea with passion looking to build a fantastic team around their idea.
Teams at Startup Weekend are formed in such a way that they have a good mix of technology, design and business.
Why should you join Startup Weekend CEG?
Build a strong network of young aspiring entrepreneurs, well established CEO's of Chennai and a network amazing angel investors.
Think, conceive and deliver a product over a weekend. It's just the energy in the Startup Weekend environment that makes you superproductive. Make your dreams a reality.
Get one-on-one time with the movers and shakers in your community. Local tech and startup leaders participate in Startup Weekends as coaches and judges.
Startup Weekend alumni span across several continents and scores of cities.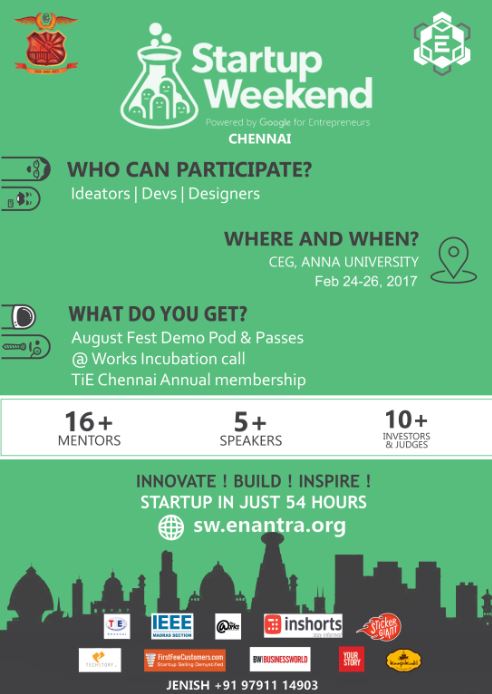 Receive some amazing entrepreneurial goodies. Each Startup Weekend Chennai Team gets
300$ worth of Google Cloud Platform credits to build mobile and web apps.
Free .co domain.
Food! No compromises on that. Complete meals during the 3 day event.
And tonnes of Swags, goodies and coupons!
Whether entrepreneurs are to create companies, find a co-founder, meet someone new, or learn a skill far outside their usual 9-to-5, everyone is guaranteed to leave the event better prepared to navigate the chaotic but fun world of startups. If you want to put yourself in the shoes of an entrepreneur, Register now for the best weekend of your life!
Tickets sales is now open,
For students, there is an offer that provides a flat discount of 50% using the coupon code SWSTUDENTS ,all you have got to do is to produce a valid ID Card at the registration desk on the day of the event.
To acquire more knowledge about us, check on the website sw.enantra.org, or watch this video to get an idea of what Startup Weekend does !
Also Read: Enantra By CEG Aims To Create Perfect Setup For Potential Student Entrepreneurs And Startup Enthusiasts
Image Source: Explara