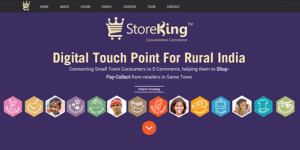 June 09, 2016: Storeking, Bangalore-based ecommerce enabler has raised $16 Mn (INR 106 Cr.) from Malaysian telecom operator Axiata Digital, a wholly owned subsidiary of Axiata Group Berhad.
This is Axiata's first investment in India. The funds will be utilised to expand team, enter tier III markets and tie up with 1 lakh retailers by 2017 and up to 250,000 in 2019.
Khairil Abdullah, CEO, Axiata Digita said, "StoreKing has created a platform that solves the fundamental constraints in ours markets with last mile logistics and payments, while building trust amongst mass market consumers."
StoreKing, run by LocalCube Commerce Pvt Ltd., was launched in 2012 by Sridhar Gundaiah, to help rural consumers get into the flow of digital commerce. With presence in 1200 towns, it enables rural retailers to sell over 50,000 products to walk-in customers via its digital kiosks.
Operating on an assisted ecommerce model, the retail shop owner helps customers use the Mobile kiosk, select products and make cash payment to the retailer. In return a receipt is given and StoreKing ships the products to the retail store within 24-48 hours. Users can then collect their order from these retail stores.
It currently delivers over 150,000 orders every month. Targeting retailers in tier 3 and tier 4 cities, StoreKing has also partnered with mobile wallet companies to enable cashless payment at all its retail stores in rural India.
Sridhar, CEO, Storeking, "From the beginning our goal was to help thousands of small businesses in Rural India to achieve a brighter future by enabling them to use technology. We hope to benefit from Axiata's experience in extensive geography based services and we couldn't thank them enough for investing in the idea of StoreKing."
StoreKing has roughly 16,000 mobile kiosks across south India, and delivers about 150,000 orders every month. The startup plans to reach 100,000 retailers by 2017 and up to 250,000 by 2019. It also plans to expand to Axiata's markets in the near future.
Image Source: Techcircle
Also Read:  CreditVidya Raises $2 Million From Its Investors
Koovs Raises £3 Million From HT Media
Comments
comments