This week was a stories and inspiration week for us at Techstory. We covered stories of two startups Ghar360 and Slateone and we also covered a piece about ShopClues' maiden ad campaign. On the inspiration side, this week we covered 15 memorable and inspiring quotes from Mahatma Gandhi on the occasion of Mahatma Gandhi jayanti. On Vijayadashmi, we celebrated women power with stories of Most powerful women in Indian Business.  We ended the week with a very interesting read covering 5 reasons why each and every person should think of starting a business.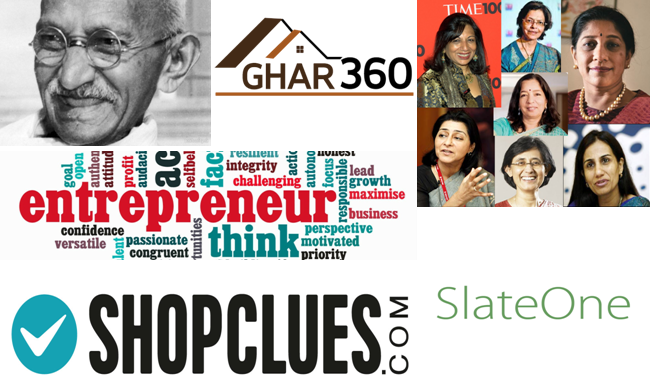 A large number of us think of starting up on our own. Very frequently the thought of doing something we like 'each day each moment' crosses our minds. However, a very few finally take the leap to startup on their own. Techstory brings you strong reasons why you should take the leap right away !
Read full story at : https://techstory.in/enterpreneur/
On the occasion of Vijayadashami, Techstory celebrates women power and brings you some of the most powerful women in Indian Business !
Read full story at : https://techstory.in/indianwomen/
On Mahatma Gandhi Jayanti, Techstory brings you his 15 most memorable and inspiring quotes !
Read full story at : https://techstory.in/mgandhi/
When our dream homes are being built, the inability to visualize them in reality makes all of us a little restless ! Ghar360, a Bangalore based startup now helps you visualize and plan your dream home ! The story of Ghar360 onTechstory.in !
Read full story at : https://techstory.in/ghar360/
A Pune based startup, Slateone, now brings an answer to the age old question of providing right skills trainings to your employees to maximize productivity for your company !
Read full story at : https://techstory.in/slateone/
ShopClues.com, India's largest horizontal player in non-standard categories has launched its first-ever TV Commercial, conceptualized and created by Enormous Brands. The TVC ably highlights the online retailer's value proposition of being the ultimate destination for a wide variety of products available at wholesale rates.
Read full story at : https://techstory.in/shopclue/
Comments
comments