2018 – this year the century turns adult. We have reached a time when the dynamics of the world's decision makers, influencers, and consumers are set to entirely change, driven by the millennial mindset.
I have seen the software industry for over 4 decades. And I believe that there hasn't been a more dynamic and exciting time to be in, than now. The connected era changes everything.
On the one hand, we can see technology fundamentally impacting business models, productivity, investments and disrupting the way businesses engage and transact with their consumers.
On the other hand, new-age consumers are driven by rapidly evolving expectations, an increasing desire for personalization and demand for speed.
This pressing need for speed and agility is pushing enterprises to look at newer and alternate business models.
In the last twenty years
Globalization and the changing consumer environment compelled enterprises to invest heavily on infrastructure to become more adaptable and conducive for global expansions.
While it did make enterprises global, there remained a big challenge with siloes and gaps in capabilities. Acquisitions and outsourcing models that emerged as an impact of this global transition helped reduce IT costs and increase ROI, but they did little to address the capability gap within organizations.
In this process, technology talent also became siloed, and more focused on project and cost metrics than exploring newer ways that could differentiate business.
And then, enter the Digital Era
This game-changer hit us like a digital tsunami displacing traditional giants with new digital innovators. The advent of new technologies, new business models and ecosystems, have compelled legacy organizations to experiment outside their comfort zone.
Enterprises today are looking to create a front-end digital platform that leverages existing systems, and brings speed, scale and flexibility to the business operations, leveraging a combination of the most advanced technologies.
As companies focus on cost reduction, resource optimization and launching, as well as scaling up products and offerings in an agile environment, they are rapidly from existing infrastructure to the cloud.
Talent Imperatives in a Changing World
A strong digital front-end platform not only brings in automation, it also ushers a new talent and culture in the company that is digital-ready.
I strongly believe that enterprises that create a difference in the future are not only focused on new technologies, but on how they assess and transform talent within or coming into their organization.
Increasingly, enterprises that are looking to transform themselves will seek consultative strategy not just in technology transformation but in the area of transformation that will be truly seminal – Talent & People.
Hiring great talent and creating a culture that fosters it – this could be the ultimate key to the most enduring transformation of contemporary organizations who are on the firm path to gearing up to be future-ready.
(Disclaimer: This is a guest post submitted on Techstory by mentioned authors. All the contents and images in the article have been provided to Techstory by the authors of the article. Techstory is not responsible or liable for any content in this article.)
About The Author: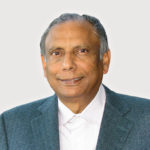 Raj Vattikuti is an American-Indian entrepreneur, business executive and philanthropist. He is the Founder and Chairman of Altimetrik Corp. He is also the founder of Vattikuti Foundation through which he is involved in many charitable causes.
Previously, he was Founder and CEO of Covansys Corp., an IT services company, which was acquired by Computer Sciences Corporation in a $1.3 billion deal.