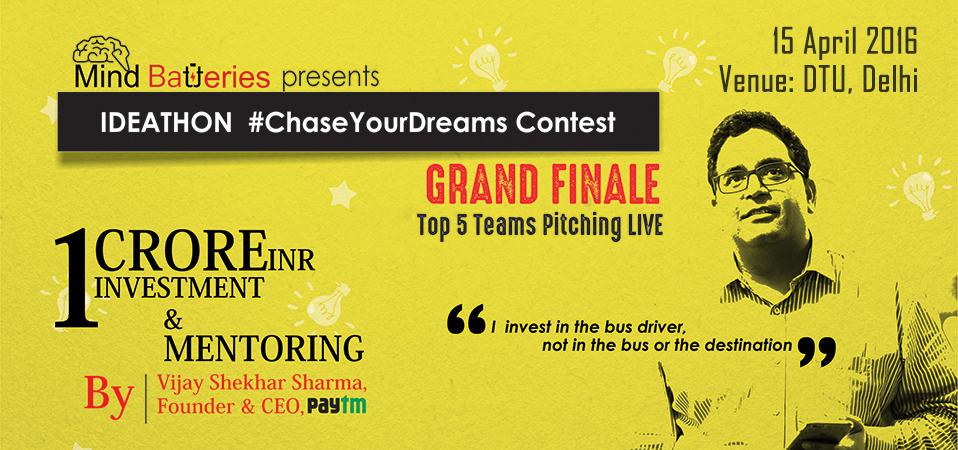 22 April, 2016, New Delhi: MindBatteries – the India's first Edutainment venture recently hosted the IDEATHON 'ChaseYourDreams' contest's grand finale. This contest is a part of Startupreneur Series, an attempt to demystify startups and capture stories of top startups across globe. The pitching session was held on 15 April, 2016 at Delhi Technology University.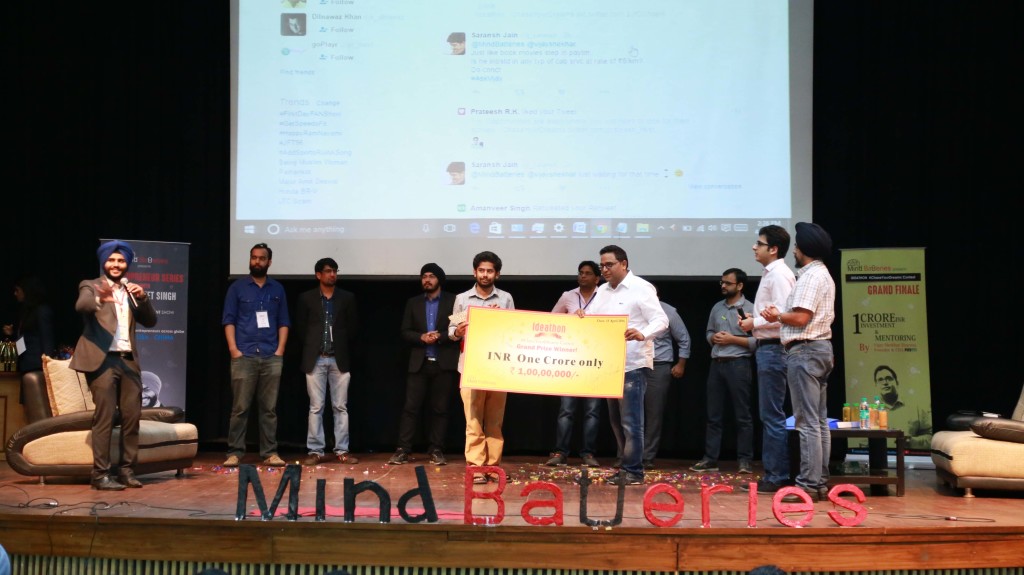 Bangalore based startup 'Tapchief' won the INR 1 crore investment and mentoring from Vijay Shekhar Sharma, Founder, Paytm. The startup was selected out of 1200+ entries in the contest from pan India. TapChief is a platform where anyone can seek advice from industry experts via phone calls. The company was founded in early January 2016 by BITS Pilani students Shashank Murali, Binay Krishna & Arjun Krishna who graduated in May 2016. The platform leverages technology to make the process of discovery seamless and provide end-to-end service in terms of scheduling and executing the phone calls.
The Series, called Startupreneur Series, will cover 15 entrepreneurs across globe in a candid manner and will provide people with opportunities to connect with these entrepreneurs. The first opportunity came in form of Ideathon where ideas were invited from people across India. More than 1200 ideas were submitted for the contest. Ideathon has a jury of 70+ people from India and abroad. Jury consisted of diverse people who are mentors, investors, VCs, entrepreneurs etc. and represented various organizations like TiE, NASSCOM, ah! Ventures, IAN, Letsventure etc.
After a rigorous process, each idea was scanned by multiple jury members and top 100 list was released and then the list was further shortlisted to five ideas. These five firms participated in the grand finale out of which one got selected.
Also Read-
GenNext Hub Joins Hands With Invest Ottawa To Reinforce Startup Sector In India And Canada
Knolskape Receives Series A Funding From Inventus Capital & The HR Fund
Comments
comments