As a part of the tech in Techstory, we bring you the latest in the technology from around the world under "TECH THIS WEEK!" every Sunday! This week saw some very exciting happenings in tech right from SpaceX's launches into space to Google's Self Driving crash. We also saw back to back updates from whatsapp enabling its users to add documents and end to end encryption. In case, if you've missed any of those, along with how Google is going to make your digital payment method hands free, don't worry just keep reading!
WhatsApp New Update Gives End To End Encryption For Users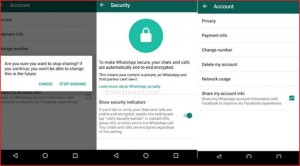 WhatsApp has been working on making sure that their user base has peace of mind. The latest version of WhatsApp for Android v2.12.500 comes with lots of features which include, showing the users whether their messages that are exchanged are end-to-end encrypted, and finally, it is also making the long messages collapse. Some of the WhatsApp users were reporting that the above modifications will only be visible on v2.12.498 and they can be downloaded from the website called APKMirror.
This tremendously famous instant messaging application WhatsApp seems to have tested an option in the month of January which has permitted users to add an indicator for allowing them to know whether their chats or conversation in the latest version are encrypted. The latest version build of this messaging application, will be available for download from the website of the company as well as the Google Play beta testing program, which will give the users with the message that is as follows, "messages you send to this chat are now end-to-end encrypted."
Apart from this, users will also be shown similar type of message when they send the text messages to any of their groups. According to the Android Police, this feature seems to be working for people who are on versions among 2.12.493 and 2.12.500. For it to start working, those users that are on the receiver side are also probable to be on the latest version of the WhatsApp. As of now, iOS client of WhatsApp does not have this feature.
Now, WhatsApp will automatically collapse long messages. It is an appealing addition as it would be making things look less mess.This feature will also make it easier for users checking out the following messages without having to scroll through a thread of too many words or characters. Along with that, it could also help the messaging client to avoid sudden fault which makes the WhatsApp to crash when someone sends a message which is with over few thousand emoticons. WhatsApp is even trying to add some other features to the app to support this functionality. These features in the latest version of  Android will garb even more users and it is expected that soon these features would be added in iOS too.
Source: fitnhit,com
Google Hits Its First Crash While AI Was In Control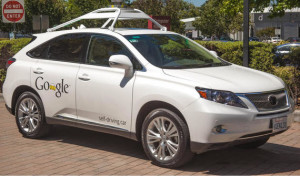 Google's most talked about vehicle,'Google car'  has hit the first spot of bother as the vehicle hits its first crash. Though the accident was a minor one, but it happened when AI was in full control.
According to the report filed with the California DMV on February 23, company stated, "Its autonomous car, a Lexus SUV, was driving itself down El Camino Real in Mountain View. It moved to the far right lane to make a right turn onto Castro Street, but stopped when it detected sand bags sitting around a storm drain and blocking its path. It was the move to get around the sand bags that caused the trouble."
"After a few cars had passed, the Google AV began to proceed back into the center of the lane to pass the sand bags. A public transit bus was approaching from behind. The Google AV test driver saw the bus approaching in the left side mirror but believed the bus would stop or slow to allow the Google AV to continue. Approximately three seconds later, as the Google AV was re-entering the center of the lane it made contact with the side of the bus," company stated further.
The investigating officer said that the at the time of impact the car was going at a speed of 2 mph and the bus was traveling at a speed of 15 mph. No injuries have been reported however, both the vehicles have suffered minor damages.
Source: techstory.in
Google Makes Digital Payment 'Hands Free'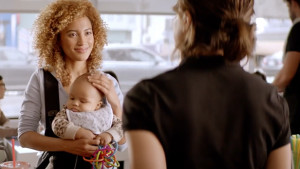 Google announced in a Google Commerce Blog Post that it was rolling out a pilot program of an app called Hands Free, which allows users to make purchases from their smartphone without performing any physical actions with the phone itself. Because I don't need another mobile payment app, especially one that asks me to say the words "I'll pay with Google" to another human being in what sounds like some sort of weird initiation ritual for a Google cult to which I am eternally bound even in death.
At some of those stores, Google is testing a more advanced version of Hands Free where in-store cameras can automatically match a consumer to their Hands Free profile picture and process the payment without that consumer even providing their initials. The app uses Bluetooth, Wi-Fi, location services, and other sensors to detect when you're at a store that supports Hands Free.
The result of that thinking is Hands Free, an app that combines several technologies to verify identities and enable quick and cardless/phoneless payments. Tech giants like Google and Apple have been trying to make payment techniques as simple and as less clunky as possible for a while now. Where the app goes from here will likely depend upon the feedback Google gets from both users and participating businesses.
The Hands Free pilot is now operating in parts of San Francisco to start with, McDonalds and US-pizza chain Papa Johns are the two big names involved, however there's also other "local eateries in the area" involved in the trial. You may be excited about it and want to use it anywhere.
It has been almost a year since Google unveiled Hands Free, a mobile payment service that lets you leave your phone in your pocket. TheHands Free website also mentioned that users will be alerted to "unusual activity". This is probably because they're just contended with the use of plastic as their payment method. "Images and data from the Hands Free in-store camera are deleted immediately, can't be accessed by the store, and is not sent to or saved to Google servers", the company explains. Square Wallet in 2011 was an attempt to pay with voice.
Source: nanonews.org
Whatsapp Adds Document Sharing Option In Its Armoury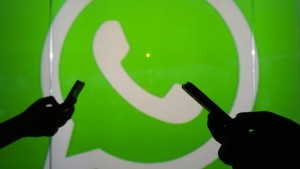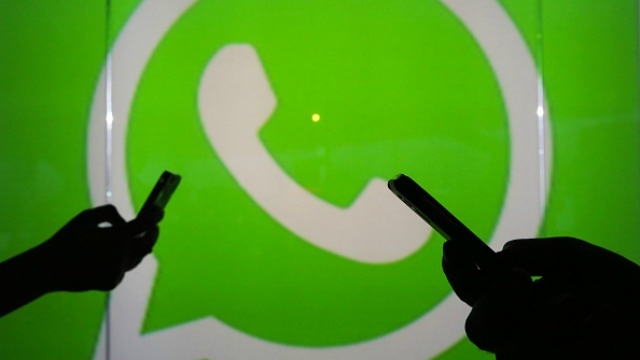 Whatsapp, mobile messaging service owned by Facebook, now adds document sharing facility in its armoury. This new feature allows the user to share their document quiet easily with the help of the messaging app.
Sending document through whatsapp requires few clicks. User needs to first tab on the attachment tab in any of the chat, after that, he will get a drop down with an option called 'Document'. By clicking on 'Document' option, user can upload his document from iCloud, Dropbox, Google Drive and others to Whatsapp. To make room for the option on the pop-up window, WhatsApp has compressed 'Photo' and 'Video' sharing options into one "Camera" option instead. Unfortunately, sharing document feature only support PDF files.
In some cases, WhatsApp won't even display the other file types that are present on the cloud storage service that users pick, so as to limit user confusion. Both the users need to have updated version of the messenger then only they can opt for document sharing feature. If the receiver hasn't got the updated version, sender will receive a pop-up window, notifying the sender that receiver needs to update his whatsapp version. In cases when both sender and the receiver have the feature installed, the receiver sees a full preview of the PDF being shared, along with details like the size, type etc.
News Source: techstory.in
SpaceX's Falcon 9 Blasts Off Successfully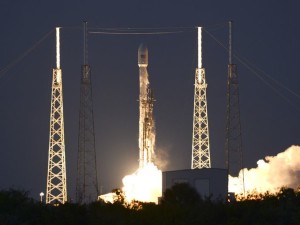 A SpaceX Falcon 9 rocket delivered a commercial communications satellite to orbit Friday evening, blasting off from Cape Canaveral Air Force Station just after a striking sunset on the mission's fifth try in ten days.
After more than a week of delays due to technical problems and weather, the 6:35 p.m. launch of the SES-9 satellite continued SpaceX's comeback from a failed launch last summer, making the company three-for-three since returning to flight in December and two-for-two with its upgraded Falcon 9 rocket.
This time, the payload was a nearly 12,000-pound satellite owned by Luxembourg-based SES, one of the world's largest satellite operators – the heaviest yet that a Falcon 9 has lifted to an orbit more than 22,000 miles above the equator. There the Boeing-built satellite labeled SES-9 will deliver high-definition TV channels and high-speed broadband to millions of homes in the Asia-Pacific region, plus connectivity to ships and air traffic. It was the first of three SES missions that SpaceX hopes to launch from the Cape this year, if the company can begin launching more often and with fewer delays.
SpaceX's next launch, possibly in early April, is expected to be of a Dragon capsule carrying cargo to the International Space Station – the first Dragon flight since the failed Falcon 9 launch last June. That station resupply run will be preceded by another flown by a United Launch Alliance Atlas V rocket and Orbital ATK Cygnus spacecraft targeting a March 22 liftoff from the Cape.
Source: floridatoday.com
For regular updates on Tech, check out Techstory's Technology Space!
Comments
comments