As a part of the tech in Techstory, we bring you the latest in the technology from around the world under "TECH THIS WEEK!" every Sunday! This week we saw Nolan's TARS coming to life with Schaft's latest bipedal robot and also Ghost Protocol lenses being developed under Samsung's latest patent. We also saw Toyota and Microsoft staying connected with Toyota Connect going on cloud and Intelligent Energy solving the refuelling problem of drones with Hydrogen fuel. In case, if you've missed any of those, along with what was SpaceX's Falcon 9 doing in the sea, don't worry just keep reading!
Samsung Patents AR Contact Lens With Built In Camera

Samsung has been reportedly granted a patent in South Korea for contact lenses which will offer a display that can projects images into a wearer's eyes and will also include a built-in camera along with sensors that will be controlled by simply, blinking.
We've seen this kind of lenses in Mission Impossible Ghost protocol but soon this will turn into reality.
A report by SamMobile points out that the company's primary reason for the development of smart contact lenses is the limited image quality that can be achieved with smart glasses. Lenses can provide a more natural way to provide augmented reality than smart glasses. Still, we can imagine the privacy debate that will reach new heights when cameras are essentially hidden in contact lenses.
'The analysis component of the contact lens can process the raw image data of the camera to determine processed image data indicating that the blind person is approaching intersection with a crosswalk and establish that there is a car approaching the intersection.'
Like Samsung, the lens also has wireless capabilities allowing it to link to a smartphone, which can be used to process data and give the user audio commands.
Source: techstory.in
Schaft's Latest Robot Looks Positively Interstellar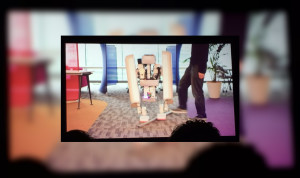 Alphabet's intent to get rid of Boston Dynamics hasn't affected its other robotics programs, from the looks of it. On Japan's New Economic Summit stage, the Alphabet X lab (formerly Google X) subsidiary SCHAFT unveiled a new bipedal unit that's capable of climbing stairs, carrying a loaded barbell on its "head" unit, laterally stepping through a row of seats at a soccer stadium and even maintaining balance when a section of pipe is placed under its feel. IEEE Spectrum writes that this was part of former Google exec Andy Rubin's keynote at the event, but that the debut wasn't part of a product announcement or "indication of a specific product roadmap."
So it looks like the clip of the anonymous bot navigating a rocky beach in the video below is indicative of the project's lonely future. But hey, maybe director Christopher Nolan can put it to use in a sequel for Interstellar — the biped strikes awfully similar that movie's monolithic robot companion, TARS.
The new smart album feature isn't entirely a new concept — Israeli photo-management startup MyRoll has offered something similar for a while through its eponymous app as well as a standalone service called Gallery Doctor. So while the new Google Photos app does bear some resemblance to existing apps, with maps and location-focused features thrown into the mix, the Internet giant is putting enough of its own spin on the concept to make this worth checking out.
Source: engadget.com
Hydrogen Powered Drones Will Solve Flight Time And Refuelling Problem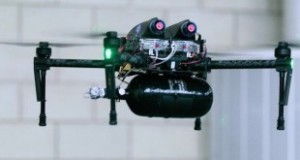 The entire world is getting moved by the drone technology and everyday so many innovations are done in its technology to make it a perfect flying device. Adding one more to the list of innovation, Intelligent Energy, a UK based company claims that it has developed a machine which runs on hydrogen fuel.
As per the company, the newly developed device is powered by two hydrogen fuel cells. The main USP of this device is that it spurts out water and warm air as its waste product and as per the investors, it solves two of the biggest problems associated with drones: flight time and re-fuelling.
Speaking about the product, Julian Hughes, Acting MD, Consumer Electronic Division, Intelligent Energy said, "On the top are the two fuel cell stacks – they need oxygen which is from the air, which is what the fans help – and underneath is the hydrogen. So, the hydrogen and the oxygen run across the fuel cell plates and produce electricity."
"The global commercial drone market is expected to sky-rocket in the coming years, reaching close to 5 billion euros by 2020. But it's being held back by the short range and long re-charging times of conventional batteries. And with fuel cell technology that we have now put on board, the flight times are significantly increased, up to between an hour and two hours. And no need to recharge the battery, all you need to do is change the fuel source and that takes around a minute," he added.
Source:techstory.in
Toyota And Microsoft Launch Connected Car Initiative

Toyota Connected builds on a standing relationship with Microsoft to leverage Azure cloud technology to make the connected driving experience smarter. Based in Plano, Texas, Toyota Connected will expand the company's capabilities in the fields of data management and data services development initiatives.
The connected cars market has been growing healthily in recent years, but is not new to Microsoft or Toyota as the two companies have been collaborating in the area of telematics since 2011, working on services such as infotainment and real-time traffic updates. A 2015 report stated that connected car services will account for nearly $40 Billion in annual revenue by 2020, while big data and analytics technology investments will reach $5 billion across the industry in the same period.
The new company itself has been given two mandates; firstly to support product development for customers, dealers, distributors, and partners, through advanced data analytics solutions, and secondly to build on Toyota's existing partnership with Microsoft to accelerate R&D efforts and deliver new connected car solutions. The company have stated that its vision is to "humanize the driving experience while pushing the technology into the background".
The launch of Toyota Connected will able enable the organization to consolidate R&D programs into one business unit, which it claims will ensure that all initiatives remain customer centric. Initiatives will focus around a number of areas including in-car services and telematics, home/IoT connectivity, personalization and smart city integration.
As part of the launch, Toyota will also adopt Microsoft's Azure cloud computing platform, employing a hybrid solution globally, whilst also housing a number of Microsoft engineers in its offices in Plano.
Source: businesscloudnews.com
The Perfect Landing; SpaceX's Rocket Lands Safely On Drone Ship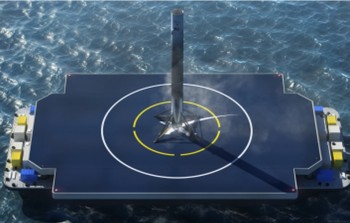 Finally, SpaceX has managed to put its landing gear safely, after the company's rocket Falcon 9 lands on a floating drone ship at sea. After witnessing four drastic failures, this is the first time when company has managed to pull it off successfully. Now, this has put the company in commanding position as it proves that it can land its rocket on solid ground as well as in ocean.
This is the second time SpaceX has successfully landed one of its rockets post-launch; the first time was in December, when the company's Falcon 9 rocket touched down at a ground-based landing site in Cape Canaveral, Florida, after putting a satellite into space, reports The Verge.
With this demonstration, SpaceX has shown that it can land its vehicle on a solid as well as liquid platform. And that could mean much greater cost savings for SpaceX. At a recent NASA press conference, Hans Koenigsmann, vice president of mission assurance for SpaceX, said the next two to three flights will involve drone ship landings. Ultimately, the company expects to land one-third of its rockets on land, and the rest at sea.

Source: techstory.in
For regular updates on Tech, check out Techstory's Technology Space!
(Image Credits : feature Image From Freepik)