10 April 2016, Cape Canaveral :
A SpaceX Falcon 9 rocket blasted off from Florida on a NASA cargo on Friday and today at 07.23am ET the crew aboard ISS captured the rocket's payload in space. SpaceX Dragon cargo spacecraft successfully arrived at the International Space Station.
This is the first space station cargo mission that SpaceX has launched since June 2015, when an event in the liquid oxygen tank caused the spacecraft to break apart. Since determining the cause of that launch failure, SpaceX has now launched four successful missions with its Falcon 9 rocket.
"The whole reason for wanting to land was SpaceX CEO Elon Musk wants to be able to reduce the cost of launches by being able to rescue the first stage," said Ray Lugo, director of University of Central Florida's Florida Space Institute. "I was confident they would have a success eventually. It wasn't about if, but when."
SpaceX has a goal of making its Falcon 9 rockets reusable in order to reduce launch costs from its current $61 million price tag to around $5 million to $7 million. Despite the difficulty in making it happen, being able to land the rocket on a droneship is an important part of that goal, as the trajectories for certain flights makes a ground landing impossible.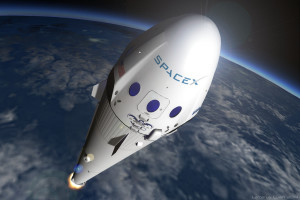 SpaceX plans to plans to start launching rockets about every two weeks from its sites in Florida and California later this year as the company tackles satellite-delivery orders worth some $10 billion, company officials said.
Meanwhile, a SpaceX Dragon cargo spacecraft filled with nearly 7,000 pounds of vital supplies, science experiments and a prototype inflatable space habitat for the orbiting outpost. Making up more than 3,000 pounds of that cargo is the Bigelow Expandable Activity Module, or the BEAM — an expandable habitat that will provide 565 cubic feet of volume for astronauts to move around arrived at the International Space Station today.
Dragon is a free-flying spacecraft designed to deliver both cargo and people to orbiting destinations.
Roughly half the upcoming missions will leave the Falcon 9's booster with too little reserve fuel to fly all the way back to the launch site for a return landing, so the ability to land at sea is essential, Musk said.
President Obama hailed the latest accomplishment on Twitter, saying, "Congrats SpaceX on landing a rocket at sea. It's because of innovators like you & NASA that America continues to lead in space exploration."
Source & Image : SpaceX
Comments
comments