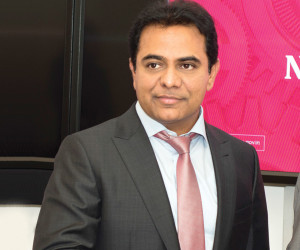 June 01,2016:  Telangana government today said it may set up an outpost of T-Hub, its technological incubator, in Silicon Valley , United States.
According to an official release, state IT Minister K T Rama Rao, who is currently touring the North American country along with some of the senior officials, today addressed a convention of investors and IT professionals.
The Minister said, "We are going to set up T-Hub outpost (extension centre) in Silicon Valley. We need support and cooperation from TiE ( a Global net work of entrepreneurs) and investors from Silicon Valley."
T-Hub is a unique public/private partnership between the Telangana government, three of country's premier academic institutes (IIIT-H, ISB and NALSAR) and key private sector leaders.
KTR further said besides IT, India provides abundant opportunities in manufacturing sector and the state government pro-actively took up "Make in Telangana" initiative by launching investor-friendly policies.
The state government took up digital literacy in massive scale and is moving towards m-Governance from e-Governance aiming to take the administration to the masses, according to the Minister.
Image Source: youandi.com