This week, Bloomberg reported that China had inserted chips into computer equipment manufactured for more than 30 US companies, which include big names of Apple and Amazon, to steal its technology secrets. It was further reported that the chips were also used in equipment made for various US companies and government agencies.
According to Bloomberg, Amazon in its 3 years of secret investigation uncovered the malicious chips while examining the servers manufactured by Elemental technologies, which Amazon acquired.
They also reported that a unit of Chinese Army infiltrated the supply chain of computer hardware maker Super Micro Computer Inc to plant malicious chips that can be used to steal data and secrets from corporate and government agencies.
The investigation found out that Elemental servers that were assembled by Super Micro, were tainted with tiny microchips that were not a part of their design. Bloomberg said, Amazon had reported the matter to US authorities, who determined that the microchips allowed attackers to create  "a stealth doorway" into networks using those servers.  
John Bolton, White House national security adviser told Bloomberg that Chinese cyber attacks on the US validate trump administration's emphasis on offensive cyber operations of its own. But he didn't confirm whether the White House was aware of the attack before the report by  Bloomberg.
Apple had earlier planned to order 30k Supermicro server in two years. It was reported that Apple found malicious chips in servers purchased from the maker in 2015. In 2016, Apple ended ties with Supermicro owing to unrelated reason.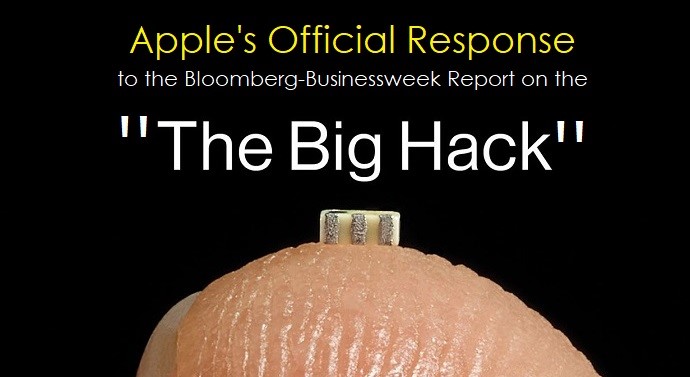 Apple provided Bloomberg  with the following statement before their story was published:
"Over the course of the past year, Bloomberg has contacted us multiple times with claims, sometimes vague and sometimes elaborate, of an alleged security incident at Apple. Each time, we have conducted rigorous internal investigations based on their inquiries and each time we have found absolutely no evidence to support any of them. We have repeatedly and consistently offered factual responses, on the record, refuting virtually every aspect of Bloomberg's story relating to Apple."                  
Comments
comments