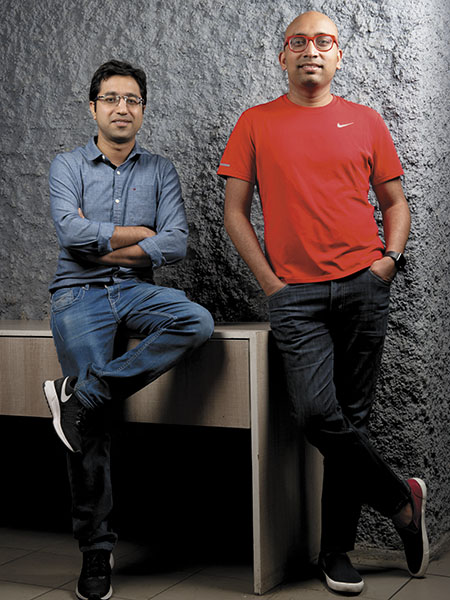 Lybrate is an app and website based health tech company. The application is essentially a medium to connect patients with doctors instantly. You can book appointments with doctors in the directory after looking at their profile and specialties.
Along with Lybrate, there is another app called Lybrate+. Lybrate+ is an online lab testing service. Through this, the samples can be collected from patients from their own homes and then be taken to the diagnostic lab to get tested. Once the results are out the reports get delivered to the patient digitally on the Lybrate+ app and website.
Lybrate can also be used for doctors and patients to communicate and share medical details remotely through the app. Thus doctor-patient relations and updates can be maintained regardless of geography.
Initially, when online, the patients can have anonymous consultancies with doctors for their problems. As the diagnostic procedure progresses, depending on the scope of the patient, the interaction can migrate to an offline space. Lybrate can also act as a first interaction and get patients acquainted with doctors.
The Beginning:
Lybrate was started by Saurabh Arora in the July of 2013. Arora was an employee of Facebook in the United States of America when the idea of Lybrate came to him. He teamed up with Rahul Narang to create Lybrate. Narang was an employee of Snapdeal in India.
Both the founders had the vision to eradicate the hazardous habit of self-medication in India. Patients either do not have access to the right doctors or do not have the means to reach the doctor, which is when the problem of self-medication occurs which can lead to complications. This self-medication problem seems to plague Indian citizens and Lybrate's vision is to act as a solution to this.
"When I was in India for a vacation, I happened to visit a chemist. I was shocked to find that half the people did not even know what medicines to buy. Some had a prescription while others didn't," he recalls. "I tried to figure out the root cause of this problem and realized there was a huge opportunity waiting to be tapped."
The duo started building the company with their own savings as an investment when they started off in 2013.
Funding:
The starting funding for Lybrate came from the founders themselves which is a great declaration of how much they trusted their own vision. But things now needed to expand.
In August of 2014, the company struck gold in the form of Nexus Venture Partners. NVP invested a massive $1.23 million USD into Lybrate as Seed Funding and things started to look up and grow.
This trust of venture capitalists into Lybrate kept coming in. In the Series A round of funding, another venture capital firm called Tiger Global led the roster along with other firms like NVP and Tata Sons. The amount of funding was increased by 10 times in Series A when it got Lybrate $10.2 million.
Growth:
The quick success in funding of Lybrate was not a shot in the dark. The whole company was a well thought and well-structured plan from its inception, says Arora.
"When I was working for Facebook, my job was to connect advertisers with people using Facebook as a platform. I thought why not apply the same logic in health care and connect doctors and patients on a single platform."
The company now has 1 lakh qualified doctors registered on its roster across India. Along with this, there are over 6 million exchanges between patients across the country with doctors, which include health queries, diagnosis, lab tests, and appointments.
"It took us a bit of time to create awareness among doctors and get them on board. But we made sure we built a product that had a workflow which made doctors talk about Lybrate and recommend it to others. That helped us get a lot of traction," Arora told Forbes.
Currently, 60% of Lybrate's customers come from Tier 1 cities. The other 40% is Tier 2 and Tier 3 clubbed together. According to Forbes, the company is also the largest repository of health queries and solutions on a platform in India.
However, Lybrate has not even scraped the surface in terms of market penetration yet. The Indian healthcare economy is full of opportunity. About 60% of hospitals and 80% of doctors are present in urban areas. The rest of the country has a high drought of proper patient care. While this situation may currently be very grim it also presents itself as a viable scope for growth. Companies like Lybrate that eliminate the need for a physical doctor-patient interaction can feed on this lack of physically present doctors and provide the services that are needed.
Currently, the company's turnover per annum rests at 22.45 crore. The first few interactions of patients with doctors are free (unless you pick a doctor you want to see). Picking a doctor through your own choice happens through Lybrate Consult which carries a small fee.
Lybrate Cube is another app for doctors who want to establish their presence and follow up with current patients of theirs.
Thus, Lybrate with Lybrate+, Lybrate Consult, and Lybrate Cube work on a freemium business model which generates most of the company's revenue.
The Challenges and the Future:
In a country like India which has so much untapped potential still, there are challenges that remain. If Lybrate wants to expand into rural areas it has internet penetration rates and technological familiarity of patients to depend on. In a country like India where which is still developing in terms of technical knowledge, this could be a challenge.
Along with this, let's not forget that the company is essentially dealing with a very fragile problem- patient health care. Once they expand to more doctors and patients, consistent quality of healthcare needs to be maintained in order to provide the best results. Screening for the right doctors might become a tricky challenge once scale increases.
However, this is exactly what the founders are seeking to keep in mind while expanding their company.
"It's definitely not a cakewalk… ultimately it's work. Whether you work for yourself or someone else, that shouldn't matter. You should just focus on the quality."
Comments
comments