Crypto.com has begun the "first phase" of its exchange platform debut in the United States. The crypto exchange company announced on Twitter, "Some things are worth the wait,".
Crypto.com has begun the "first phase" of its exchange platform debut in the United States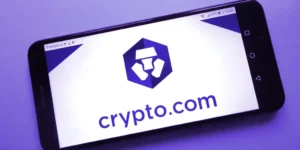 Crypto.com stated that the "first phase" of its exchange platform launch in the United States had commenced. "We're pleased to bring our professional trading offering to the United States," stated Kris Marszalek, CEO of Crypto.com.
Waitlisted consumers can now use the Crypto.com Exchange, with a gradual rollout planned over the next months.
Kris Marszalek, CEO of Crypto.com, said, "We are excited to be expanding our offering for professional traders to the United States." "During this initial launch phase, Crypto.com Exchange will provide help to institutional investors in the United States." We're excited to make it available to everyone as soon as possible."
VIP members will have access to exclusive events, incentives, and market insights.
Crypto.com followed other cryptocurrency exchanges such as FTX in purchasing Super Bowl advertising space in December of last year. The cost of a 30-second commercial was believed to be $6.5 million.
According to the Wall Street Journal, Crypto.com CEO Kris Marszalek wants the exchange to become one of the top 20 consumer brands in the world in the next three to five years, putting it in the company of sports and tech heavyweights like Nike and Apple. Marszalek says entering different sports gives him a chance to reach people wherever they are. "The Super Bowl is just one step further, where it's as mass as you can get."
The commercial, which featured a youthful LeBron James interacting with his mature self, aired mere minutes after the halftime show.
"At its heart, this is a storey about each and every one of us," says the narrator. "We've all had to make these tremendous bold decisions that influence our future," Ben Lay, creative director for Crypto.com, said in a behind-the-scenes video teasing the campaign.
Users can also participate in special forums sponsored by global thought leaders on Crypto.com.
The Crypto.com Exchange, according to the business, is consistently ranked among the top five global exchanges by spot volume.
The exchange, according to Crypto.com, is powered by the industry's fastest matching engine, which can handle 2.7 million transactions per second and has a core latency of just 50 microseconds.
If you find this article informative then do not forget to share it with your friends and family!
Also read: Binance has been granted a license to offer cryptocurrency services