There probably needs to be more hours in the day, a phrase you've heard if you operate a small business. Your days include writing proposals, interacting with clients, responding to emails, and performing administrative duties. It's simple to feel worn out and overburdened. The good news is that there are many digital solutions available today to assist you in optimising your operations and reducing the stress of your work, thanks to technological advancements in essential software and applications. So how can you tell which alternatives would work best for your company when there are so many to choose from? We'll give some suggestions for tools that make your life simpler in this post.
Before getting into our list, let's examine the benefits of investing in digital tools for your small business. Technology may help you save time to concentrate on essential things. You are freed up to use that time talking to clients and prospects, enhancing your goods and services, and other strategic initiatives to expand your business instead of toiling over manual, administrative activities like data entry and invoicing.
Second, technology may help you save money. A CRM technology, for instance, may immediately spot any areas where you may be "leaving money on the table" with a particular customer base. Accounting software may provide information indicating you have been overpaying taxes. Using a backup system may prevent data loss and undesired downtime that can cost you customers or income. You will only notice a deadline that results in a service-level agreement violation and related fines if you use a reliable project management tool. Scroll down for the list of best and useful essential software that can help you out!
Top 10 essential software development tools
1. Xero
A cloud-based accounting programme for small and medium-sized enterprises is called Xero. It offers various services, including invoicing, bill payment, bank reconciliation, inventory management, payroll, and reporting, to assist businesses in managing their financial operations.
Following are some of the main characteristics and advantages of Xero:
Invoicing: With Xero, companies can make and send expert invoices to clients, monitor payments, and set up automated payment reminders.

Payment of bills: By keeping track of invoices, establishing payment plans, and automating payments, Xero assists businesses in managing their accounts payable.

Bank reconciliation is accelerated and made more precise by Xero's integration with credit cards and bank accounts to import and classify transactions automatically.

Inventory management: Xero provides services for tracking and managing inventories, enabling firms to maintain tabs on their stock levels and make wise purchase choices.

Payroll: For enterprises, Xero offers payroll features, including automatic tax computations, direct deposit, and employee self-service choices.

Reporting: Xero provides a variety of financial reports, such as profit and loss statements, balance sheets, and cash flow statements, to help firms monitor performance.

Third-party integrations: By integrating with various additional business tools, including project management software, payment gateways, and CRM essential software, organisations may streamline their process and improve productivity.

Cloud-based: Xero may be accessed from any location with an internet connection because it is a cloud-based programme. Due to this, firms may easily monitor their accounts while travelling or from distant places.

Credits: Wikipedia
2. Shopify
An e-commerce platform called Shopify enables companies to build and operate online stores. It provides several capabilities, including website design and customization, payment processing, inventory management, and order fulfilment, to assist businesses in setting up and managing their online store.
The following are some of Shopify's main attributes and advantages:
Website design and customization: Shopify provides a selection of editable website templates to assist businesses in building a distinctive and appealing online store. It also provides a drag-and-drop website builder for individuals wishing to personalise their website further.

Processing payments: Shopify interacts with over 100 payment gateways, enabling companies to receive payments from clients worldwide. Moreover, it provides Shopify Payments, a payment gateway that may be used to process purchases without charging extra transaction costs.

Inventory control: Shopify provides several solutions that let companies keep track of their stock levels, set up automated notifications for low stock levels, and manage their items and variations.

Order fulfilment: Shopify allows businesses to automate their order fulfilment process by integrating with shipping companies like USPS, UPS, and FedEx. Customers may also monitor their orders and receive delivery alerts from it.

Third-party integrations: Shopify connects to various business tools, including social networking platforms, marketing automation tools, and essential essential software for accounting, enabling companies to optimise their workflows.

Shopify's app store, which contains over 6,000 applications and connections, enables companies to expand the functionality of their stores and add new features as required.

Customer assistance: To help businesses get the most out of the platform, Shopify provides round-the-clock phone, email, and live chat customer service and various online tools and tutorials.
3. Trello
Trello is a project management solution that enables organisations and people to manage their tasks and projects in a visual, user-friendly environment. The idea behind it is similar to a "kanban board," where tasks are represented by cards and moved between columns that indicate various degrees of completion.
The following are some of the main attributes and advantages of Trello:
Boards: Using various lists and cards that represent tasks and subtasks, users of Trello may construct panels for multiple projects or areas of their work.

Trello users may interact with one another and track progress using cards that can be customised with due dates, descriptions, labels, attachments, and comments.

Trello lists show several completion phases, such as "To Do," "Doing," and "Done." To monitor activities and demonstrate progress, users can move cards across lists.

Sharing and working together on boards is possible with Trello. Users can also assign tasks to team members and set up alerts for updates and changes.

Connectivity with other applications: Trello connects to various other business platforms, including Google Drive, Dropbox, Slack, and Zapier, enabling users to automate some activities and optimise their workflow.

Trello offers a mobile application for iOS and Android that lets users view and update their boards while on the move.

Trello has a user-friendly interface that is simple to use and comprehend because of its drag-and-drop functionality and visual layout.
4. Toggl
The time spent on various jobs and projects may be tracked by both people and organisations using Toggl. It provides several tools, such as monitoring billable hours, issuing reminders, and creating thorough reports, to assist users in better managing their time and increasing productivity.
Following are some of Toggl's salient characteristics and advantages:
Time tracking is possible with Toggl, either manually or automatically, through interfaces with other applications like Trello, Asana, and Google Calendar.

Tracking of billable hours: Toggl's ability to track billable hours and produce invoices from the time tracked makes it beneficial for independent contractors and service-based organisations.

Toggl includes various reporting and analytics options that enable users to examine in-depth data on their time utilisation, monitor goal progress, and spot areas for development.

Toggl connects with various corporate products, including platforms for team communication, financial essential software, and project management applications.

Users of Toggl may create reminders and notifications to assist them in staying on task and avoiding distractions.

Toggl is a mobile app for iOS and Android that enables users to keep track of their time while on the road.

User-friendly design: Toggl's straightforward and intuitive design makes it simple to use and comprehend even without prior knowledge of time-tracking essential software.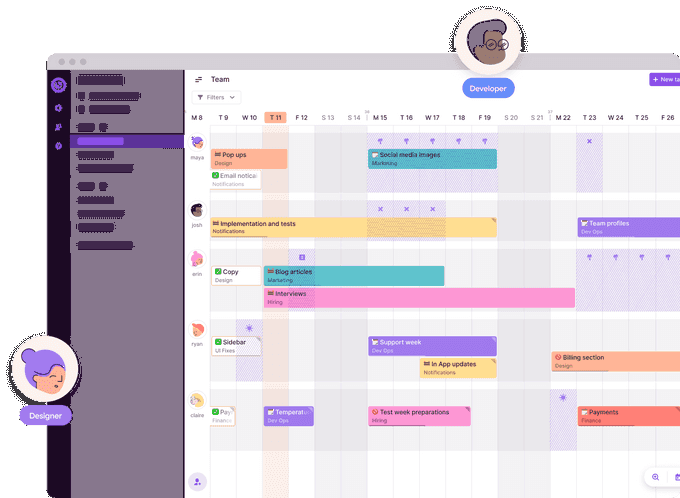 5. PayPal
People and businesses can send and receive online payments using PayPal, a digital payment network. With over 375 million active accounts, it is one of the most widely used payment systems worldwide.
The following are some of the main attributes and advantages of PayPal:
Internet transactions: PayPal lets users send and receive payments without checks or bank transfers.

Simple setup: All needed to open a PayPal account is basic personal and financial information.

Security: To secure consumers' financial information, PayPal employs cutting-edge security methods, including fraud detection and encryption.

Protection for both buyers and sellers: PayPal provides security for transactions and fair dispute resolution for both buyers and sellers.

PayPal supports international payments in more than 200 countries, and users may send and receive money in various currencies.

Tools for businesses: PayPal provides several tools and features for companies, including invoicing, payment processing, and connectivity with shopping carts.

PayPal offers a mobile application for iOS and Android that enables users to send and receive payments while on the go.

Integrating with other tools: Users may improve their workflow and automate some operations by integrating PayPal with various other business applications, including QuickBooks, eBay, and WooCommerce.
6. Hunter.io
Hunter.io is a well-known email discovery and domain search engine that enables people and companies to discover and validate email addresses connected to a specific domain or organisation. It provides several tools that customers may utilise to better their email marketing and streamline their outreach.
The following are some of the main attributes and advantages of Hunter.io:
Email finder: Using various search criteria, including name, job title, and department, users of Hunter.io may look up email addresses connected to a specific domain or business.

Email verification: Hunter.io provides an email verification function that enables users to confirm an email address legitimacy and prevent sending messages to illegitimate or inactive email addresses.

Domain search: With Hunter.io, users may look for details about a particular domain, such as email addresses, phone numbers, and social network accounts.

Email tracking: Hunter.io provides email tracking capabilities that let users examine engagement data like click-through rates and track when emails are opened and clicked.

Lead generating: Using Hunter.io as a lead generation platform enables users to locate and contact prospective clients or consumers depending on their domain or industry.

Integration with other tools: CRM systems, marketing automation systems, and email marketing tools are just a few of the business tools that Hunter.io interfaces with.

API access: Hunter.io provides API access, enabling programmers to incorporate its features into their essential software and processes.

7. Slack
Slack is a well-liked group and individual collaboration tool that enables real-time communication and information sharing. It provides several features to aid users in maintaining connections, streamlining work processes, and boosting productivity.
Following are some of Slack's primary advantages and features:
Slack's channel feature enables users to set up channels for various projects or subjects, allowing team members to interact and exchange information in an orderly and focused manner.

Slack has direct messaging services that let users speak with one another directly without clogging up channels.

Slack's file-sharing feature makes it simple for members to work together on projects and exchange information.

Slack connects with various business platforms, including Google Drive, Trello, and Salesforce, enabling users to automate some activities and streamline processes.

Slack includes various customization tools that let users design alerts make emoticons, and more.

Slack includes a robust search tool that enables users to look for messages, files, and other data on the network.

Mobile application: Slack users may connect and communicate while on the go, thanks to its mobile apps for iOS and Android.
8. G-Suite
To improve the productivity and cooperation of teams and people, Google created the G Suite, a set of cloud-based productivity and collaboration tools. It provides various features and advantages to assist companies of all sizes in streamlining their operations and boosting production.
The following are some of the main attributes and advantages of G Suite:
Gmail: A robust email service with advanced spam prevention, personalised email domains, and connection with other Google applications, Gmail is part of G Suite.

Google Drive: A cloud-based storage service that enables users to share files, collaborate on papers and access their data from any location, Google Drive is a component of the G Suite.

Google Sheets: A robust spreadsheet programme that enables users to analyse data and produce charts and graphs, Google Sheets is a part of the G Suite.

Google Slides: Google Slides is a powerful presentation tool included in G Suite that makes it simple for users to create and share presentations.

Google Calendar: A robust scheduling application that enables users to manage their calendars, make reminders, and book meetings and appointments, Google Calendar is part of G Suite.

Google Meet: A video conferencing feature included in G Suite, Google Meet enables users to have online meetings and work in real time with team members.

Security and privacy: To assist secure customers' data and information, G Suite incorporates advanced security and privacy features, including two-factor authentication and data encryption.
9. Gusto
Small firms can use the cloud-based payroll and human resources (HR) essential software Gusto. It provides various features and advantages to aid organisations in automating payroll and streamlining HR procedures.
Some of Gusto's main attributes and advantages are listed below:
Payroll administration: Gusto provides a variety of payroll management capabilities, including direct deposit, automated tax filing, and adherence to local, state, and federal payroll rules.

Benefits administration: Gusto enables companies to handle all aspects of employee benefits in one location, including health insurance, retirement programmes, and workers' compensation.

Gusto features a time-tracking function that enables staff members to clock in and out, keep track of their working hours, and request time off.

Gusto's onboarding function enables companies to speed up the process of hiring new employees by automating paperwork, setting up payroll, and other tasks.

HR tools: Gusto provides various HR tools to help organisations manage their people more successfully, including employee surveys, performance management, and compliance management.

Gusto allows businesses to adapt their payroll and HR procedures to meet their unique demands.

Gusto offers an iOS and Android mobile app enabling users to access paystubs, perks, and time-off requests from any location.
10. Salesforce
Customer relationship management (CRM) essential software on the cloud, Salesforce, aids companies of all sizes to control their customer interactions and sales procedures. It provides various features and advantages to assist organisations in enhancing their efforts in customer service, marketing, and sales.
The following are some of the main attributes and advantages of Salesforce:
Sales management: To assist companies in better managing their sales processes, Salesforce provides several sales management tools, including lead management, opportunity tracking, and sales forecasting.

Marketing automation: To generate more leads and revenue, organisations may use Salesforce to automate their marketing initiatives, including email campaigns, social network marketing, and advertising.

Customization: Salesforce enables companies to design custom fields, workflows, and reports to match their unique demands and requirements in their CRM operations.

Integration: To assist organisations in streamlining their workflows and processes, Salesforce interfaces with various third-party programmes, including marketing automation tools, accounting programmes, and customer support platforms.

Analytics: Salesforce provides various analytics and reporting tools, including dashboards and reports, to assist companies in understanding their sales and marketing initiatives and making fact-based choices.

Mobile app: Salesforce offers a mobile application for iOS and Android that enables users to access their customer relationship management (CRM) data, sales and marketing campaigns, and customer care tickets from any location.