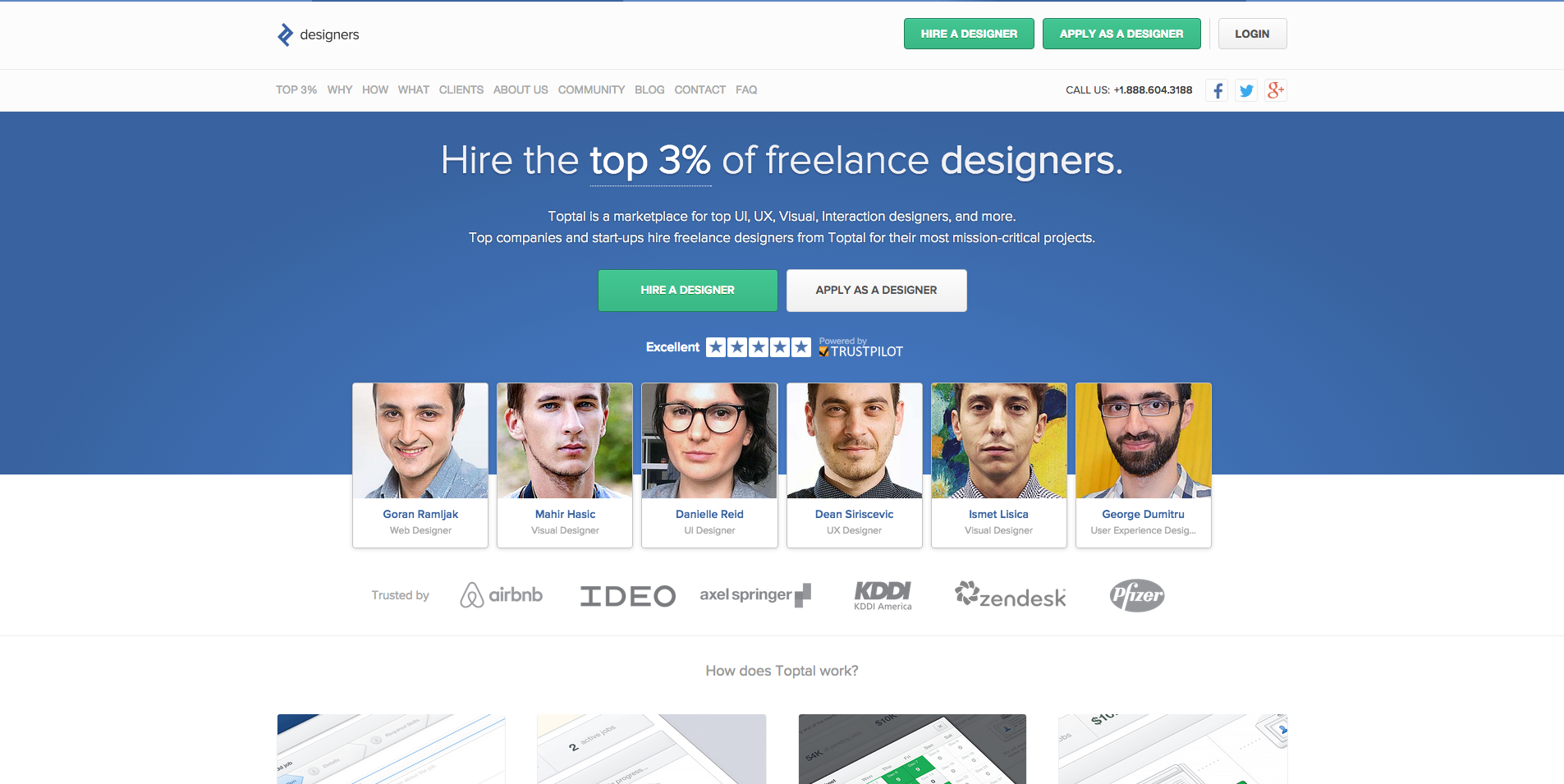 Toptal is a rapidly growing network comprised of some of the most talented digital designers and software engineers in the world, distributed across the globe.
Before beginning, I would like to start with a small questions. What is the difference between a "designer" and a "developer" when it comes to a web application or a software? Well, the same question had bugged me for a long time. In most of the places both render the same meaning, as in, a person who designs also develops. But this is not going to be the case, when you need a masterclass output from the design in hand. There are ought to be exclusive people for these two different job responsibilities. In order to explain it in layman's terms, just imagine your application to be developed is a newly constructed house. You need an interior designer to make it presentable to your targeted audience, that is where the designer assumes his responsibilities. He plans all the specifications that are to be designed, and then gives his design requirements to a carpenter, this is where the developer comes into play. So essentially, the developer has the in-depth knowledge of how to execute the task drafted by the designer. At the end of the day, a designer and developer's role cannot be interchanged for a desired output and a designer is as important as a developer when it comes to quality output.
I hope I have made it clear, now that the world is facing talent crunches all over, how do we find the TOP TALents specialised in these arenas? The answer is right in the question.
To date, Toptal has been known as a thriving network comprised of some of the best software developers in the world. However, they've realised that when it comes to creating high impact, ground breaking software, the ability to match their clients with superior design talent provides an enormous competitive advantage. They don't want to be known just for their large pool of developers, but as a complete package. Owing to clients' demands on specific projects, they've decided to evolve with their designers community too and it is this diversity that makes the Toptal entire community reliable to deliver the best.
Check: Toptal Designers Community
"By formally welcoming top designers into our community, launching our own Toptal Design Blog, and organizing designer and cross-functional events in addition to our engineering-oriented ones, we'll be providing a more complete service for our clients and a greater wealth of knowledge for the members of our community to use to improve their own skills."
The designers community is definitely their next big step, and they don't want it to be too light, but rather make a huge impact with the talents that have joined the community. Design and its associated skills are, by nature, an inherently more subjective process to evaluate than software engineering. While there is certainly a great deal of creativity and imagination that go into each, it's hard to devise a pass/fail assessment for artistic sensibilities and taste. Hence, as usual they have a tight screening to quantify and qualify the best and stick to it's brand Toptal. They've been screened not just based on their excellence at the time of screening (which can be subjective), but also for specific qualities that give an overall picture of how they can contribute and be a part of the Toptal's community. Here's a quick look at the specific qualities observed in the screening process for the designers community.
Communication skills and English fluency tests
Portfolio review
Live design evaluations
Sample design project
The details of the screening process are different for different types of designers, the focuses of each can be broadly categorised under the following specifications
User Experience Design
User Interface Design
Visual Design
Interaction Design
Since launching the beta version of Toptal Designers several weeks ago, they've been thrilled to see the amazing work of the UI, UX, visual, and interaction designers that have joined their community.
Toptal Facts:
Year Founded: 2010
Founders: Taso Du Val and Breanden Beneschott
Client Base: Connecting thousands of elite freelance software engineers and designers with over 2000 bluechips, startups, and tech giants
Annual Run Rate: On track to hit an $80,000,000
Funding: Backing from Andreessen Horowitz (Venture Capital firm), Adam D'Angelo (Founder of Quora), and other investors
Sales: 10 million+ appointments booked annually
The Benefits
Due to their unique functional process they reduce the stress that usually comes along while hiring a candidate in person or using other virtual platforms. The Benefits of Toptal is that when it comes to complex design of a product and you need an expert, when you opt the conventional method of head hunting it might some time take upto 3 months to find one, and above all validating the experience and expertise of the candidate is another. Toptal eliminates all the risks and helps you hire the right talent in less than a month.
Designer's Profile
The highlighting feature of Toptal's community is their RISK-FREE TRIAL period, where everytime you work with a new toptal freelancer, you'll have a trial period (upto 2 weeks). You can use this time to assess his skill and decide he meets your requirements or not. This also enables the freelancer to adapt to your team dynamics and add values to your existing system.
The prospect of being able to provide a larger range of services to their clients with the designer community makes this an extremely exciting time at Toptal right now. If you're actively involved in design communities and think there are ways Toptal can support you to the next level, send an email to "community@toptal.com".
"We'd love to help or explore ways in which we can collaborate."