Bored of the everyday traffic jams ! Wondering how you could avoid them ? Traffline has a solution for you.Traffline is a website and smartphone application that provides live traffic updates for people on the road  and is evolving towards an open platform for users to share and consume information related to city commute. The company will soon provide real time information related to parking and public transport as well.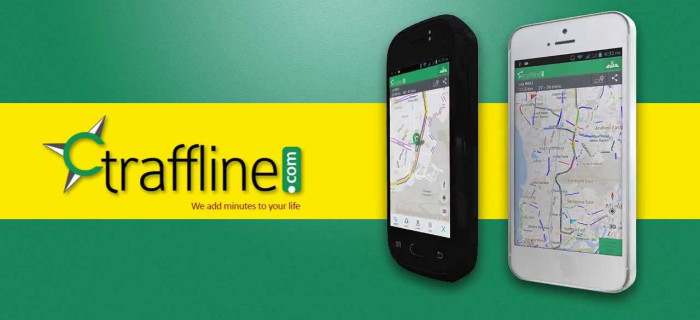 Traffline was developed and launched by Birds Eye Systems in early 2012.Birds Eye Systems is a Mumbai based start up with the vision to rid traffic woes that have become a part of every commuter's daily life. Their strong technological research and backing allowed them to introduce the country's first ever real time traffic tracker – Traffline.This traffic information industry is currently in the evolutionary stage in India  with no clear leader and a lot of room for growth. Competition today is in the form on map companies, local players providing information on public transport.The addressable market is the 70-100 million urban commuters who do not have enough real time information to make smart decisions.
Traffline was introduced with the purpose of acting as a traffic agent that allows commuters to check traffic conditions of the city at any point of the day. Birds Eye Systems fitted probes on vehicles – call taxis, public transport vehicles and others – that have GPS installed in them. These probes continuously transmit position information which is then converted to speed information by Birds Eye's patented algorithm.The information received provides real time updates of the best routes to travel, traffic jams to avoid, and road events to escape.Traffline also aids commuters to estimate travel time from one point to another and presents alternate paths to steer clear of potential traffic delays. To make Traffline accessible to everyone, it is available on multiple platforms.  There is a Blackberry, Android and IOS App available on Google's 'Play Store' and Apple's 'App Store' making it handy on mobile phones, and tablets.  Additionally, it can be used throughTraffline.com and mobile website m.traffline.com. Traffline is currently live in Mumbai, Delhi and Bangalore. The company plans to use the funds to expand operations in 10 cities by the end of this year.
The company was founded by Brijraj Vaghani and Ravi Khemani. Brijraj and Ravi, while living in the US, noticed that people were used to checking traffic status online before heading out. They planned to introduce Indian masses to the same concept and started Birds Eye Systems. Armed with an MS in Electrical Engineering from the University of Missouri Kansas City, Brijraj has been working in the IT Industry for the past 9 years. His experience encompasses various challenging roles in companies across the USA and India making him the perfect person to manage the product and business developments aspects at Birds Eye Technology. Ravi, being an MS holder in Computer Science from the University of Missouri Kansas City has 12 years of experience tucked behind him. He handles finance, daily operations, project management and recruitment at Birds Eye Technology.
On September 30, 2014, the company announced that they had raised an undisclosed sum in its second, the so-called Series B, round of funding from the India arm of Qualcomm Ventures. The company plans to use the funds to expand operations in 10 cities by the end of this year.In December 2013, the company had raised an undisclosed amount (Series A) from Matrix Partners India, prior to which they had raised seed capital from the Indian Angel Network in April 2012.
Comments
comments