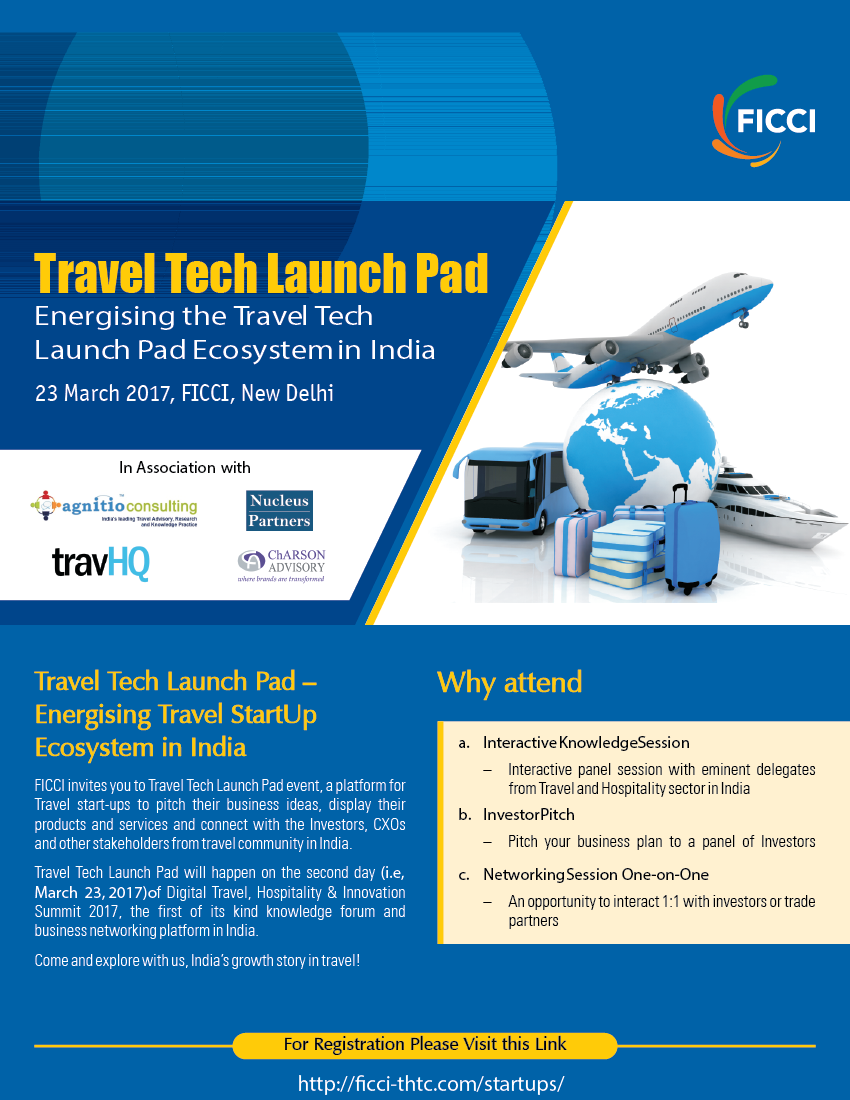 29 December 2016, India:
As part of its mandate to further enhance India's digital drive in the travel and tourism industry the Federation of Indian Chambers of Commerce and Industry (FICCI) launched its maiden initiative 'Travel Tech Launchpad' aimed at travel startups.
Over the last few decades, FICCI has consistently spearheaded the strengthening of travel and tourism ecosystem. The organization recognizes the need to leverage technology and plays the role of a catalyst that encourages evolution in the business of travel. FICCI has developed the summit content to enhance the potency of travel start-ups, digital tourism and IT-based infrastructure development for the travel and hospitality sector.
Travel & tourism carries a tremendous potential that is acknowledged as essential for the future of India's travel sector. The Indian travel & tourism industry has been growing steadily and needs to be explored with new innovations. The sector's direct contribution to GDP is expected to grow by 7.2 per cent per annum during 2015–25, as per IBEF. The tourism sector has witnessed investments worth $42.9bn in 2015 and is expected to attract $132.9bn by 2025.
"FICCI is launching The Travel Tech Launch pad with an objective to encourage entrepreneurship and technology innovation in the field of Travel & Hospitality" – Rahul Chakravarty, Director and Head – Tourism, FICCI.
"The next generation of Startups should embrace and incubate in the existing travel eco system to not only make an impact, but also help innovate the landscape around us" – Ashish Kumar, Managing Partner at Agnitio Consulting LLP, a travel advisory firm.
Established in 1927, FICCI is the largest and oldest apex business organization in India. Its history is closely interwoven with India's struggle for independence, its industrialization, and its emergence as one of the most rapidly growing global economies.

Entrepreneurs in Pune, want to know how to pitch to the right personnel to build global companies? Come visit us on 7th Jan 2017  at The Mesh, Bungalow No 15, S B Road, Pune.
Limited seating, tickets selling out soon!
Comments
comments