Twitter fills with copious amounts of posts celebrating the 30th birthday of the much-loved video game 'Sonic The Hedgehog.' The video game which marked its beginning on 23rd June 1991 was successful in capturing the hearts of gamers globally, and its reign of thirty years underscores this fact. It is not a matter of surprise that the 30th birthday of Sega's masterpiece opened windows for nostalgic revisits to the past, and sweet reminiscences about the legacy of a game that left an indelible mark.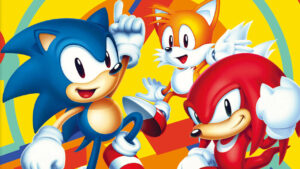 The Beginning
The fastest hedgehog was designed in an attempt to outrun the popular game series of the time Mario Brothers by Nintendo. Since the competition was rather challenging, immense efforts were put in to produce a result that would scale the mountains of success with ease. It was only reasonable that Sega approached Tom Kalinske
who was the former head of Mattel to unleash his skills and talent to curate a game that would help them to win over the millions of fans who were hooked to the Italian plumber, Mario. Tom and his team put their heads together to create the much-loved characters of the gaming world. The credit for the original design of Sonic the Hedgehog goes to Naoto Ohshima.
Very soon, Sonic became the face of the company opening doors to a number of animations, comics, and many more.
The journey was not an easy one. Earlier versions were quite ferocious and rather aggressive, and it took a while for the creators to polish and refine the character to its present form. The efforts paid off and the accomplishment was made with the fast-moving Sonic with his attitude turning heads.
However, the competition was still in place with Nintendo, and with the introduction of a milestone character, it gathered more momentum. In the ensuing battle, Sega did face a lot of setbacks and defeats facing backlash in the coming years for the poor design of the characters. But it cannot be denied that despite everything Sonic still stands the ground and today, it has been thirty years of standing the ground.
Time For Celebrations!
It is not a small thing to remain in the memory after years. And thirty years is definitely not a short time. Thus, it makes all the more sense that netizens are thoroughly excited about celebrating Sonic The Hedgehog. Because thirty years of nostalgia and gaming amounts to immense levels of enthusiasm and excitement which is very well reflected on the social media platform today. The flurry of posts celebrating Sonic has made it to the trending lists of Twitter and people are nowhere near stopping. If you find Twitter with a blue hue today, it is nothing to be surprised about. Here is a set of memes and posts from Twitter celebrating thirty years of the popular video game. Birthday wishes are in order for the fastest hedgehog.
1999
OPEN YOUR HEART#SonicTheHedgehog #Sonic30th #SonicAdventure pic.twitter.com/VSPjHacB4G

— Nano (@Nan0LovesYou) June 18, 2021
HAPPY BIRTHDAY SONIC AND DR.EGGMAN!#Sonic30th #SonicTheHedgehog #ソニックバースデー2021 pic.twitter.com/gr0MpTbRTC

— Tsukiyo (@Rero_nn) June 22, 2021
Happy Birthday, Sonic! 🎂🎉 and thanks for existing, you hold a special place in my heart 🥺🤲💖#Sonic30th #Sonic30thAnniversary #SonicTheHedgehog pic.twitter.com/NVxIwZmJ7p

— Meggs (@Nagemzcat) June 23, 2021
The coolest hedgehog in the world! #pixelart #SonicTheHedgehog pic.twitter.com/ESNAIJdY0M

— bennascar (@bennascar2) June 20, 2021
And a repost of my 30th before sleep.

Happy 30th!#Sonic30th #SonicTheHedgehog pic.twitter.com/ryrK7Ia4HO

— captan (@SuiEel) June 22, 2021
Every hero needs a great villain,
Happy birthday, Sonic & Eggman!#SonicTheHedgehog #SonicTime30Th #Sonic30th pic.twitter.com/jy4HhQjMdh

— Shira (@Shira_Hedgie) June 22, 2021
How Sonic in Minecraft happened#SonicTheHedgehog pic.twitter.com/KbD9C3lJfO

— Please don't take my stuff seriously (@Trickster____) June 22, 2021
It's been 30 years of running, collecting rings, defeating the villains, saving the day and making new friends! 30 years onwards, we still keep running forward!

Happy 30th anniversary, Sonic the Hedgehog!#Sonic30th #Sonic30thAnniversary #SonicTheHedgehog #SonicAdvance3 pic.twitter.com/2DN8WfXC9j

— ✏️👓Jay – aRtz🖌️🎨 (@Jay_aRtz15) June 23, 2021
🎉🥳 Happy 30th Anniversary Sonic! 🥳🎉
It's been a crazy 30 years! Can't wait to see what's next.
Thanks for all the friendships and memories 💙🦔 ^_^#SonicTheHedgehog #Sonic30th pic.twitter.com/TMf2naovuU

— Dani 🌼 (@DanielasDoodles) June 22, 2021
Happy birthday to Sonic! 🥳🎉🎊🎊#Sonic30thAnniversary #sonicthehedgehog #sega pic.twitter.com/C4oQfclIDS

— Anhminh.vo.3511 (@3511Vo) June 23, 2021
Happy 30th Anniversary Sonic the Hedgehog 🦔💙
I wouldn't be in the place I am now if it wasn't for this blue hedgehog and his friends. Thank you so much and here's to many more years full of great adventures #SonicTheHedgehog #Sonic30th #IDWSonic #sonicfanart #sonicart pic.twitter.com/VSumk0i9cZ

— 🐝 Rechi (Queen Bee) 🐝 6/29 🎂🎉 (@Rechi_C) June 23, 2021
Comments
comments