If you notice random tweets from random accounts in your Twitter feed you are not even following, then don't worry, you are not alone, as several Twitter users have complained about the microblogging site's new 'For You' page. 
The new 'For You' feed highlights different tweets from different accounts, including the tweets of Elon Musk, the CEO of the company, frequently.
But to be clear, these tweets are not exactly that random. These tweets are linked with your activity in some way or another, which is why you see them in your 'For You' feed. Twitter is currently working on a new option to help users identify the cause behind receiving such tweets in their feeds.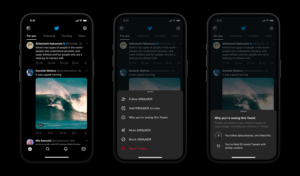 As you can see in the picture above posted by designer Andrea Conway, Twitter is experimenting with a brand new option that will enable users to tap on the three dots menu on any frequent tweet to let them know the 'Why you're seeing this tweet' segment. 
After that, you will receive a brief description of reasons why a particular tweet has been popping up in your feed. The description will include mutual followers, related interests based on in-app actions, etc.
Twitter is not the only firm to choose this. Instagram uses a similar algorithm to show content from different accounts as 'suggested posts' to boost engagement.
This way of increasing engagement has been taken from TikTok, which showed various types of content all at once instead of focusing only on the number of followers or following.
This concept was taken from every other app. Meta has seen growth in their user engagement graph on Facebook and Instagram for showing different content from people's accounts they don't follow.
Now it's Twitter time to do the same, although users are showing mixed reactions. According to some users, Twitter is basically for real-time news and updates about the world, and the system can't identify if the tweet is popular before one hour or so. This indicates that your homepage will be populated with older tweets in ways as per the app's capability.
As per Chief Executive Officer Elon Musk, this new concept has been working for the firm as Twitter saw a high record amount of users at the end of 2022. Twitter has also witnessed the highest total minutes users spend in its history.
This ultimately leads to the conclusion that this new update has been working at least to some level, and providing more of such context may engage users further. Also, providing enough information as to why the user is seeing posts on the homepage will make users engaged and comfortable.
Comments
comments