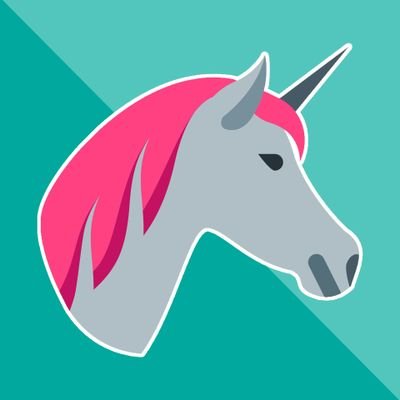 19 May 2017, India:
The war between Unicon baba- a Twitterati who's sole motive is to provide inside info (as they say) about startup ecosystem in India and troll people and Chennai-based Vijay Anand has turned ugly.
It's officially troll hunting season 🙂 Hello @rajangupta aka "Unicon Baba" https://t.co/ER2UEYgVIm Anon Attacks are not Okay. pic.twitter.com/nrMjYuXvna

— Vijay Anand (@vijayanands) May 18, 2017
Vijay Anand, Founder of The Startup Centre has unmasked the identity of the popular 'baba'. He revealed the handler of the account @uni_con1- Unicon Baba is Rajan Gupta, a former senior manager of Product and Operation Mobile VAS account.Vijay Anand stated in a Facebook blog post–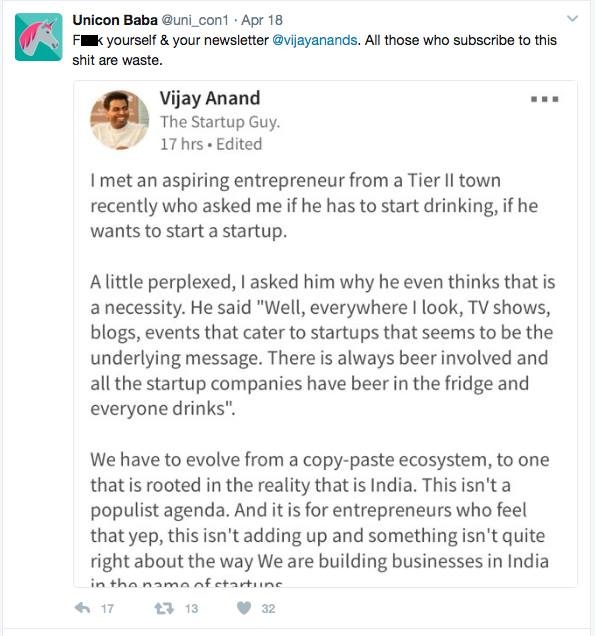 "So Why am I sharing this?
1. I absolutely believe in an ecosystem that communicates. It is important that we pull up people if we see something wrong. So please do so – and continue to do so, but there are some rules to it.
2. We are an ecosystem that has taken $90bn in funding and have managed to return 16bn$ so far. Less than 30% of what has been raised has been returned and money has stopped coming into the ecosystem – as much as 3 years ago. We do not know how to build startups in India yet, by large. It is even more so important for us to be able to talk openly (without the fear of getting trolled).
3. Have the guts to talk to people with your name attached. You can't ask for transparency when you can't even reveal your name to others.
4. Even when confronting others, you can use some decorum. Calling abusive names isn't done – and only adds poison to the ecosystem.
5. In the lack of the above, most people will simply resort to disengaging from these platforms – which are a great equalizer, especially for entrepreneurs who aren't in the metros and get to learn from the insights shared. We are robbing them of that privilege.
7. In short: If you are going to say something in public, put your name to it, or don't say it at all. I am all for having a conversation, but hiding behind an anon name and lashing out, ain't cool.
It is officially troll hunting season, it seems."
Rajan Gupta is a CEO & Founder of Zappka and also Director of U2opia Mobile. Vijay Anand didn't take much time to find the man behind the mask. He stated, " I go to the twitter account. Look up email address. Go to twitter and hit reset password, and it says the same email address. Dead end. So I switch to gmail, enter the unicon gmail address and hit reset password and it shows a gup********@gmail.com as the retrieval email address. Then it was a simple matter of running a search on the narrowed down data list as to who the culprit was.
Tried a few which started with "gup", had the same character length, and hit enter, but it said incorrect. Then with one….the password resets. Ladies and Gentleman, the baba : Rajan Gupta." (Yep, I expected some high funda dude. At the end it is some imposter at some dead-end job. That, was a bit of a let-down.)
Related read- Wait What Did I Just Hear? Zomato Hacked? 17 Million User Record Out?
Twiterratis are in favor of Unicon Baba and one guy has even blamed Anand for charging to provide the services required.
@Tokyo @vijayanands I don't have time for idiots like @vijayanands I get dms like this from my followers which I yweet or retweet based on merit. pic.twitter.com/6rOM5CSwSL

— Unicon Baba (@uni_con1) May 18, 2017
@vijayanands @uni_con1 you can enter any email and it will show a success message pic.twitter.com/aApg9IbZA8

— Pankaj Bhageria (@panbhag) May 19, 2017
@vijayanands @rajangupta Nopes, this doesnt prove anything. Else, I have proof below that you are trolling everyone as @uni_con1 🙂 Google is smarter than Twitter. pic.twitter.com/N2SrbFA1rU

— Saurabh Chandra (@saurabhchandra) May 19, 2017
So is Rajan really Unicon baba? An email sent to him didn't elicit any response at the time of writing this article. Let's wait and watch for the next move. The battle continues… (Image- Unicon baba Twitter account)
Also read- Paytm Raises $1.4B Funding From Softbank