On Saturday, the U.S. military shot down a suspicious Chinese spy balloon off the Carolina coast after it travelled over sensitive military sites across North America. China reaffirmed that the flyover was an accident involving a civilian aircraft and threatened repercussions.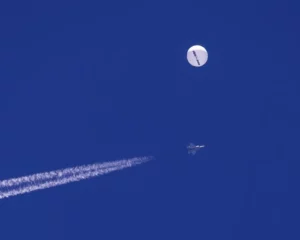 Earlier on Wednesday, U.S. President Joe Biden exuded the order but had wanted the balloon downed. U.S. officials said that Biden was suggested that the best time for the operation would be when it was over water. Military officials insisted that bringing it down over land from an altitude of 60,000 feet would pose an undue risk to people on the ground.
Soon after, China responded that it reserved the right to "take further actions" and criticized the U.S. for "an obvious overreaction and a serious violation of international practice."
On Sunday, in a statement, China's Ministry of Foreign Affairs said that "China will resolutely uphold the relevant company's legitimate rights and interests, and at the same time reserving the right to take further actions in response." China's Ministry of Defense echoed the statement later in the day, saying it "reserves the right to take necessary measures to deal with similar situations."
The presence of the balloon in the skies above the U.S. this week was a severe blow to already strained U.S.-Chinese relations that have been in a downward spiral for last few years. It provoked Secretary of State Antony Blinken to suddenly cancel a high-stakes Beijing trip aimed at easing tensions.
Biden said after getting off Air Force One en route to Camp David, "They successfully took it down and I want to compliment our aviators who did it."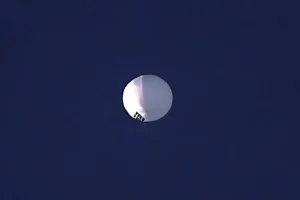 On Saturday, the giant white orb was seen morning over the Carolinas as it came closer the Atlantic coast. Senior defense officials said that about 2:39 p.m. EST, an F-22 fighter jet fired a missile at the balloon, puncturing it while it was about 6 nautical miles off the coast near Myrtle Beach, South Carolina.
Americans were found looking to the skies all week, wondering whether the mysterious balloon had floated over them.
Ashlyn Preaux, 33, on Saturday, went out to get her mail in Forestbrook, South Carolina, and noticed her neighbors looking up — and there it was, the balloon in the cloudless blue sky. Then she saw fighter jets circling and the balloon get hit.
On Wednesday, the balloon was spotted over Montana, home to Malmstrom Air Force Base, which has fields of nuclear missile silos.
As it flew over the U.S., Americans were able to collect intelligence on the balloon, giving them a number of days to analyze it and learn how it moved and what it was capable of surveilling.
On Saturday, the Chinese government sought to play down the cancellation of Blinken's trip. "In actuality, the U.S. and China have never announced any visit, the U.S. making any such announcement is their own business, and we respect that," China's Ministry of Foreign Affairs said in a statement.
The Pentagon also acknowledged reports of a second balloon flying over Latin America. "We now assess it is another Chinese surveillance balloon," Brig. Gen. Pat Ryder, Pentagon press secretary, said in a statement.
Officials said the balloons are part of a fleet that China uses for surveillance, and they can be maneuvered remotely through small motors and propellers. One official said they carry equipment in the pod under the balloon that is not usually associated with standard meteorological activities or civilian research.
China's Ministry of Foreign Affairs did not respond to a question about the second balloon.
One of the offiial said that it is not the first time Chinese spy balloons have been witnessed into U.S. airspace in recent years. At least three times during the Trump administration and at least one other time during Biden's time as president they've seen balloons cross, but not for this long, according to the official.