Visa has launched an international cryptocurrency advice service for its clients, including banks and merchants. The move comes as crypto and digital currency popularity grow, resulting in a surge in demand for crypto services.
Visa has launched an international cryptocurrency advice service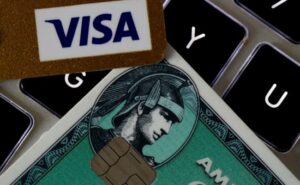 Visa's crypto services will be targeted at financial institutions that want to use cryptocurrencies to retain and attract clients. It will also focus on central banks that are interested in crypto and retailers who want to learn more about NFTs (non-fungible tokens).
Uma Wilson, Executive Vice President of UMB Bank (a regional US lender), stated they contacted Visa to learn more about cryptocurrencies and stable coins, as well as the use cases that will be relevant to UMB Bank's retail and commercial enterprises.
Visa now uses its network to facilitate the purchase, sale, and custody of digital currency. It also offers a credit card that allows users to earn Bitcoin when they make purchases, as well as the ability to settle transactions on its payment network using USD Coin, stable coin crypto whose value is directly linked to the US dollar. In India, the price of bitcoin was Rs. 40.68 lakh (as of 12:30 pm on December 8)
"For cryptos, like Bitcoin, to be used as a means of exchange, price stability is very much needed," Vasant Prabhu, Visa's Chief Financial Officer, told Reuters.
"It will be very difficult for shops to accept crypto like Bitcoin as a currency if crypto prices change from $60,000 to $50,000 in a couple of hours," Prabhu warned. "I'm not sure if cryptocurrencies such as Bitcoin will ever be used as a means of exchange." Stablecoins will," he continued, adding that Visa hopes to make such transactions easier when the time comes.
Visa is a well-known and well-respected financial technology business whose services include allowing clients to use the payment processor's network for their digital offerings, educating financial (and other) institutions about cryptocurrencies, and assisting with backend operations management.
Visa, a global leader in fintech payments, offers dependable and secure payment solutions via VisaNet, a system capable of processing over 65,000 transactions per second.
Visa had previously announced in December 2021 that it had finalized the acquisition of Currencycloud, an international platform that enables fintech and banks to deliver cutting-edge foreign currency tools and solutions for cross-border payments.
The agreement will enable the two companies, as well as their clients and partners, to deliver greater transparency, control, and flexibility for consumers and businesses when making cross-border payments and transacting in different currencies.
Currencycloud's cloud-based infrastructure is already capable of servicing over 500 financial and technology clients. It also has a presence in over 180 countries and intends to continue to serve its clients and partners throughout the industry.
If you find this article informative then do share it with your friends and family!
Also read: Everything you need to know About Orchid Token (oxt)