Last week SpaceX launched Starlink 24, with 60 satellites into orbit. As SpaceX received permission from FCC to launch in lower orbits. On Star Wars day, they will be launching another 60 with Starlink 25.
Post-launch
Falcon 9 touchdown confirmed!

The oldest reusable booster in SpaceX's operational inventory has completed its ninth trip to space and back.

This marks the 82nd successful recovery of a Falcon booster since 2015.https://t.co/NPEygGCRNT pic.twitter.com/PE4GjlhKK3

— Spaceflight Now (@SpaceflightNow) May 4, 2021
Stage 1 landing: The stage one landing was successful with an 80% recovery rate. The landing at 8:41 munites after the launch. (t+ 8:41)
Stage 2 separation 2: While the second stage is getting ahead, the first one is getting ready to land on earth. The first stage can be seen as preparing for a soft landing. Its landing is set at East Coast, Florida.
Stage separation 1: After reaching the earth's atmosphere at 2:30 minutes, sage 1 is yet to go back to earth.
SpaceX's Falcon 9 second stage has arrived in a preliminary transfer orbit with the 60 Starlink internet satellites.

Another burn still to come before separation of the 60 broadband spacecraft at 4:04pm EDT (2004 GMT).https://t.co/NPEygGCRNT pic.twitter.com/MQgkbYskx4

— Spaceflight Now (@SpaceflightNow) May 4, 2021
Pre-launch
Final Launch: Falcon 9 launches into the earth's atmosphere at t+ 40 seconds.
2 minutes to go: You can see the fumes can be seen. Falcon is getting for the transition. So far everything is smooth. The venting is normal.
4 minutes to go: Falcon 9 is going to its final stages. Begining to retract process.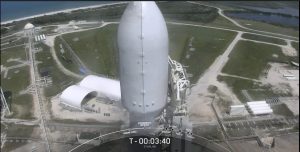 5 minutes to go: Launchpad is shown, which is NASA's 39 A launchpad. The very same one used a decade ago in 2011. Take a moment to see the historic moment.
10 minutes to go: All the systems are good to go. A live view of Falcon 9 can be seen. With the help of 9 engines, the rocket is set to launch. Today's 9th flight for the Falcon 9.
Watch Falcon 9 launch 60 Starlink satellites → https://t.co/bJFjLCzWdK https://t.co/zXwBMcXUDJ

— SpaceX (@SpaceX) May 4, 2021
The Starlink 25 launch is to take place as the other launches. In Florida on 4th May, at 3:01 EDT. With this launch, SpaceX will have 1,565 satellites out there.
Targeting Tuesday, May 4 at 3:01 p.m. EDT for Falcon 9 launch of 60 Starlink satellites from LC-39A in Florida, but team is keeping an eye on weather in the recovery area

— SpaceX (@SpaceX) May 3, 2021
SpaceX team is looking out for weather conditions. So far there have been no updates about unforeseen weather conditions.
Starlink Satellites
With an aim to provide internet all over the world, Starlink satellites are being sent to space at different locations. As per the Starlink website, they deliver 50 mb/s to 150mb/s internet speed to their users.
Furthermore, the unique feature of using Starlink internet is the availability of signals in remote areas too. Though it is currently available only in certain countries. They plan to launch soon in rural and remote areas where connectivity to the internet is low or not existing.
Charges for Starlink are the same for everyone currently. They charge around $99 per month. For developing countries like India, it would still mean costly internet, with Rs.7000 per month. However, we are yet to see how things change as more Starlinks are launched into space.
Starlink 25
As a part of the celebration of the silver jubilee launch. It is expected that these satellites will be launched in lower orbits, unlike its previous launches. Additionally, the booster used in Starlink 25 will be the oldest one so far.
The ability to reuse the rocket, again and again, is the reason why their next launch is in 5 days from today. As written on the official website,
"Starlink is SpaceX's internet communication satellite constellation. The Low-Earth orbit constellation will deliver fast, low-latency internet service to locations where ground-based internet is unreliable, unavailable, or expensive."