WisdomJobs is India's first skill assessment based job portal. In addition to job seeker database access, they enable employers and recruiters to simplify their hiring by using their 12 million strong database of skill-tested and rated profiles.
The online recruitment forms a part of the larger recruitment industry that comprises both online and offline recruitment. As an industry, recruitment works on numbers. From the initial shortlisting of candidates to the first round of interviews to the later stages, it works on quantity and selection ratios, thus resulting in a compromise on quality. When the recruitment industry is evolving with technology; there is one area which is not touched upon – The pre-assessment of the candidate is still on pen and paper mode with inaccurate and time consuming results. It is always trying to balance the contrary objectives of finding a quality candidate while at the same time trying to reduce the cost per hire.
To curb this issue, recruitment portal Wisdom Jobs has a proprietary tool to facilitate the assessment of the candidate digitally. When the entire country is talking about the Digital India Initiative and going E-way; Wisdom Jobs has stepped in and taken the technology a step further to provide the error free test feature to the recruiters.
WisdomJobs was started in 2010 with the aim of helping job seekers to test and rate their skill sets, and thus allow them to showcase their employability in a better way to employers. On the flip side, this also helps recruiters to have better quality over the profiles they shortlist. The idea has been, and remains, to bring in objectivity into the hiring process, and to simplify it in the long run.
The Recruiter
Ajay Kolla, CEO is the sole founder of the company. Following a degree in Electronics and Electrical Engineering, he gained industry experience and insights through stints in Infotech Enterprises (Cyient) and TCS.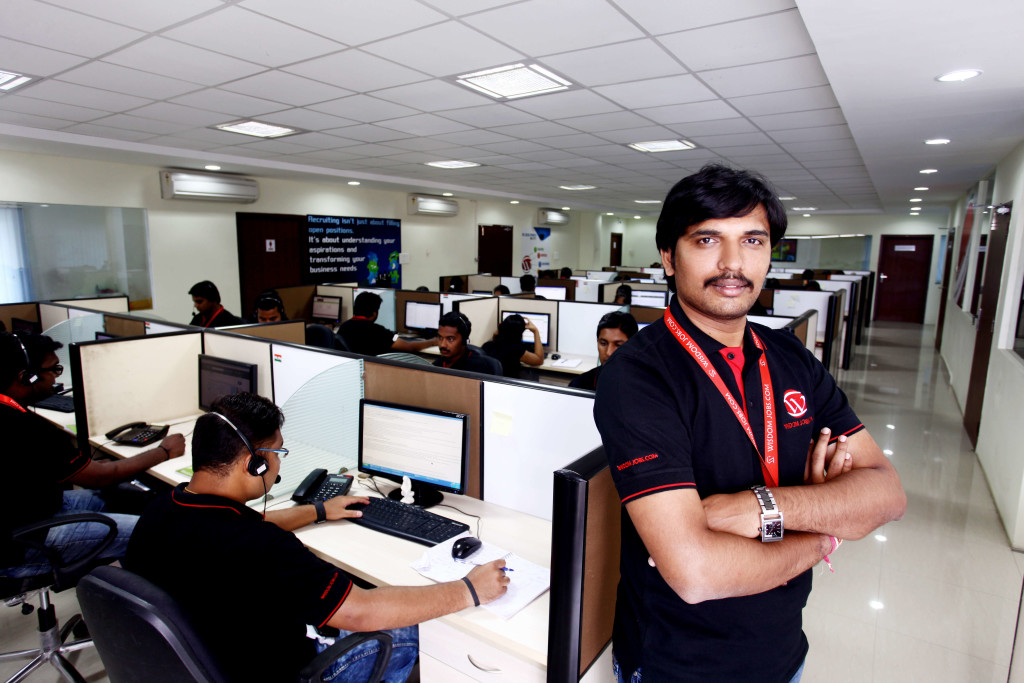 Ajay Kolla
WisdomJobs evolved from a Google Group that was started to help some of his out-of-work friends find employement during the recession. When this group resulted in nearly 20k people finding employment, he felt it was time to scale it up to something bigger and better, and that's when he decided to go the entrepreneurial way.
WisdomJobs Facts
Founded: 2010
Founder: Ajay Kolla
Team Size: 250+
Operational Cities: Hyderabad, Chennai and Bangalore
Clients: Polaris, Mind Tree, Team Lease, etc
Annual Turnover: INR 35 Crores
Target: Expand to other metros and grow by about 15-20% YOY over the next couple of years.
The Pragnya Meter
As of now, they compete with every job portal, whether generic or niche, that are in the market. The shortlisted candidate can be from any job portal, it is their ability to help job seekers highlight skill aptitude, and employers to simplify their hiring process by choosing from skill tested profiles is their competitive advantage. They do this through a proprietary competency testing tool called Pragnya Meter. This tool can also be used as a standalone assessment tool by recruiters at every stage of their recruitment process.

Pragnya Meter helps recruiters to conduct online pre-screening/assessment rounds by administering customized question papers (sent as a test link) to their shortlisted candidates. Recruiters have the option of creating tests, customizing existing tests, or requesting a pre-designed test from the Wisdom database. Multiple options when it comes to question sets and patterns give them great flexibility in conducting pre-assessments across skill and experience levels.
The Screening Process
Screen Level Security: When the candidate is delegated towards Pragnya Meter test, 20 minute window is allotted. If the candidate is trying to switch the window or navigate to other sites – a warning appears and test closes.
Web Cam Scanning: It is a feature beneficial for the recruiters. If a recruiters shortlist 1000 candidate as per their requirement, they can do the first level screening on the portal. Recruiters can send a test link to the shortlisted candidate and prompt them to turn on the webcam during the test (eg : Basic Communication test). The live recording can be viewed by the recruiters to ensure that there is no cheating. Or else- recruiters are sent screenshot of the candidate every minute and they can run the recording later.
"The greatest challenge has been to get a foothold in an industry dominated by several established players."
They have taken the challenge head-on by developing a product differentiation that gives them an edge over big names. The ongoing challenge is always to deliver the best possible experience to their users and have addressed this by tweaking and improving their user interface and product features along the way to ensure that they always deliver an optimum experience.
The Wisdom in the Journey !
They have had their fair share of wisdom to offer right since their venture, every little thing from getting their ISO certification, to adding new offices, to being recognized as a Star Partner by HCL, one of their very first clients. Of course, developing and delivering game-changing product improvements also has been very exciting. They have a few tricks up in their sleeve for the next few months, and for now expansion in operating geographies is one of their major steps. Although it has been a self-funded venture so far, they are now in talks to bring external funding and are welcoming investors to help them scale in quick time.
Comments
comments