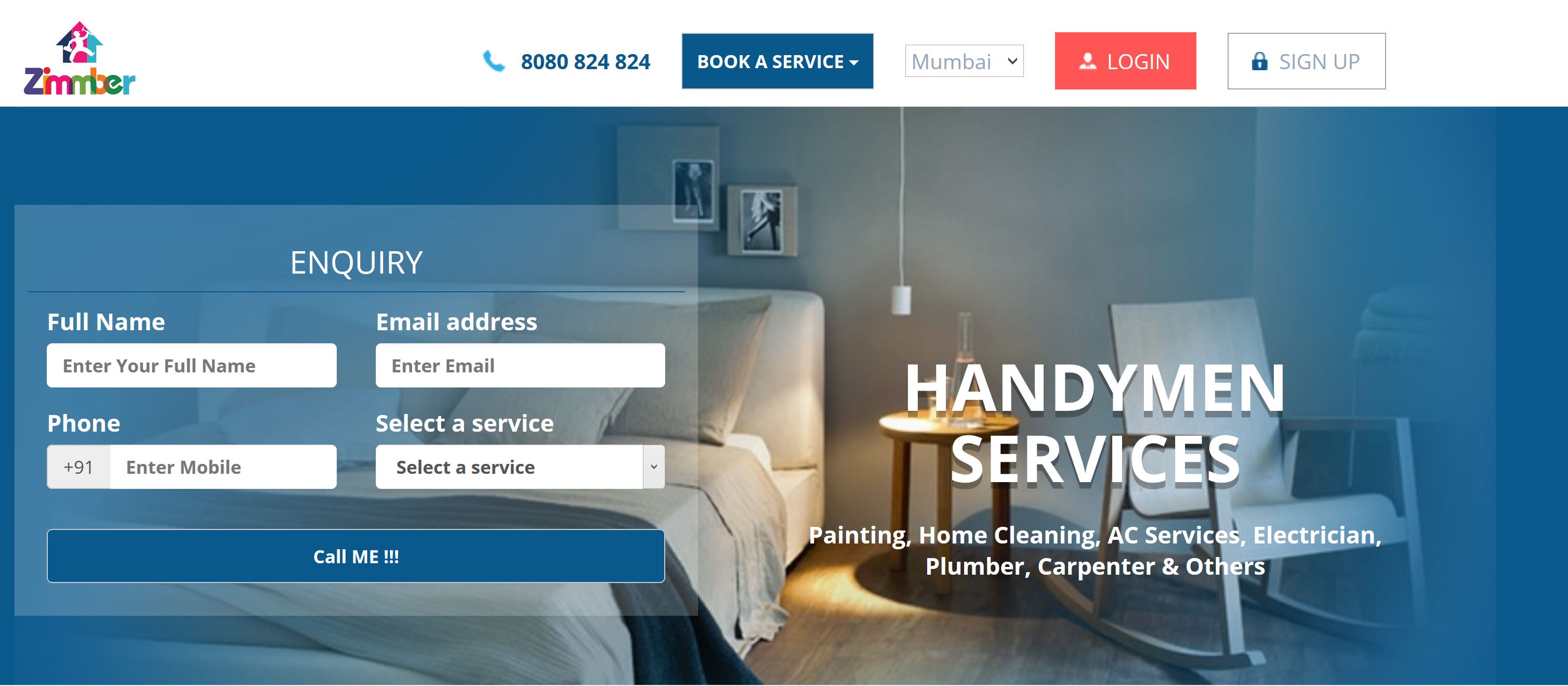 InMobi's co-founders Naveen Tiwari, Mohit Saxena and Amit Gupta, along with chief product officer Piyush Shah and Manish Dugar were involved in the funding round
Delhi, 29th June, 2015- Zimmber, which currently operates in Mumbai, Pune and Gurgaon has acquired $400,000 (Rs 2.5 crore) from InMobi's core founding team including Naveen Tewari and has also acqui-hired Mumbai-based laundry service Dhulai.
Operating in hyperlocal services, Zimmber, is set to be India's very own handy.com. Taking this a step further, Zimmber trains and accredits all handy-men before enrolling them on the platform. Such a move helps in redefining a very fragmented handy-man market in India.
In India, this segment has received great VC interest, though there is intense activity with more than 69 home solutions firms being founded in 2014.
AnubhabGoel, CEO and Co-Founder, Zimmber said, "We are building a world class product that will revolutionise the startup scene in the daily maintenance of households. Investments from such great businesses such as InMobi endorse our capabilities and help us in add value as a technology firm. Also, acqui-hiring Dhulai, helps in streamlining our supply side as our demand rises by the day. At present we are getting 100 orders per day from cities including Mumbai, Pune and Gurgaon."
InMobi's CEO Naveen Tewari said, "I always believe in backing up a team that is super passionate and loves to work with each other. India is primarily a service economy and when it comes to day to day home services, we all tend to suffer. Zimmber is solving a real life problem we all face each day. This is high time when a company like Zimmber does the comprehensive and holistic work on uplifting the ecosystem. We believe in the model and team and would continue to back Zimmber in our own ways. This is a huge market opportunity and Zimmber is well poised to solve the problem."
Adding on he said, "The skill development initiative in the country has never seen such strong backing by government and service provider life would surely improve with better aggregation of demand flow. The service providers need to be given credibility and they need to feel pride in their work. The entire profession has to be given a "cool quotient" to change the perception associated to them. At Zimmber, they coined this term champ which the nomenclature they use for their service providers, it's a small step towards the goal."
Henal from Dhulai says " Laundry segment is not an organized space. We started Dhulai keeping the same vision, however with advent of new local Home Services providers, we see it as a shared vision. I really enjoyed meeting with Amit from Zimmber and thought since the dream and destination is the same why not merge the paths as well. We will ensure that this category become the leading one for Zimmber "
Zimmber was founded in 2014 by Goel, along with GauravShrivastava and Amit Kumar. Zimmber provide home services like Home Painting, AC services, Electrical services, Plumbing Services, Carpentary, Home cleaning, Mason service, Sofa cleaning, Carpet cleaning  in Mumbai, Pune and Gurgaon and they have partnered with 250 service providers as of now. They are also planning to expand their footsteps to metros like Delhi, Kolkata, Chennai and many more tier 2 and tier 3 cities in the upcoming months.
Comments
comments