The Indian grocery market would overtake Japan to become the third largest market worldwide. India's online grocery market, which is estimated to be less than $100 million at present, is expected to cross $25 billion by 2020. 

The Industry ZopNow is Going After!
ZopNow was started in the year 2011 and at that time e-commerce wasn't as big a sector as it is now. Today, it is one of the fastest growing spaces, and it has spread length and breadth across multiple sectors. IN 2011, e-grocery was almost an unheard of segment; today, 4 years on, it is one of the fastest growing technology business spaces in India. We are seeing the biggies like Amazon stepping into the business of e-grocery.
Recently, the consideration of selling groceries online has been catching up in India. With penetration of internet, smartphone and improving comfort with online payments, selling groceries online has become comparatively easy now. The industry has been able to draw attention of investors to a large extent and most of them have invested a large sum of money into online retail stores offering their service in metros and major urban centers.
Online grocery shopping is expected to see the highest number of electronic transactions, after mobile recharge, within a year, according to data analysis by Internet-based payment facility provider PayU India. Read more!
Retail opportunities are around the corner thing as consumption of groceries never falls down irrespective of the state of the economy. Entrepreneurial minds of the country are exploring these opportunities to tap this potential. Lately, a significant number of online grocery stores have come into operations particularly in metro and urban areas. BigBasket.com, AaramShop.com, AtMyDoorStep.com, MyGrahak.in, ZopNow.com, LocalBanya.com, OnlineGroceryBazaar.com,  Naturesbasket.co.in and SeaToHome.com are few best to name online stores retailing groceries. 
Most of these platforms cater to all the needs of household items. ZopNow has categories including Fruits & Vegetables, Staples, Biscuits & Cookies, Cereals & Breakfast, Tea & Coffee, Snacks, Spices, Dry Fruit, Instant Food, Pooja Needs, Dairy items, Beverages, Frozen Food, Home Care, Personal Care, Health & Wellness, Stationary and Accessories and many more. The industry contains a huge potential to harness and with a deep understanding of the retail market, a bit of creative thinking and excellent customer service can help you build a great business. ZopNow has been able to establish itself as a major player in the industry with its marked USP of ability to deliver within 3-hours and more importantly free of cost, irrespective of the order size.
Gauging ZopNow!
ZopNow has stuck to its vision of making grocery buying a very convenient experience for consumers, even when everyone was pointing to Webvan's crash-and-burn as a reason why e-grocery would never make it, to today, when there is a lot of exuberance around e-grocery. "That says something about our conviction in the business, and in our ability to provide a super-delightful experience for consumers" says Mukesh Singh, Founder, ZopNow.
ZopNow started operations from Bangalore, and today is present in 5 cities (Bangalore, Hyderabad, Mumbai, Pune and Gurgaon). They plan to be present in 10-12 cities in India by the end of this year. Their current team consists of close about 250 employees. The technical team has around 12 to 15 employees and the rest are part of the operations team.
ZopNow's product differentiation comes from the deep integration that happens between ZopNow and their partner hypermarket stores. While their partners take utmost care to keep the required inventory level and quality within their stores, ZopNow enables them to extend their reach to a much wider geography. This is achieved through a great deal of information sharing that happens constantly between two parties. It's not only a win-win for ZopNow and the partners but also a win for the customers who choose to come back to them repeatedly for all their household requirements and not just grocery.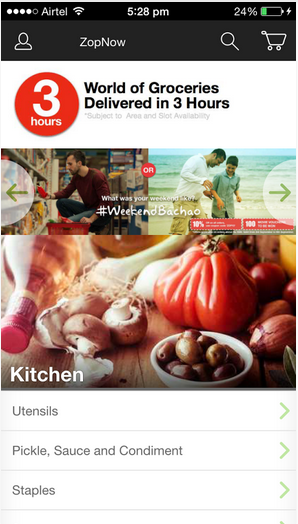 Another perk to customers of ZopNow is the ease with which the shopping can be accomplished. Other than ordering from the website, customers can also use ZopNow app to order their grocery. ZopNow app is available at all three platforms- Android, iOS and Windows!
Since ZopNow's customers are primarily those who prefer to shop from hypermarkets – they are extremely quality conscious. The fact that ZopNow continues to attract such customers goes on to show the kind of trust their customers are able to place with them. This itself provides ZopNow with a strong competitive advantage since it's very difficult for any new entrant to build similar level of integration with these hypermarkets.
However, ZopNow's this sail to this 'Island of Trust' is not completely smooth. Hyperlocal e-Commerce is riddled with a number of challenges. First is competition. Having understood their vulnerability in this scenario, many large e-commerce retailers are trying to build up a hyperlocal wing with express deliveries. The pioneers will continue to have the edge in terms of a focused approach and strong on-ground tie-ups with local retailers. In order to be successful and to sustain themselves, hyperlocal start-ups have to be very careful about unit economies and per-order profitability. If they are looking at expanding geographically, they need to ensure consistent quality in local partners and delivery staff. Investing in technology, data and processes to make their services and apps more intuitive is another imperative.
Nevertheless, like any other sail, this journey as well is filled with ups and downs. There are various moments which teach important lessons and then there are moments of learning and excitement too. "The most exciting moment for us has been the launch of our new web interface. Combined with the mobile website and a full-fledged Android application – we are very excited about bringing in an entirely seamless experience for our customers across all the digital media they prefer to transact on" says Mukesh.
Mukesh adds that the initial feedback from users has been very promising and the team is working very hard to make the app add lot more value to their customers and help them discover products much easier. The time taken from discovery to checkout is an essential metric for any app focused on e-commerce and ZopNow team is quite pleased with the results achieved so far.
In April 2015, ZopNow raised $10 million in a funding round led by San Francisco-based Dragoneer Investment Group, with existing investors Accel Partners, Qual-Comm Ventures and Times Internet also investing. ZopNow will use the money primarily to expand to more cities and currently the team is working on expansion plans and you can expect few announcements regarding major partnerships coming up soon.  
About The Establisher: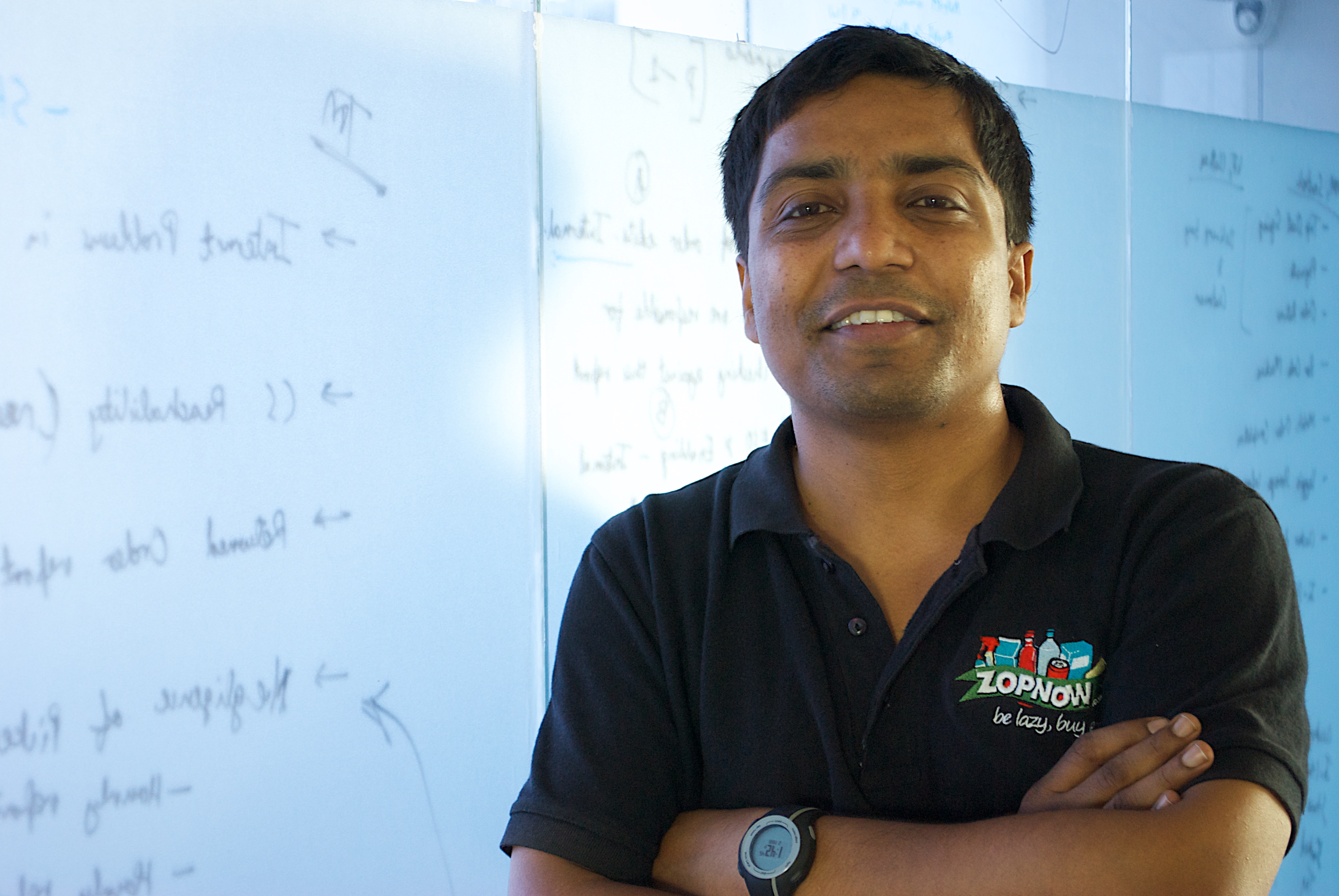 Mukesh Singh – More known as Mukri, is the founder of ZopNow. He has a bachelor degree in Computer Science & Engineering and a minor in Mathematics from Indian Institute of Technology, Kanpur. Post his bachelors, Mukesh pursued a PhD program at MIT and decided to drop out of the program to do an animation startup based out of Boston, Zoesis. Post Zoesis, Mukesh joined another startup based out of Bay area, eGain as an early employee. He worked on solving technical problems for the internet space and helped setup the India engineering center for eGain at Pune.
Mukesh joined Amazon India and worked for five years at Amazon on search and payments domain. As a part of this process Mukesh helped setup the Hyderabad and Chennai development center for Amazon. Mukesh ran Amazon Payments business as General Manager wherein he launched  "Flexible Payment Service", an Amazon web service for payment. Mukesh served as the CTO for MakeMyTrip from 2009 to 2011 prior to starting ZopNow.com. Besides a grocer, he can make a living by coaching for long distance running (he has done more than 60 marathons and once managed to do a 100Km).
Inspiration to Establish!
The genesis of ZopNow was, ironically (or not) in a grocery supermarket. This was in Gurgaon, while Mukesh was at MakeMyTrip. His wife and he were at the store, and that is when they were expecting their child, but they were compelled to wait at the checkout counter. Mukesh thought there has to be a better way to do this.
Interestingly, this was also at a stage when he was seriously considering starting something of his own. Mukesh started researching about groceries, and realized that it is the one of the largest commerce sectors globally, and recession-proof – everyone will always need to buy groceries and staples. 🙂 Of course, there were lots of analysis on why this sector would never have a serious online presence (and all good reasons), with everyone pointing towards Webvan's famous crash-and-burn.
But as Mukesh ventured more and more into the industry research, he got more and more convinced that this was a business which had huge potential, no market creation risk, and was aligned with India's big assets – growing spending power and increasing penetration of the Internet. Undoubtedly, all the standard startup risks remained – will people change their habits and purchase online, can a good team be put together, can the fund be raised etc. But these are questions which every startup had to face, par for the course.
"And I took the plunge. Took a few more weeks to come up with the name but playing with the word 'shop' finally landed on a concept which said 'shop now' and get speedy delivery. And ZopNow was born."
Related Reads:
Grocery to be 2nd most transacted e-comm segment in 1 yr: PayU
Everything you wanted to know about India's largest online supermarket – Bigbasket.com !
Grofers – a hyper-local delivery service connecting consumers with their local merchants!