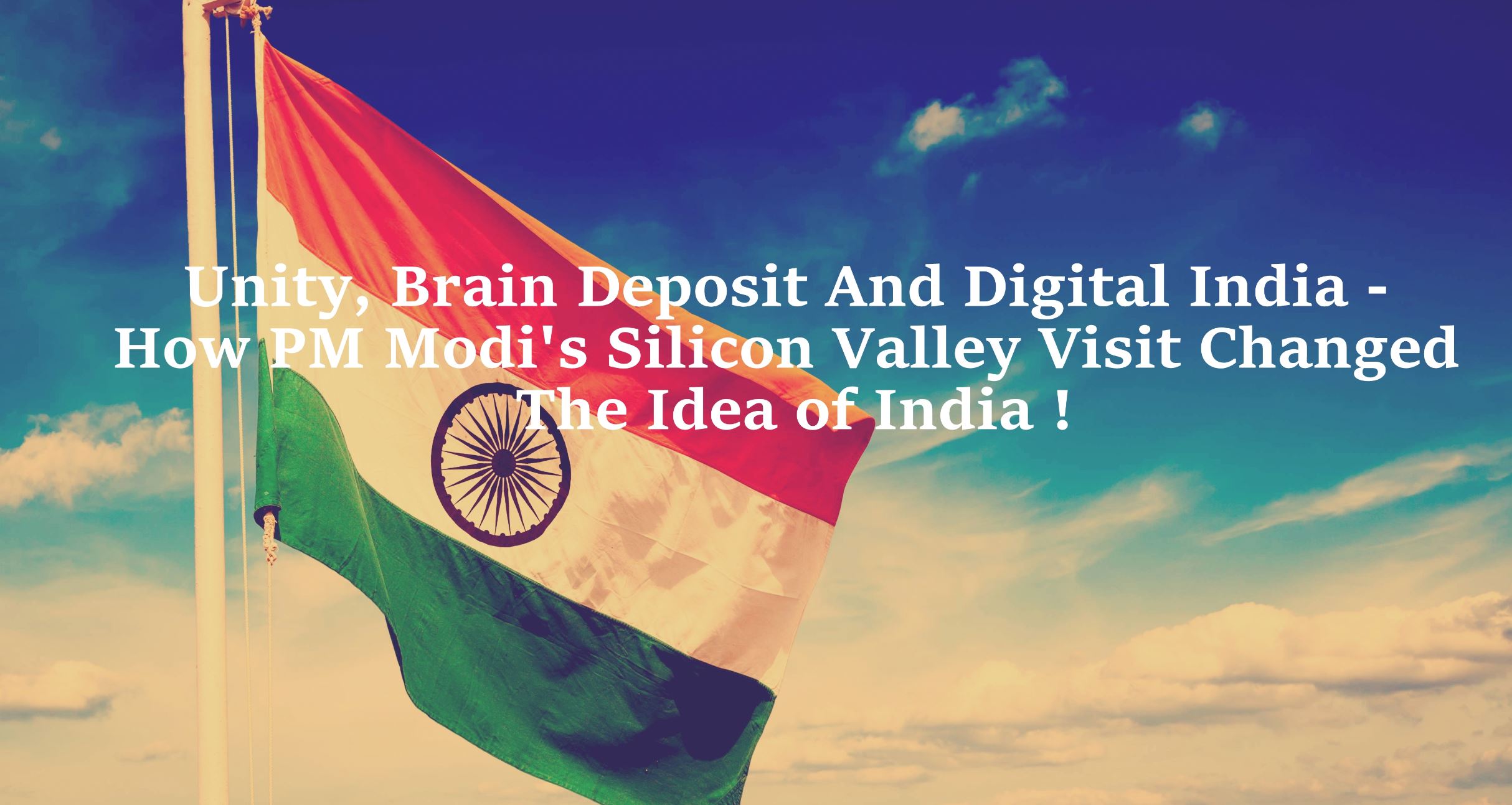 A lot has been said and written about our respected Prime Minister Mr Modi's visit to the Silicon Valley. And one common theme resonates among everything that has been said about his visit to the Valley – that as Mr Modi spoke, the world woke up to the idea of a new India.
A few days after the visit, we spoke to a serial entrepreneur based out of Silicon Valley -Mr. Ravishankar Gundlapalli, CEO of MentorCloud – about what effect Mr. Modi's visit has had and will have on the future of our country. The interview clearly resonated one theme –    Unity, Brain Deposit And Digital India – PM Modi's Silicon Valley Visit Has Changed The Idea of India !
Techstory sincerely thanks Mr. Gundlapalli for talking to us. Mr. Gundlapalli's responses have been summarized under three themes as below !
United We Stand
Ravishankar Gundlapalli : As an Indian entrepreneur living in the USA for 25 years, I had never before seen the Indian community coming together in such a manner. People belonging to diverse groups – all regions of India, all professions, all religions, had come together to cheer for and listen to the Indian Prime Minister.  For a PM to invoke this sense of unity among Indians in the Valley was remarkable. The spirit of unity was loud and clear. PM's visit here was being celebrated like a big festival.
Through his various speeches in the Silicon Valley, Mr Modi very effectively communicated the cultural, spiritual and technological strengths of our nation.He spoke about E-Governance and Digital India Initiative and also about how he and his government used social media to connect with people of the country.By effectively blending these three aspects in his speech Mr.Modi conveyed what India of today was all about – proud of our roots and our culture and at the same time extremely tech savvy and walking with the world when it comes to technology and innovation. During his speeches the human side of  Prime Minister of largest democracy of the world came out clearly which struck a cord with each and every person listening to him.
Connecting With The Good Side of Human Minds – The Brain Deposit Idea
Ravishankar Gundlapalli : One of the best qualities that Mr. Modi has is to give simple examples to connect with the masses. The simple things that he says appeal to the goodness in every person for example when he asked people to give up their LPG subsidies if they could afford to do so, 30 lakh families voluntarily gave up their subsidies. He surely is striking a chord with the nice side that each and every person has.
A lot of us in the USA always have a strong desire to do what we can for our country. For a long time now me and my friends here have been talking about the idea of mentoring entrepreneurs in India in the tech space. More than 20 million Indians live outside the country. Imagine if each one of us decides to take responsibility to mentor 2 individuals, India will be a changed country. The thought of "Brain Deposit" by Mr Modi therefore strongly resonated with us and with the larger Indian community here. The various initiatives that are being planned will surely create a way for those willing to work for the country in our own way.
Digital India – The India Opportunity !
Ravishankar Gundlapalli : India is surely a hotbed of opportunity right now and it is very clear today that Indian investments will yield a much higher returns. The economy is doing very well, the government is stable and committed to doing reforms and the "Make In India" slogan is surely being heard by the world. The world today is assured of the fact that if investments are to be made in India, the time is now.
As entrepreneurs we know that merely creating a good product or service is not enough. Marketing the same effectively so that we have takers is equally important. With the "Digital India" initiative,  Mr Modi has been able to market the Indian opportunity to the world, which btw is very much real,effectively  to the world. When it comes to the Digital Indian campaign, yes a lot of big companies have shown interest and have committed to various projects in India and I am sure that as the big ones go to India, the smaller ones will follow.
At times like these it is important that the startup ecosystem in India focuses on innovation. All efforts of the ecosystem should be concentrated on creating products for India that solve India's problems instead of creating copy cat products. For the VC community also, it is important to fund projects that are innovative and will change our future landscape instead of following a trend and only supporting already proven ideas.
Mr Modi's visit to Silicon Valley has surely changed the idea of India. And forget about Indians returning back to India don't be surprised if tomorrow you see some of the most successful American entrepreneurs shifting base to India.