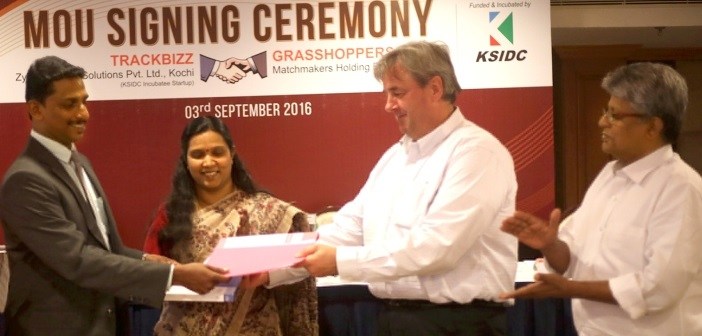 06 September 2016, India :
Zybo Tracking Solutions, a startup incubated in Kerala State Industrial Development Corporation (KSIDC)'s business incubation centre, has received foreign equity investment from the Netherlands-based Grasshoppers.
The funding will help the company to develop and market the application 'Trackbizz', which has been developed and now is targeting Indian SME market.
As per New Indian Express report, Grasshoppers director Alex Wijnen and Zybo Tracking Solutions CEO Sunil P Johny signed a memorandum of understanding (MoU) on the funding at a function held here, in the presence of KSIDC managing director Dr M Beena and Mentorguru managing director S R Nair. So far, Grasshoppers has invested Rs 37.5 lakh in three Kerala startups, including Zybo Tracking, Metprop and Semelon.
"We will be investing Rs 60 lakh in Zybo Tracking over a period of six months-two years. Grasshoppers wants to create a bridge between Kerala and the overseas market for value-added agricultural products," said Alex Wijnen.
M Beena, Managing Director, KSIDC, said the corporation has sanctioned Rs 6.23 crore as seed fund assistance to 31 innovative start-ups in the state and another 11 proposals are in the pipeline. Currently, 15 start-up companies with 106 seats are incubated in the Business Incubation Centre at Infopark.
Trackbizz is a cost-effective field force automation system, enabling managers to track their field force and manage their field activities on real time. It will help users with remote attendance, location tracking, expense tracking, task management, order notes, lead lists, work reports, and all other business related information. Source and Image courtesy- kerelaitnews.com
Also read-
Comments
comments