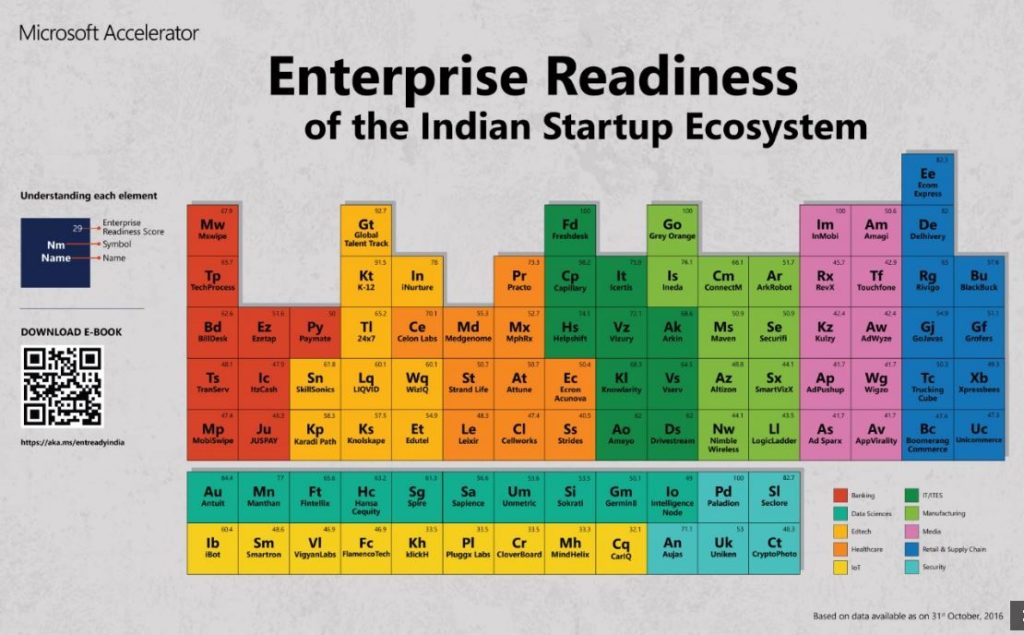 10 November 2016, India :
A big push towards digital transformation amongst enterprises is leading to increasing adoption of startup technologies. Banking, Retail, and Healthcare are the top adopters based on their growth potential, willingness to adopt startup solutions, and availability of such complex solutions locally. These are some of the highlights in the Ecosystem Report on Enterprise Ready Startups 2016 released by Microsoft Accelerator. The report is focused on those startups that are serving large and small enterprises through deep and complex technological solutions.
Key highlights from the Report:
The report was unveiled along with a periodic table which showcases the top 151 enterprise ready startups in India and the 10 sectors that have demonstrated momentous growth. Ravi Narayan (Global Director, Microsoft Accelerator), unveiled the report along with Jayanta Dey (Vice President & CTO Manufacturing and Technology SBU at Wipro), Peter Gartenberg, (General Manager, Enterprise and Partner Group, Microsoft Corporation India), Ben Mathias (Managing Director & India Head at Vertex Ventures) and Vinod Muthukrishnan (CEO, CloudCherry), at Microsoft Accelerator in Bangalore today.
"We are very happy to note that Indian enterprises are looking at startups for innovative solutions and expertise for their Digital Transformation in India. This Ecosystem Report provides insights into how this enterprise-startup partnership has evolved in last few years, underlining the value of collaboration and building the startup ecosystem." says Ravi Narayan, Global Director, Microsoft Accelerator.
This report focuses on B2B and B2B2C business models, taking market traction and external funding as indicators of growth. Key findings of the report are:
50% of the Enterprise Ready startups are in the Healthcare, Retail and Banking sectors
Driven by optimization, these three sectors have emerged as the biggest adopters of the enterprise technology solutions. Banking and Healthcare have proven to be the most receptive to startup solutions. With the rise of digitization across sectors, deep technology companies play a pivotal role in empowering these corporates to build innovative ways to engage with customers and address complex business requirements. With the help technology banks manage to increase customer traction and achieve customer satisfaction while companies in the healthcare space are expanding physical reach and affordability through machine learning and data sciences.
Data Sciences and Security startups find it easiest to find customers
This is driven by the broad base of customers and sectors that these startups can address natively. Disruption of technology has helped these businesses to build deep expertise and position them uniquely vis-à-vis other companies in multiple sectors and domains.
Startups catering to Banking sector find it easiest to raise funds
The startups catering to Banking sector are at the forefront of the digital transformation of India. India already has a billion mobile phone users, as well as a billion citizens with active bank accounts that are linked to their digital identities by way of Aadhaar. The tremendous scope of opportunity these startups can leverage is one of the key reasons these startups are successful in attracting funding.
To compile a comprehensive & accurate study, the exercise was restricted to a pool of over 500 enterprise focused startups that were founded post 2000 and are headquartered in India. The report lists the startups based on their Enterprise Readiness Score, which is measured based on three parameters – customer traction, funding and size of the company.
Microsoft works with partner accelerators, VCs and ecosystem enablers to support technological innovation, specialist verticals and a mentoring network. Microsoft Accelerator's #CoInnovate is one of the key programs that aims to bring corporates and startups together for mutual business benefits. Additionally, many startups have partnered with Microsoft under its ISV (Independent Software Vendor) program to deploy customized applications and solutions for that are transforming the way businesses are run.
To download the report, click here !
Also read-
Comments
comments