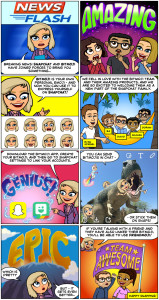 19 July 2016, USA :
Good news for all the Snapchatters out there! Snapchat announced that it now supports Bitmoji, allowing users to use their custom Bitmoji emoji in Snaps and chats.
Confusing? Well, It goes like this- Snapchat users will have to download Bitmoji app and create a custom Bitmoji avatar to represent themselves in the stickers within Snapchat. From there, users can connect to their Bitmoji accounts within the Snapchat app settings to access their Bitmoji in Snapchat. Bingo! There are your own stickers! If your friends are using it as well then you can create 'Friendmoji' as well. (Watch the video below and go for it!)
Just yesterday Snapchat appeared to be working on a new ad product that would use image recognition to pick out real-world objects in user's snaps in order to serve them related filters, ads, and coupons.
Read more-
Snapchat Soon to Show Ads Based on Images You Share